2019 war ein ein gefühlt "leises" Jahr auf meinem Blog. Ich war wenig unterwegs, ich habe so vor mich hin gewerkelt und vor allem gesehen, dass ich mit kleinen Schritten am Ende wirklich viel schaffe. 2020 hat sehr gedämpft begonnen, ich habe aber viel vor.
Rückblick 2019
Geklickt: Statistik + Hitparade
Im Jahr 2019 habe ich 52 Beiträge veröffentlicht – im Durchschnitt einen wöchentlich – und damit mein selbst gestecktes Ziel erreicht. Mein Blog hat sich bei insgesamt knapp 40.000 Besucher/innen und 80.000 Seitenaufrufen jährlich eingependelt. Also wahrscheinlich im Vergleich zu mega-erfolgreichen Blogs mega-wenig, aber für mich sind das schon ordentliche Ziffern. Wahrscheinlich, wenn ich regelmäßiger bloggen würde, könnten die Zahlen weiter rauf gehen, aber ganz ehrlich: Ich bin sehr zufrieden so wie es ist.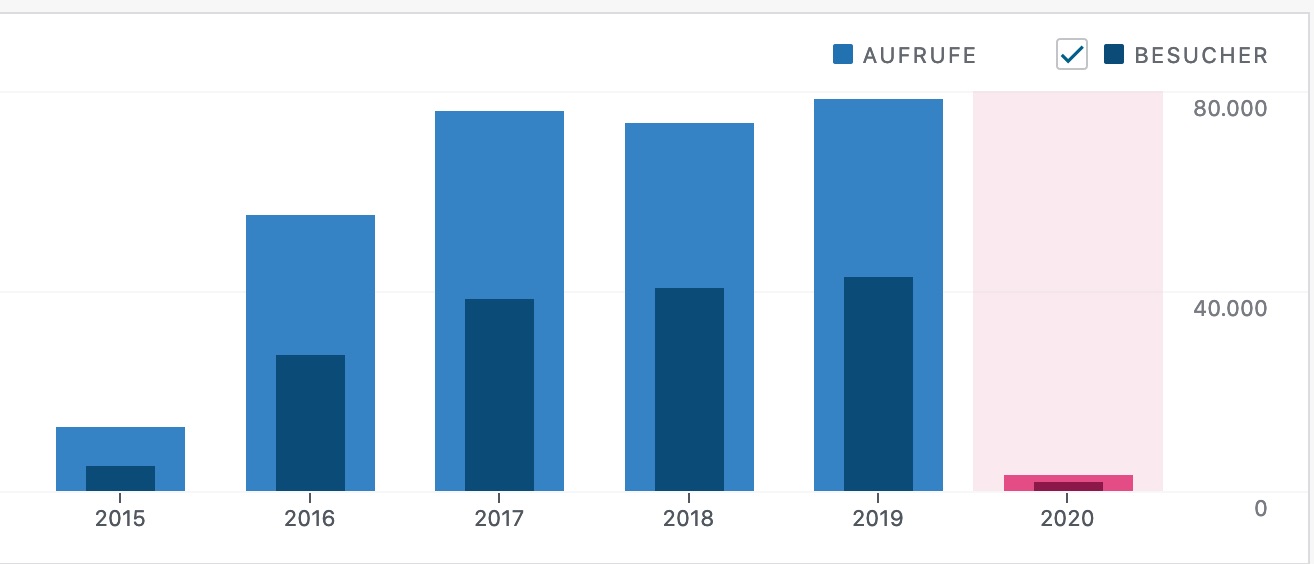 Die am häufigsten aufgerufenen fünf Posts auf meinem Blog im Jahr 2019 waren: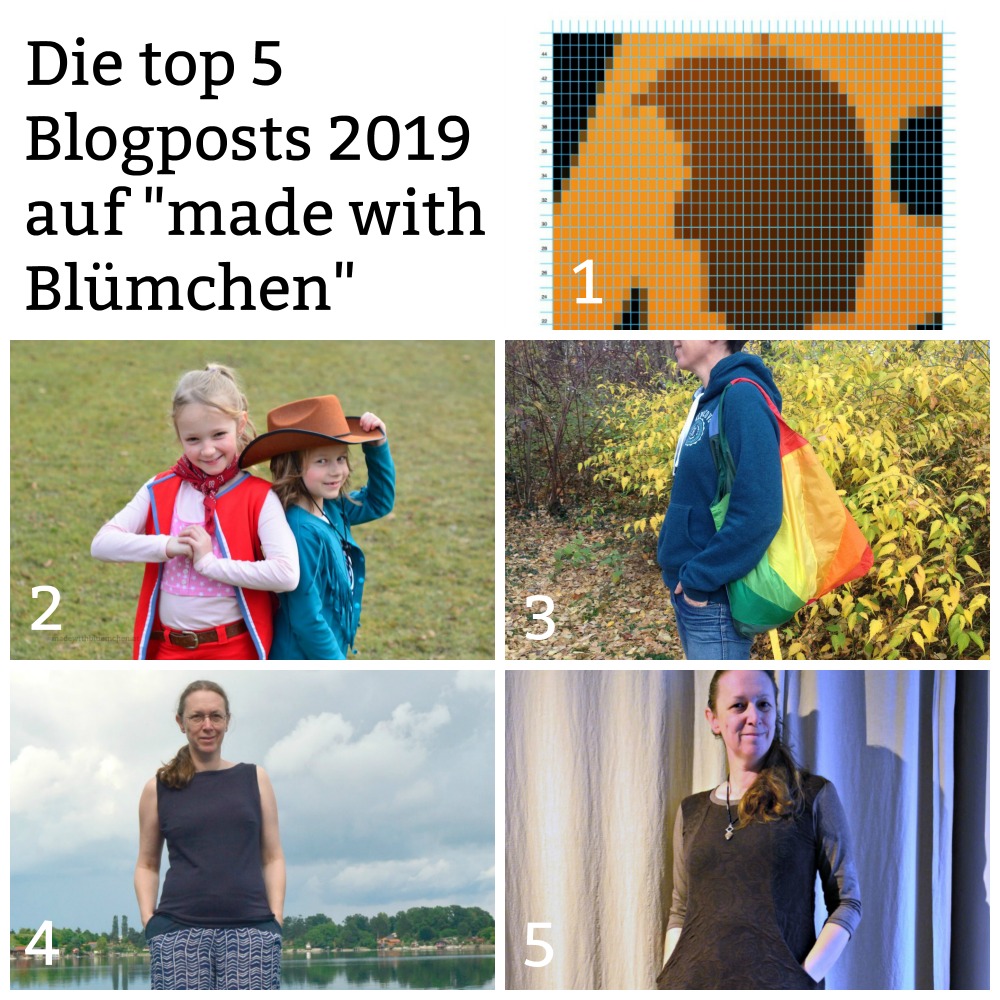 1. Bilder, Pixel, Farben Strickschrift (2989 Zugriffe), Beitrag von 2015
Von Jahr zu Jahr ist der Test von Computerprogrammen zum Entwerfen von Strickmustern extrem beliebt. Und jedes Jahr zu Jahresbeginn schreibe ich wieder: "Der gehört jetzt aber wirklich dringend aktualisiert!" (*seufz*) Ich nehme das Update wieder einmal auf die to do Liste für dieses Jahr.
2. Das sind Bibi und Tina (2608 Zugriffe), Beitrag von 2017
Bibi und Tina wieder auf Platz zwei! Der Blogpost über die Faschingskostüme meiner Tochter und ihrer Freundin erfreut sich ungebrochener Beliebtheit. Da ich nach wie vor nicht für andere nähe, habe ich 2019 ein Tutorial veröffentlicht, wie man die Tina-Fransenjacke selbst nähen kann.
3. Upcycling-Regenschirm-Falttasche (1504 Zugriffe), Beitrag von 2015
Ebenfalls ein Dauerbrenner ist meine Upcycling-Idee für alte Regenschirme.
4. Sommerhosen und U-Boot Shirts (1571 Zugriffe), Beitrag von 2019
Bequem und trotzdem gut angezogen: Meine Sommerkombinationen – luftige Hose mit Gummibund und U-Boot-Shirt – haben meinen Leserinnen gut gefallen.
5. Heather Dress vom Tauschtisch (1407 Zugriffe), Beitrag von 2019
Die Geschichte des Kleides mit einem Stoff vom Bloggerinnen-Treffen, dessen Schnittwahl noch zusätzlich durch dieselbe Bloggerin (Barbara) motiviert wurde, ist auf Platz 5 gelandet. Dieses Kleid ist eines meiner Lieblingsteile jetzt im Winter.
Persönlich am wichtigsten ist/war mir 2019 der Artikel Schreib nicht Werbung, wenn es keine ist! Darin erkläre ich, warum man als Hobbybloggerin besser nicht "Werbung wegen Markennennung" hinschreibt, sondern ganz genau wissen sollte, ob man Werbung macht oder nicht, und wie man den Unterschied erkennt. Falls Du diesen Artikel noch nicht gelesen hast: Meine wärmste Empfehlung!
Zu den allgemeinen Tendenzen: Die DSGVO-Hysterie von 2018 hat sich gelegt, aus meinem engsten Bloggerinnen-Bekanntenkreis sind noch alle da, unverdrossen. Da sehe ich nach wie vor wunderschöne Projekte, und da passiert ein sehr bereichernder Austausch: DANKE! Andere Bloggerinnen trauen sich schön langsam aus ihren Schneckenhäusern und beginnen wieder zu schreiben, und auch neue Blogs entstehen. Wer wirklich bloggen will, ausführlich über seine Werke berichten, lässt sich also weder von ein paar neuen Vorschriften noch vom Instagram-Vormarsch unterkriegen. Gut so!
Gewerkelt: Kleidung
7 Kleidungsstücke für mich, ein Faschingskostüm und einige Shirts für die Tochter, mehrere einfarbige Shirts für den Sohn (die es nie auf den Blog geschafft haben), sowie ein Hemd für den Mann: Die Ausbeute an selbst genähter Kleidung war 2019 ausreichend und ergänzt meinen Kleiderschrank aufs Feinste mit tatsächlichen Lieblingsstücken.
Gewerkelt: Stoffspielereien
Bis auf einen Termin habe ich dieses Jahr an allen Stoffspielereien teilgenommen! Hurra! Die Stoffspielereien sind einfach meine ab-so-lute monatliche Lieblings-Veranstaltung und bringen mich immer dazu, neue Dinge auszuprobieren: Ich habe gestickt, geometisch gestückelt, das Schablonieren mit Freezer Paper ausprobiert und sogar ein Band gewebt.
Januar: Upcycling – Bluse aus gefärbten Stoffwindeln mit Stickerei
Februar: Farbverlauf – "long and short stitch" ausprobiert
März: Geometrie – Pojagi Vorhang genäht
April: 100 Jahre Bauhaus (nicht teilgenommen)
Mai: Heimat – Kreuzstich Monogramm auf Badetuch gestickt
Juni: Afrika – marokkanisches Fliesenmuster schabloniert
September: Miniatur – ein Nadelkissen aus Mini-Quadraten genäht
Oktober: Handweben – Brettchenweben ausprobiert
November: Nähen auf Papier – glänzende Fadengrafik-Glückwunschkarten fabriziert
Gewerkelt: Dies und das
In der Kategorie "Übriges" findet sich 2019 nicht so viel, weil sehr viel Zeit in die Nadelbriefchen geflossen ist. (Die kommen gleich, ein Stückchen weiter unten.) Hier habe ich ein Stricktuch fabriziert, ungeliebte Schuhe umgefärbt (ich trage sie seitdem wieder gerne und häufig) und in wirklich stundenlanger Häkelarbeit zwei neue Küchengardinen fabriziert.
Gewerkelt: Nadelbriefe
Die Nadelbrief-Aktion organisiert von Susanne Nahtlust war 2019 ein großer Schwerpunkt bei mir. Wir sollten uns jede Woche mit einem (mehr oder weniger abstrakten) Thema auf einer kleinen Fläche beschäftigen. Uns vom Thema inspirieren lassen, experimentieren, Neues ausprobieren. Die Nadelbriefe haben mich gefordert, beschäftigt, fasziniert. Und es sind auch viele entstanden.
Nicht so viele wie ich wollte.
Natürlich nicht.
Ich will immer mehr, als sich vernünftigerweise bei mir ausgehen kann.
Trotzdem habe ich nach größeren Pausen im Sommer und Herbst zwei Mal den Einstieg wieder gefunden und weiter gemacht. Darauf bin ich auch ein bisschen stolz.
Im Mai 2020 werden wir – die wir Nadelbriefe gewerkelt haben – unsere Werke bei der Nadelwelt in Karlsruhe ausstellen. Darauf freue ich mich schon sehr!
Alle meine entstandenen Nadelbriefe findest du auf der Übersichtsseite versammelt. Im Zuge der Ausstellung wird es dann auch den einen oder anderen davon zu kaufen geben.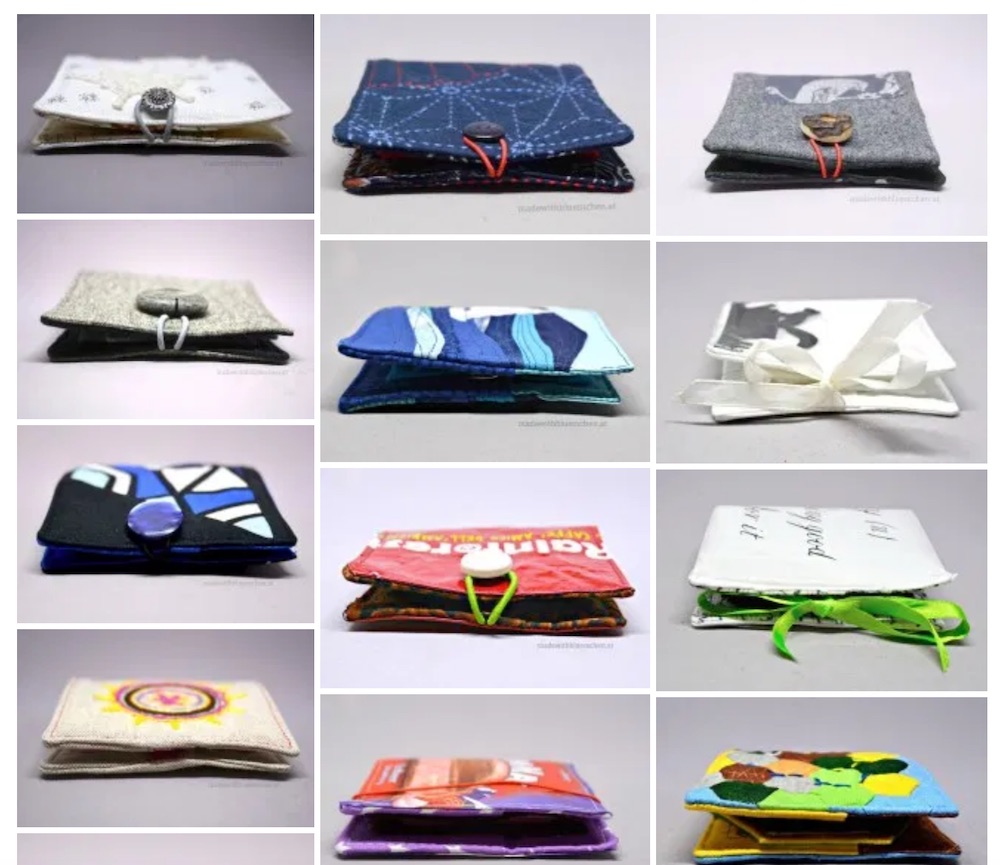 Treffen, Sticken, Blog-Aktionen
2019 war ein bisschen mau im Sinne von: Ich bin nicht groß zu Nähtreffen oder Ausstellungen herumgereist. Dafür habe ich die Nähtreffen zu mir geholt!
Einerseits veranstaltet meine Freundin Heike ziemlich regelmäßig ein Mal im Monat ein Offline-Nähtreffen bei sich zu Hause, hier in Graz, mit klassischer Gender-Arbeitsteilung: Wir Frauen nähen, unsere Männer brauen derweilen Bier und grillen große Stücke Fleisch fürs Abendessen. 🙂 Dieses gemeinsame Nähen ist ein wichtiger Treffpunkt für mich, das ist jedes Mal ein sehr schönes Beisammensein.
Andererseits ist aus dem Nähbloggerinnentreffen in Hamburg (Nov. 2018) ein Online-Nähtreffen entstanden, das ich gemeinsam mit Ute (Fräulein Ideal) organisiere. Wir treffen uns jeden zweiten Mittwoch Abend in meinem Online-Konferenzraum: Jede bei sich zu Hause, jede mit einem Näh- oder auch Strickprojekt, zum inspirierenden Austausch und zum gemütlichen Plaudern. (Wer an einer lauten Nähmaschine nähen muss, stellt kurzzeitig das Mikro ab.)
Regelmäßig mit dabei sind Bloggerinnen aus dem Dunstkreis des MeMadeMittwoch, die derzeit in Hamburg und Umgebung, Köln, Bielfeld, Graz, St. Petersburg und nahe Düsseldorf wohnen. Es ist seeeehr nett, so ganz einfach die Distanzen zu überbrücken und sich zu treffen, wenn auch "nur" zweidimensional am Bildschirm! Auch mit Ines und Ingrid komme ich manchmal online zum gemeinsamen Werkeln zusammen (2020 hoffentlich auch mal wieder in real!), sowie seit Kurzem mit Maike und Nina zum Stempeln und Basteln.
Wiederum offline bin ich gemeinsam mit zwei Freundinnen im Juli 2019 zum Webermarkt in Haslach gefahren, vor allem auch um Silvia und Sabine von Petersilie und Co zu besuchen und kennenzulernen. Das war sooooo ein nettes Wochenende! (Bericht folgt.) Also abgesehen davon, dass der Webermarkt unglaublich schön und jedenfalls einen Besuch wert ist, waren "die Petersilien" auch im wirklichen Leben extrem sympathisch und gastfreundlich. Christiane von Schnitt für Schnitt hat sich am Webermarkt auch noch zu uns gesellt.
2020 habe ich relativ viel gestickt, auch haben "die Petersilien" einen Summer Stitchalong veranstaltet, für den ich einen Kleiderausschnitt mit Perlen verziert habe. (Liebe Petersilien: Ich hoffe auf eine Wiederholung des Stitchalong!)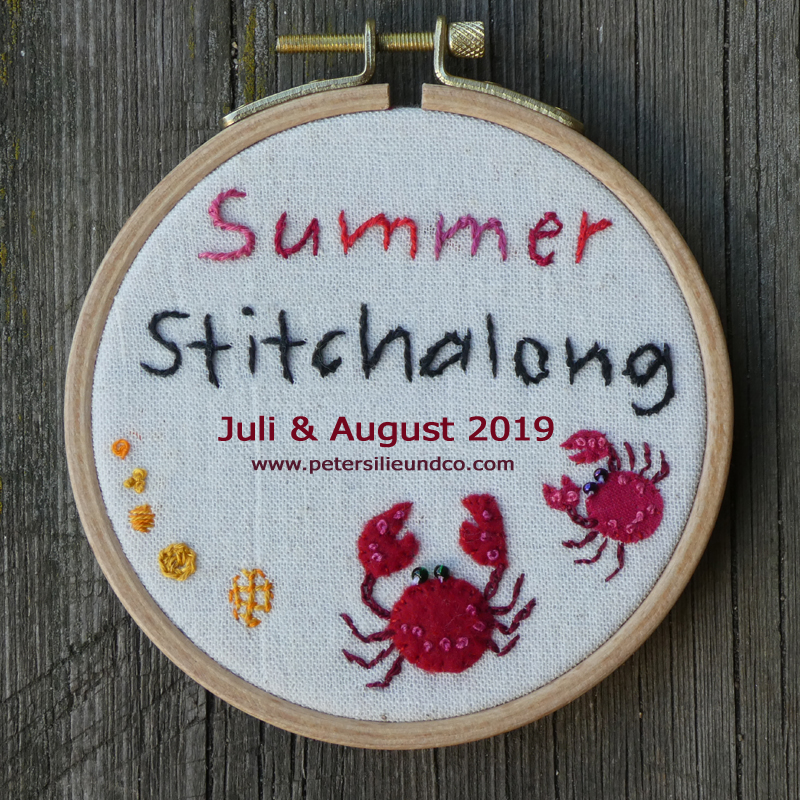 Umgekehrt haben "die Petersilien" häufig ihre Werke bei meiner "handgestickt" Linkparty verlinkt. Ebenfalls sehr häufig teilgenommen haben Karin vom Blog I & DU mit Stick-Patchwork-Projekten und Cheiro Urgia mit ihren geometrisch bestickten Glückwunschkarten. Danke für Eure zahlreichen Beiträge: Ihr bereichert die Sammlung schöner, handgestickter Werke sehr!
Im Juni war ich zu Gast bei Annette vom Blog "Augensterns Welt", mit einem Gastbeitrag zum Thema Ordnung und Projektmanagement im Nähzimmer.
Im Oktober habe ich an der Blogparade "Wie geht das mit dem Wohlfühlgewicht ab 40 oder 50?" teilgenommen, die vom Online-Magazin "Lemondays" organisiert wurde. In meinem Beitrag geht es darum, wie frau sich durchs Selbernähen wohler in ihrer ersten und zweiten Haut fühlt.
Und schließlich war ich im Dezember bei der Adventspost zum Thema "Zeig her Deine Handschrift" mit meinem Lieblingsrezept, den Eierlikörkugerl dabei und bin ganz beglückt von den vielfältigen, wunderschönen Karten, die ich bekommen habe!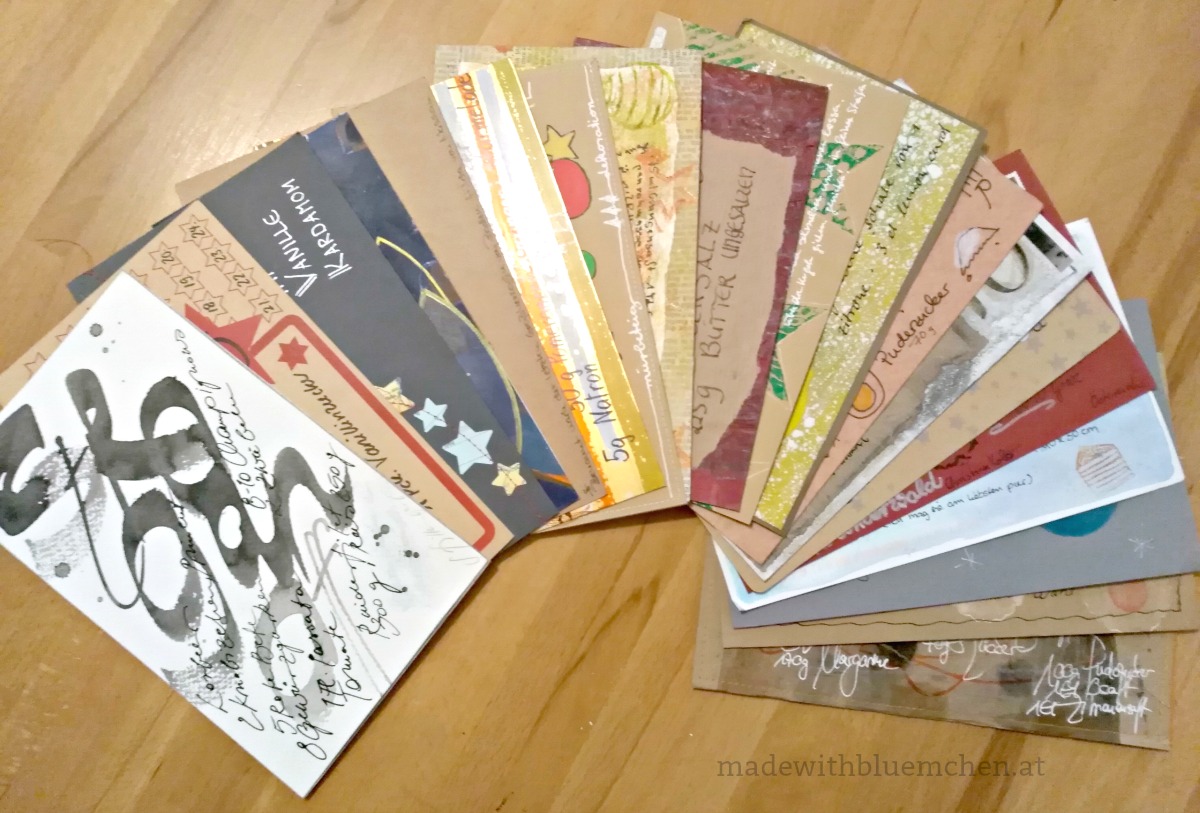 Daraus werde ich ein Buch binden (Bericht folgt).
Ausblick 2020
Nähen, Stricken, Häkeln, Sticken: CREATE!
Die Stoffspielereien, deren Termine ich schon das dritte Jahr koordiniere, sind mein jährlicher Fixpunkt. Ich freue mich, dass ich für 2020 neue Gastgeberinnen gewinnen konnte: Sabine und Silvia von "Petersilie und Co" und Clara (Bimbambuki) haben sich bereit erklärt, bei einem Termin als Gastgeberinnen zu fungieren!
Das sind unsere Termine und Themen für 2020:
Und hier wieder mein AUSDRÜCKLICHER Aufruf, dass Du herzlich eingeladen bist, an den Stoffspielereien teilzunehmen! Die Stoffspielereien sind offen für alle, die mit Stoff und Garn etwas Neues probieren wollen. Es geht ums Experimentieren und nicht ums Perfekt-Sein, denn gerade aus vermeintlich "misslungenen" Experimenten können wir im Austausch jede Menge lernen. Lass dich gerne vom monatlich vorgegebenen Thema inspirieren und zeig deine Ideen dazu am letzten Sonntag im Monat auf Deinem Blog.
Ein weiterer Fixpunkt bei mir ist der Me Made Mittwoch! Derzeit habe ich das "Problem" (in Wahrheit ein Luxusproblem), dass mein Kleiderschrank inzwischen recht gut gefüllt ist mit selbstgemachter Kleidung. Ich habe gar nicht mehr viele Lücken. Glaube ich zumindest. Das heißt: Zuerst brauche ich ein Resümee über meine selbstgenähte Garderobe, damit ich Lücken identifiziere, bevor ich konkrete Nähpläne fürs kommende Jahr machen kann.
Eine neue Aktion, an der ich 2020 öfter teilnehmen möchte, ist der Mittwochs-Mix bei Susanne Nahtlust und Michaela Müller.
Und dann hat sich bei mir ein ganzer Stapel unfertiger Projekte angesammelt, dazu Kleidung, die geändert werden soll und Vieles, das schon lange auf meiner Näh-Wunschliste steht. Das möchte ich in diesem Jahr nach und nach abarbeiten. Besser gesagt: Entscheiden, ob ich es abarbeite oder aussortiere. 🙂 Mit diesem Stapel werde ich eine ganze Weile beschäftigt sein.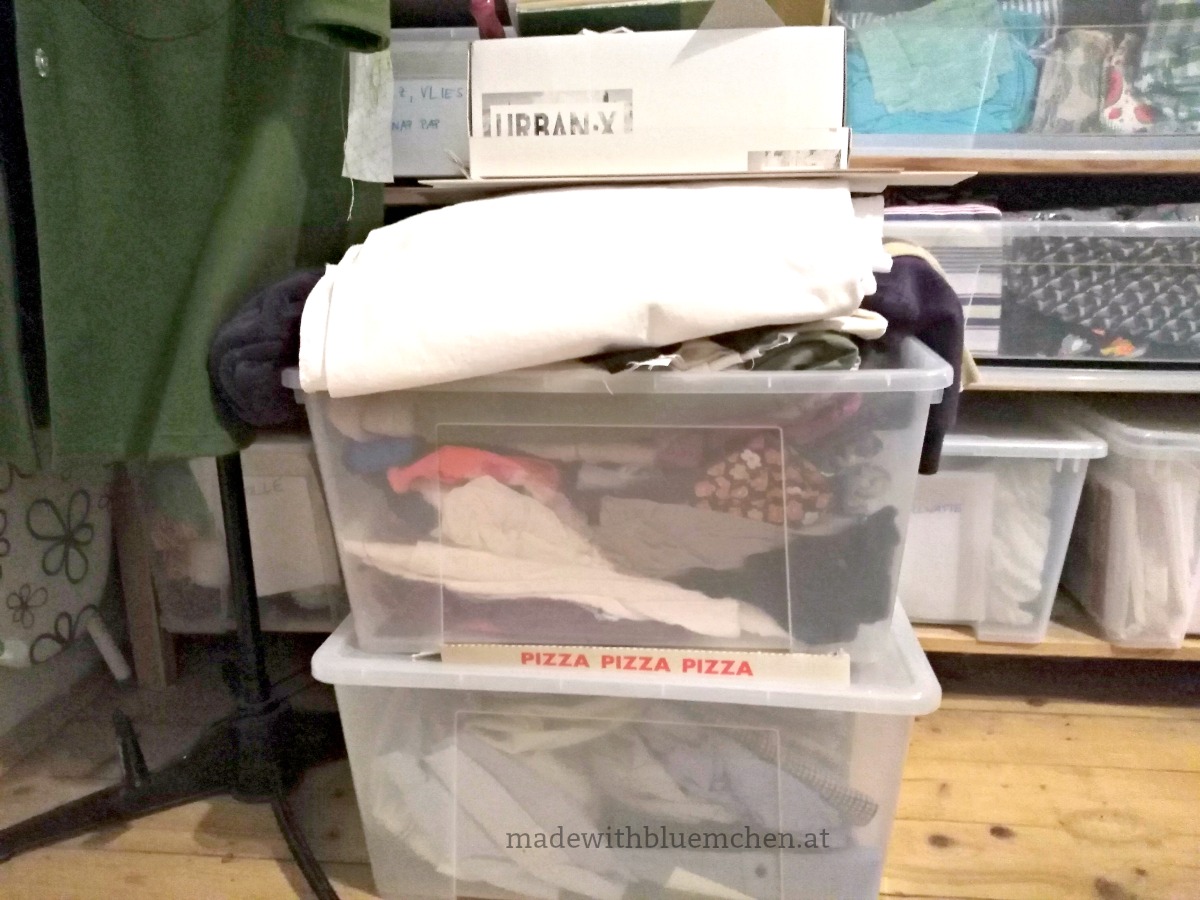 Und ich bin mir ganz sicher, dass im Lauf des Jahres einige neue Projekte und Blog-Aktionen dazu kommen werden, an denen ich dann spontan teilnehmen kann.
Reisen und Kennenlernen
Für 2020 stehen wieder mehr Reisen in Österreich und Deutschland auf meiner Wunschliste:
der Schneiderei-Markt in Wien im März;
die Nadelwelt in Karlsruhe im Mai;
zur Textile Art in Berlin möchte ich im Juni wieder fahren;
genauso wie zum Webermarkt in Haslach im Juli;
und schließlich habe ich den letzten Platz ergattert bei einem Siebdruck-und-Taschen-Workshop mit Frau Machwerke bei Jeromin in Mannheim im Oktober! Hurra!
Dort werde ich teils alte Bekannte wieder treffen und teils neue Bekannte erstmals "live" sehen. Gleichgesinnte auch "in echt" und "in 3D" kennenzulernen ist eine der größten Freuden, die das Bloggen mit sich bringt. Das gibt noch einmal ein Sahnehäubchen auf den spannenden Online-Austausch.
Und die Stempelmacherei
Dass wir (mein Mann und ich) im Oktober 2019 die Stempelwerkstatt meines Schwiegervaters wiederaufleben lassen haben, darüber habe ich berichtet. In Zukunft werde ich einiges mehr in Richtung Stempelerzeugung und Drucken machen. Ich habe einen neuen Insta-Account eröffnet (@stempelmacherei), auf dem ich seit Beginn des Jahres selbst geschnitzte Stempel zeige, und im Lauf des Jahres 2020 auch über unsere Fortschritte bei der Wiederbelebung der Stempelwerkstatt berichten werde: Mit Workshops in Graz und später auch mit Auftragsarbeiten (aber alles schön nach der Reihe), wollen wir die Werkstatt Schritt für Schritt revitalisieren.
Es kommt also wieder ganz schön viel an Plänen zusammen für 2020!
Ich freue mich auf ein weiteres (sechstes!) Jahr mit Euch, meine Leserinnen und Blog-Kolleginnen! Danke, dass Ihr hier lest und kommentiert, danke für Euer Interesse, für Euer Feedback und für Eure Freundschaft!