Heute geht's einmal in einem Meta-Beitrag darum, wie das Selbernähen von Kleidung Dich dabei unterstützen kann, Dich mit und in Deinem Körper wohl(er) zu fühlen.
Das Online-Magazin "Lemondays" hat nämlich aufgerufen zur Blogparade "Wie geht das mit dem Wohlfühlgewicht ab 40 oder 50?", und das Thema hat mich getriggert. Den ganzen Oktober lang schreiben viele unterschiedliche Frauen aus ganz unterschiedlichen Perspektiven über die Gewichtsveränderungen, die die Wechseljahre mit sich bringen. Alle weiteren spannenden, insprierenden, nachdenklichen Artikel, Podcasts und Videos dieser Parade findest Du in diesem Artikel von Gela Löhr vorgestellt.
Du. Bist. Schön.
Fühlst Du Dich "zu irgendwas"? Zu dick, zu dünn, zu groß zu klein? (Im Vergleich zu wem eigentlich?) Hast Du "Affenarme", "Hüftgold", "Love Handles", "Elefantenbeine"? Zu unreine Haut? Sind deine Haare zu glatt, zu kraus, zu dünn, zu widerborstig? Bist du auf einem ständigen Optimierungstrip für Deinen Körper und immer am Rumnörgeln an Dir selber?
Dann ist meine erste Empfehlung für Dich: Kleb Dir ein Post-It an jeden Spiegel in Deiner Wohnung (im Badezimmer, im Vorzimmer, am Kleiderschrank…), auf dem steht: "Du bist schön!" Denn das ist jede von uns, auf ihre ganz eigene Art und Weise. Manche Frau muss es nur ein bisschen öfter hören, bis sie es glaubt.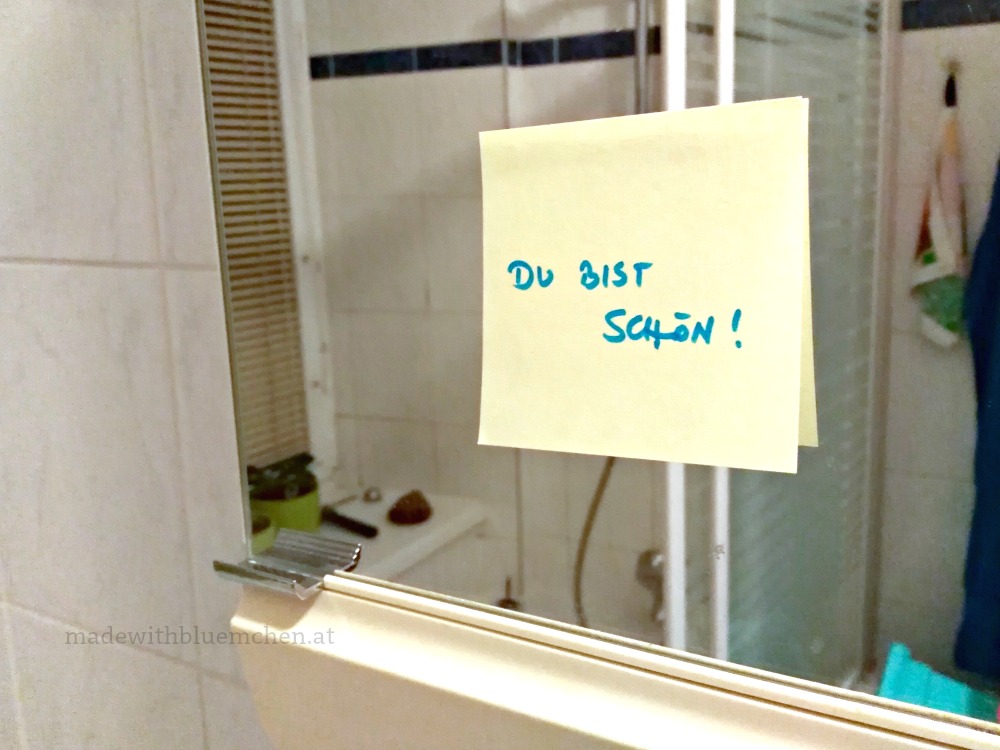 Du. Bist. Schön.
Das Bewusstsein für die eigene Schönheit wurzelt in der Selbstliebe, schreibt Nives Gobo. Und auch für Frauen, die sich schon gerne selbst mögen, ist so ein kleines Post-It eine feine Erinnerung und zaubert ein Lächeln.
Ich hatte mein Leben lang kein Problem mit meinem Gewicht. Einfach weil mein Körper die längste Zeit so ziemlich dem gängigen Körperideal entsprach: Ein Gewicht von gleichbleibend 57 kg bei 172 cm Körpergröße. Viele würden sagen: Zu dünn. (Im Vergleich zu wem eigentlich?) Schlanke Beine und Arme, kleiner Busen, kaum Hintern. Sämtliche Konfektionskleidung Größe 36 passte mir von der Stange. Nur in den Schwangerschaften (ich habe zwei Kinder) hatte ich je um die 15 kg zugenommen, und nach den Geburten jeweils schnell wieder verloren. Milde lächelnd konnte ich sämtliche Diät-Trends links liegen lassen. Ich konnte futtern was ich wollte, ohne nennenswert Sport zu treiben, und nahm doch nicht zu. Ich höre noch die besorgten Stimmen meiner Mutter und meiner Großmutter bei den Besuchen im Elternhaus: "SCHLECHT schaust aus! Isst du eh genug?"
Beneidenswert?
Wahrscheinlich.
Seit einigen Jahren bleiben die Kalorien kleben: Jetzt sind da 10 Kilo mehr als in meinem ganzen vorigen Erwachsenenleben. Rundherum sagen alle: "Mein Gott, was hast du denn!? Du bist doch immer noch sehr schlank!"
Aber der vorher immer flache Bauch hatte sich gerundet, die alten Hosen waren beim besten Willen nicht mehr zu schließen, und wenn ich mich runterbeuge, um mir die Schnürsenkel zu binden, ist gefühlt der Bauch im Weg.
Der ewig jungfräuliche Körper?
Und da war ich plötzlich ebenfalls konfrontiert mit dem bei uns verbreiteten Schönheitsideal. Via Barbie und Co. lernen kleine Mädchen und Jungs, wie die idealen Proportionen auszusehen haben. (Zum Glück gibt es Gegentrends – kennt Ihr z.B. die Anziehpuppe Lammily?) Von den drei Lebensstadien einer Frau "The maiden, the mother and the crone" (zu Deutsch: Die Jungfrau, die Mutter und das alte Weib) sollen wir uns möglichst immer im "jungfräulichen" Stadium befinden, bzw. einen solchen Körper haben: burschikos dünn. Die Models auf den Laufstegen der Mode-Metropolen und zu weiten Teilen auch die Werbung führen uns das vor. Und viele Frauen orientieren sich – vor und nach Geburten, vor und nach dem Wechsel – tatsächlich an diesem jungfräulichen Schönheitsideal.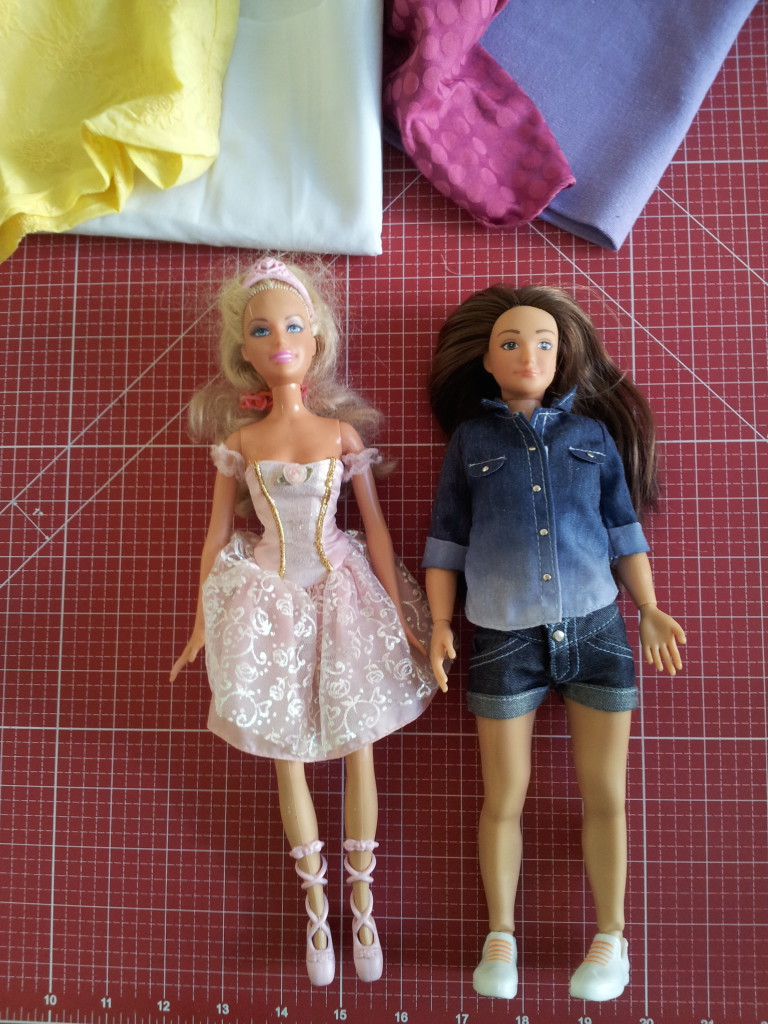 Falls Du den wunderbaren Film Embrace noch nicht gesehen hast – eine unbedingte Empfehlung! Eine Australierin ist nach zwei Geburten mit ihrem Körper nicht zufrieden und trainiert sich zur Bodybuilding-Meisterin hoch. Mit schierer Willenskraft.
Aber dann fragt sie sich, wozu sie sich das eigentlich antut, und kehrt zurück zu ihrem molligen Selbst. Für die Dokumentation macht sich auf eine Weltreise, bei der sie viele berührende Begegnungen mit spannenden Menschen hat und unserem wahnsinnigen Schönheitsideal auf den Grund geht.
Es ist tatsächlich absurd. Mein Körper DARF sich mit Mitte 40 und nach zwei Schwangerschaften verändern. Das tut er ja sowieso. Die Frage ist nur: Wie gehe ich mit meinem neuen Körpergefühl und mit meiner veränderten Silhouette um? Bin ich dem allem ausgeliefert oder kann ich aktiv etwas tun? (Für mich immer ganz besonders wichtig.) Dazu mehr etwas später.
Was ist dein Wohlfühlgewicht?
Mit welchem Gewicht fühlst Du Dich wohl? Und was gehört für Dich noch zum Wohlfühlen? Heike schreibt so nett: "Wohlfühlgewicht ist Gewicht, das sich bei mir wohlfühlt."
Also grundsätzlich haben wir schon gesagt: Selbstliebe hilft ungemein. Und dann habe ich persönlich mein Wohlfühlgewicht, wenn ich eine halbe Stunde flott mit dem Rad fahren kann, ohne nennenswert außer Puste zu kommen. Und Treppen hochlaufen. Also eine gewisse Grund-Kondition gehört für mich dazu.
Vor allem fühle ich mich aber wohl, wenn mich meine Kleidung nicht zwickt und zwackt und überall einschneidet.
Wenn sich der Körper verändert, muss sich auch die Kleidung verändern. Ein Jahr lang hatte ich noch versucht, mich in meine alte Kleidung reinzuzwängen. Einerseits aus Sparsamkeit und aus ökologischen Gründen, aber auch, weil ich Shoppen wirklich hasse: Obwohl mir vieles von der Stange passt (gepasst hat), hat es doch immer EWIG gedauert, bis ich etwas gefunden habe, das meinen sehr konkreten Vorstellungen entsprochen hat. Hast du schon mal versucht, einen Rock mit weichem Gummibund aufzutreiben, der bequem ist und gleichzeitig schick aussieht? Oder einen grünen Mantel, wenn die Trendfarben gerade Babyrosa und Himmelblau sind?
Selbst nähen befreit!
Vor einigen Jahren begann ich Handarbeitsblogs zu lesen und bekam Lust, selbst einen Blog zu starten. (Die Geburtsstunde von "made with Blümchen".) Eine völlig neue, faszinierende Welt von Bloggerinnen, Schnittmuster- und Stoffherstellerinnen und Linkparties tat sich auf! Ich hatte immer schon gerne gehandarbeitet und früher – zu Studentenzeiten – auch das eine oder andere Kleidungsstück für mich genäht. Aber kombiniert mit meinen körperlichen Veränderungen und meiner Shopping-Unlust bekam das Nähen noch einmal eine andere Dimension:
Selber Nähen ist einfach befreiend! Weil ich Modetrends und Trendfarben ignorieren kann. Ich kombiniere Material, Farbe und Schnitt genau so, wie sie mir gefallen und kann jedes Kleidungsstück für mich passend herstellen.
Farbe, Schnitt, Material?
Da habe ich beschlossen: Wenn ich schon Zeit, Energie und auch Geld hineinstecke, mir meine Kleidung selbst zu nähen, dann möchte ich, dass sie meinem Körper schmeichelt UND meine Persönlichkeit unterstützt. Dann brauche ich ein Gesamtkonzept.
Vom Göttergatten habe ich mir zu Weihnachten vor ein paar Jahren einen Gutschein für eine Farbberatung gewünscht, Es ist tatsächlich VERBLÜFFEND, was unterschiedliche Farben ans Gesicht gehalten mit Deinem Aussehen machen. Wie die Gesichtshaut die Farbe widerspiegelt und was dann passiert: Ob die Augen und der Teint zu strahlen beginnen und man plötzlich als Ganzes leuchtet. (Bei mir die Wirkung von Dunkelbraun, Olivgrün, Dunkelorange). Oder ob man ausschaut wie ausgekotzt: graue, fahle Gesichtsfarbe, tiefe Augenringe. (Bei mir die Wirkung von Anthrazit, Hellgrau, Schwarz, die vorher meine Garderobe dominierten.)
Nach der Farbberatung habe ich alle farblich nicht passende Kleidung aussortiert und mich auch von geliebten aber zu eng gewordenen Stücken getrennt. Die Ordnungsexpertin Ursula schreibt darüber, wie emotional das Aussortieren von Kleidung sein kann – das kann ich nur bestätigen.
Meine Stilberatung ein paar Monate später hat gezeigt, dass ich weg vom studentisch-schlabbrig-sportlichen Jeans-und-Shirt-Look und hin zu eher geradlinigen Business-Outfits gehen sollte. Jeans dominieren immer noch meinen Alltag, aber nach und nach kommen auch neue Stücke dazu. Mit dem großen Vorteil, dass die Neuen um die Mitte nicht einschneiden, sondern das Bäuchlein bequem darunter Platz hat!
Der eigene Körper als Grundlage, auf dem wir modellieren
"Wer für sich näht, muß wissen, wie der eigene Körper aussieht – da hilft kein Wegschauen" schreibt Meike in ihrem Beitrag zur Blogparade, in dem sie sich eine Taille näht. Wenn ich weiß, wie mein Körper aussieht, kann ich mir Wissen darüber aneignen, was Farben und Linienführung für die Wahrnehmung des Körpers bewirken. Welche Schnittführung gut zu welcher Körperform passt, oder besser: Welche Schnittführung ich wählen kann, damit ich eine gewisse, beabsichtigte Wirkung erreiche.
Wenn ich zum Bespiel einen eher geraden Körper mit gleich breiten Schultern und Hüften und kaum nennenswerter Taille habe (eine so genannte "H-Figur"), mir aber eine schlanke Taille à la X-Figur zaubern möchte: Dann kann ich Schultern und Hüften der Kleidung breiter machen, und automatisch wird die Taille (optisch) schmäler!
Wenn ich die Regeln kenne, kann ich sie befolgen oder gezielt brechen und meinen GANZ eigenen Stil kreieren. Das macht (mir) großen Spaß!
Seit drei Jahren habe ich jetzt – bis auf Unterwäsche und Socken – keine Kleidung mehr gekauft. Bis auf ein paar übrig gebliebene alte Stücke ist der Inhalt meines Kleiderschranks selbst genäht. Es ist nicht besonders viel, aber völlig ausreichend: Alles ist untereinander kombinierbar, passt farblich zusammen und – am wichtigsten: Die Kleidung passt zu mir und auf meinen Körper. Ich habe meine absolute Wohlfühl-Garderobe erreicht. (Applaus!)
Befreie Dich von Modezwängen und fühl Dich wohl in Deinem Körper
Hast Du jetzt Lust bekommen, Deine Nähmaschine auszupacken? Um deinen Luxuskörper in endlich passende Kleidung zu hüllen? Wo kannst Du mehr über diese Themen erfahren?
Früher war der Blog der "Modeflüsterin" Stephanie Grupe eine tolle kostenlose Quelle an Informationen zu Körperformen, Farbe und Stil. Jetzt stehen die meisten ihrer Inhalte nur mehr zahlenden Besucherinnen zur Verfügung.
Ich treibe mich mit Vorliebe auf Linkparties wie dem Me Made Mittwoch herum: Dort zeigen Hobbyschneiderinnen selbst genähte Kleidung am eigenen Körper. Da gibt es dicke, dünne, kleine, große Frauenkörper der verschiedensten Proportionen. Für mich war das anfangs ein völlig neues Konzept, dass sich jemand, der bei weitem keine herkömmlichen Model-Maße hat, selbstbewusst vor eine Kamera stellt und sich so zeigt, wie sie ist. Aber was für ein Ansporn und was für eine Inspiration für andere! Da tauscht man sich über Schnittmuster aus, über knifflige Stellen beim Nähen, Materialien, Wirkungen. Allen diesen Frauen ist gemeinsam, das sie sich ihre Wohlfühlkleidung auf den Körper schneidern.
Vielleicht möchtest du das auch?
Jetzt lass mal hören
Was bedeutet für Dich "Wohlfühlgewicht"? Wie spielt Kleidung in dein Wohlfühlgewicht hinein? (zu eng, zu weit, zu…) Hinterlass mir doch einen Kommentar und lass uns eine Unterhaltung starten. (Ich antworte auf alle Kommentare.)
Und wenn Dich das Thema interessiert, schau doch vorbei bei der Blogparade zum Thema "Wohlfühlgewicht" im Lemondays-Magazin. Es ist eine sehr bunte Ansammlung von Frauen, die da mitmachen. Die Blogparade läuft noch bis 31.10.2019, täglich wächst die Sammlung um zwei Artikel. Genügend Lesefutter für die kommenden Wochen.