Petersilie & Co sind die Gastgeberinnen der heutigen Stoffspielereien zum Thema "Blumen". Ich habe Stickerei mit Seidenbändern ausprobiert, die wunderbar dreidimensional wird.
Das Stickset "Large Garland of Silk Flowers" von Lorna Bateman Embroidery habe ich schon vor drei oder vier Jahren gekauft. Aber irgendwie fühlte ich mich überfordert von der Komplexität und Fülle dieses Blumenkranzes. In der Beschreibung stand: "Für Stickerinnen, die sich schon einmal in diese Art der Stickerei versucht haben". (Ähm ja, genau. Bzw.: Nein, leider noch gar nicht!) Ich suche ja häufig die Herausforderung… Dann hat diese besondere Herausforderung jahrelang in einer Lade geschlummert.
Als Silvia, Sabine und Anna vom Blog Petersilie und Co. "Blumen" als Thema für die Stoffspielereien im Mai vorgeschlagen haben, war das DIE Gelegenheit. Ich habe früh begonnen zu sticken und den ganzen Mai lang in kleinen Schritten weiter am Blumenkranz gearbeitet.
Die Technik der Seidenband-Stickerei gefällt mir gut, weil die Motive so schön dreidimensional werden. Im Unterschied zu anderen Stickereien zieht man hier das Garn selten fest, sondern legt es häufig locker in Schlaufen und Knoten. Die meisten Stiche und Knoten sind gar nicht so schwierig, wie es zuerst aussieht. Für mich war die Herausforderung, wirklich lockere Stiche zu machen. Man kann sich mit Stecknadeln behelfen, um die Seidenbänder zuerst in die richtige Form zu legen und dann auch zwischenzeitlich zu fixieren.
Ich finde es faszinierend, wie man dann aus ein paar wenigen Stichen flächenfüllende Blüten modellieren kann.
Vorbereitung
Die (englische) Anleitung zum Stickset ist ausführlich geschrieben und anschaulich bebildert. Lorna Bateman schlägt vor, zuerst die Rosen zu sticken und sich dann Blumenart für Blumenart voranzuarbeiten. Das habe ich befolgt: Mit den einfacheren Blüten begonnen und mich dann zu den komplexeren vorangetastet. Von jeder Blüte sind ca. 9-10 Stück vorhanden, eine gute Menge, um die jeweilige Blüte zu üben.
Hinter den Stickgrund (hier eine gelbliche Rohseide) wird ein dünner Bauwollstoff gelegt, die beiden Stoffe werden mit ein paar Stichen zusammengeheftet und gemeinsam in einen Stickrahmen gespannt. Als erstes waren die Blütenstängel mit gewöhnlichem Stickgarn in Stielstich und Ährenstich zu sticken.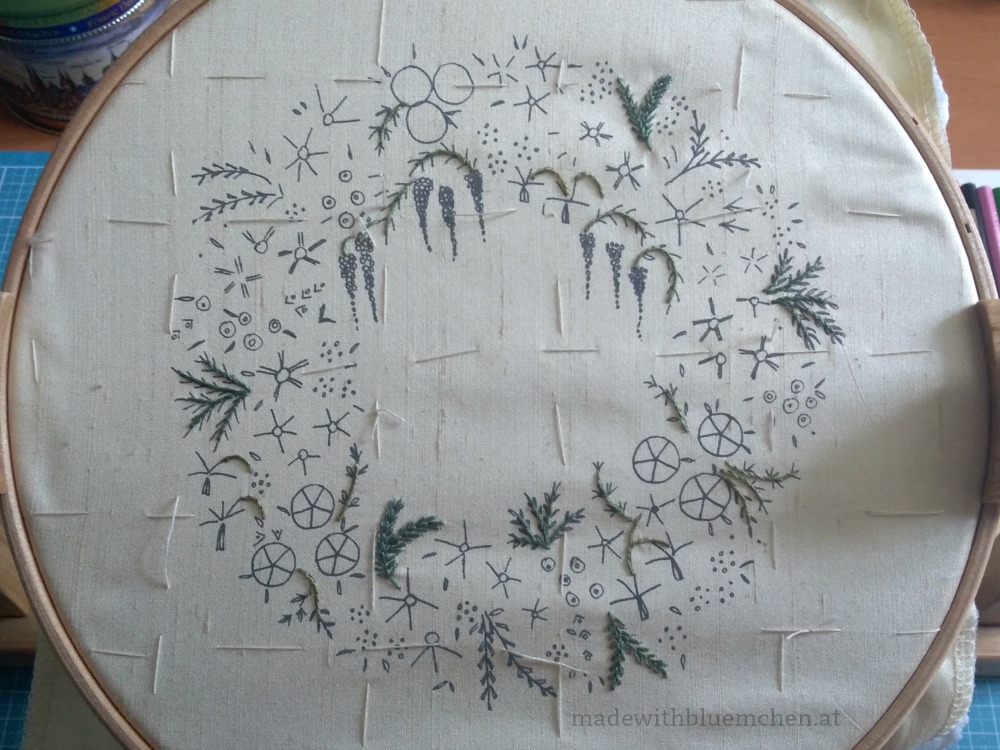 Damit das flutschige Band nicht immer aus dem Öhr rutscht, fixiert man es auf der Nadel. Hierzu sticht man ein kurzes Stück vom Ende entfernt mit der Nadel zurück und zieht die Nadel durch.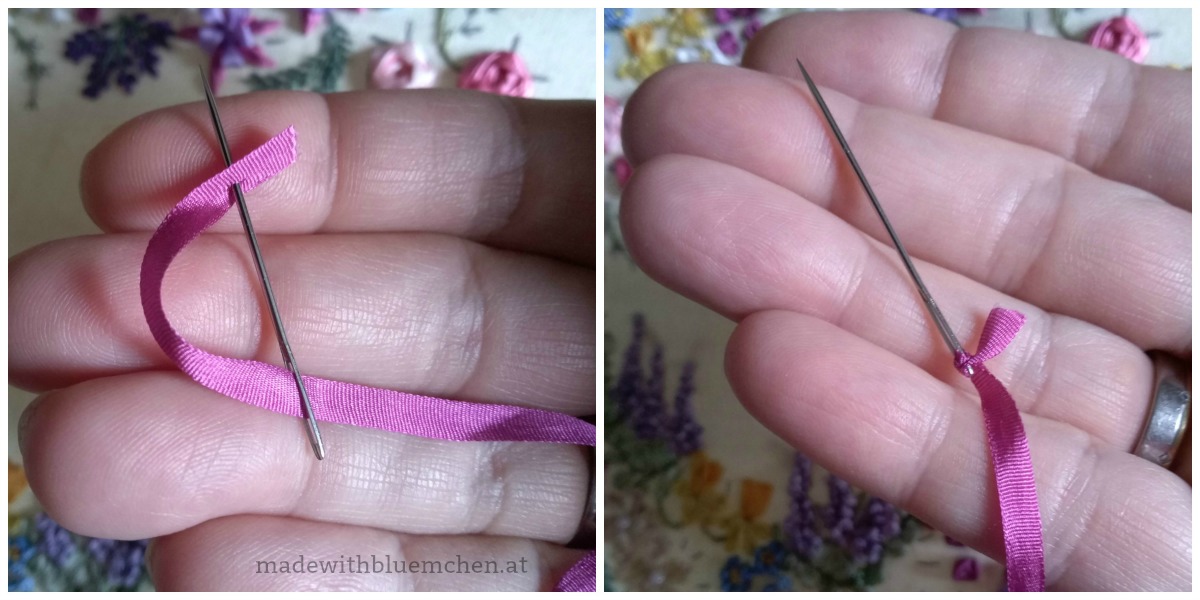 Ins andere Ende des Seidenbandes macht man keinen Knoten, sondern führt es auf der Rückseite ein Stück zwischen den Stoffschichten hindurch und sticht dann durch das Bandende auf die Vorderseite durch. So wird das Bandende gut fixiert.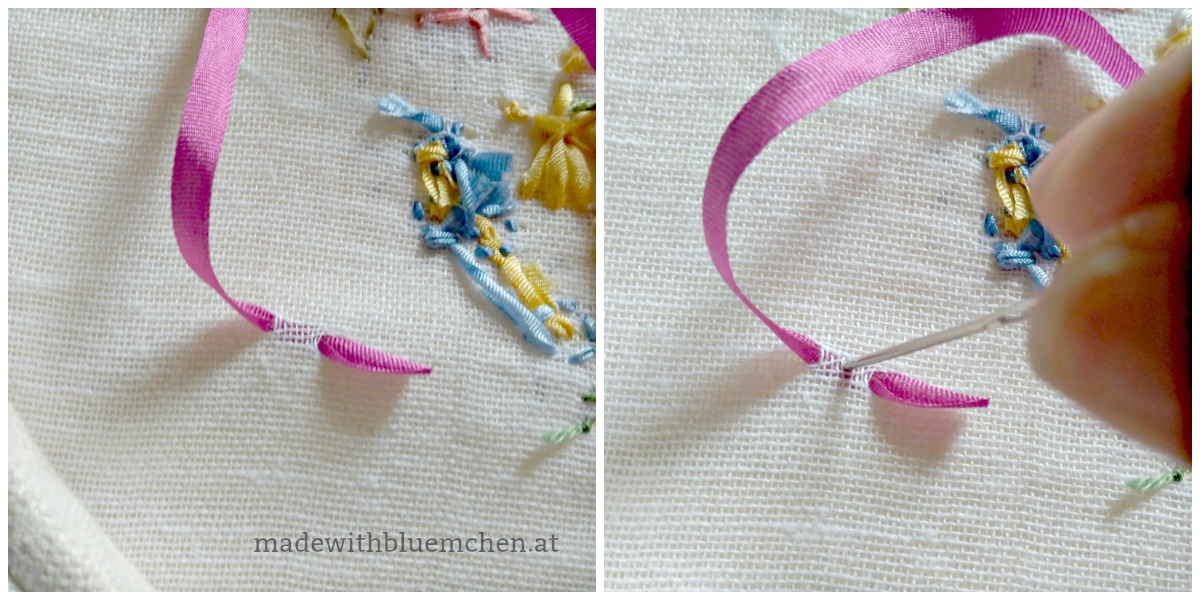 Gewebte Rosen
Für die runden Rosen spannt man ein Grundgerüst aus dünnem Garn (5 Strahlen). Das Seidenband wird dann durch diese Speichen "gewebt", am besten mit dem stumpfen Ende der Nadel voran, damit sich die Nadel nicht dauernd im Stoff verfängt. Ich habe für eine Rose ca. 40 cm Band gebraucht. Am Anfang habe ich das Seidenband eher glatt und ein bisschen zu fest rundherum gelegt. Schöner wird die Rose, wenn man das Band nicht zu glatt hält, sondern es ein bisschen in sich verdrehen lässt. Zum Video
Gedrehte Röschen
Für die gedrehten Röschen zwirnt man ca. 10-12 cm Seidenband, und lässt beim Einstechen und Durchziehen das Band sich kräuselnd in Schleifen legen. Die Kunst liegt darin, mit dem Durchziehen aufzuhören, wenn es schön aussieht. Nicht zu viel und nicht zu wenig. Danach fixiert man die Windungen des Rösleins mit ein oder zwei Stichen eines dünnen Stickgarns. Das fand ich sehr fummelig, und manchmal habe ich beim Fixieren meine mühsam geformte Rose wieder zerstört. Nicht mein Favorit an Stichen. Zum Video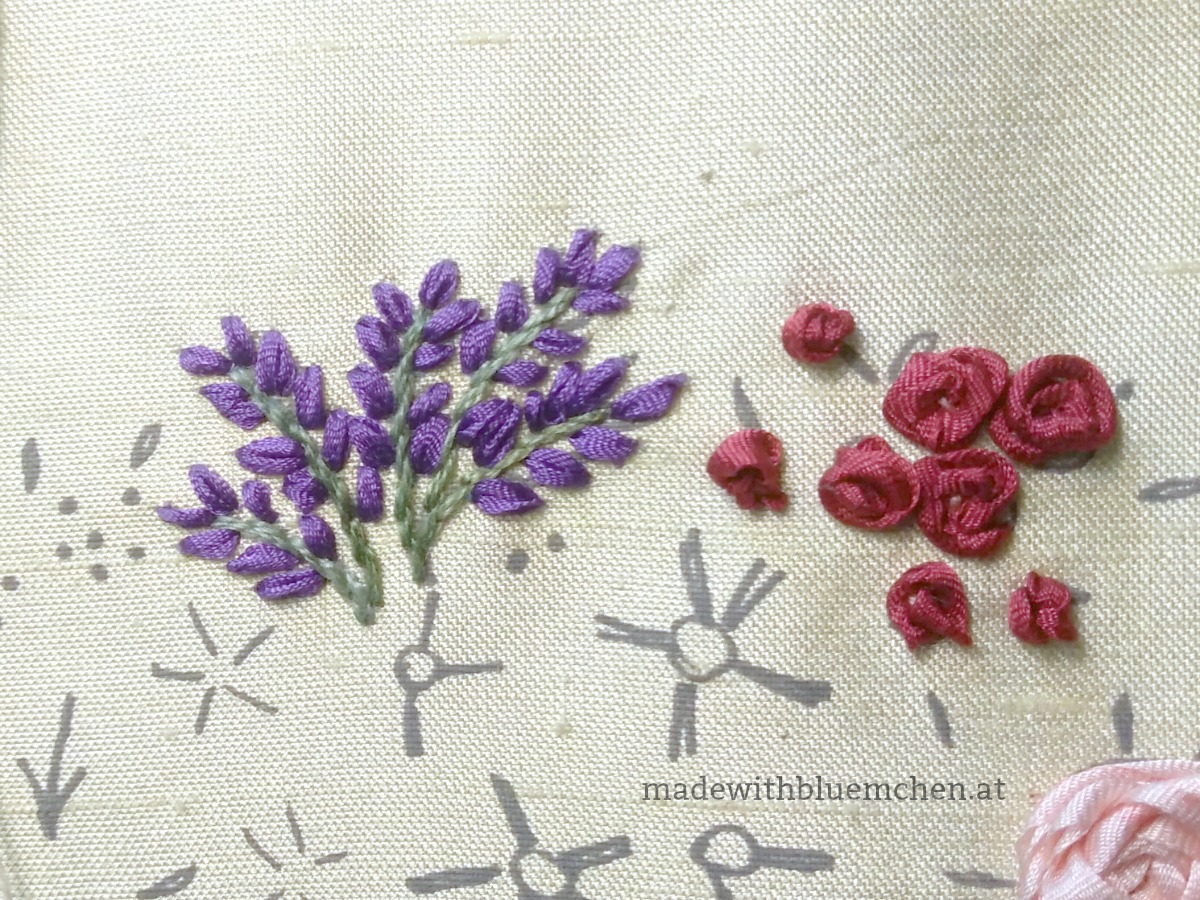 Lavendel
Ist ganz einfach aus kleinen Geradstichen. Aber auch diese bekommen durch das Seidenband Volumen und Glanz. (Siehe Foto oben)
Vergissmeinnicht und Glyzinie: french knots
Der "französische Knötchenstich" mit Seidenband funktioniert genauso wie der mit normalem Stickgarn. Man muss beim Seidenband nur aufpassen, dass man die Schlaufe bis zuletzt mit führt, damit sich das Seidenband nicht verzwirbelt. Zum Video Vergissmeinnicht
Für die Glyzinie habe ich französische Knoten in drei verschiedenen Größen und den zwei Lila-Tönen gearbeitet, die im Paket enthalten waren. Die größten Knoten haben drei Umdrehungen auf der Nadel bekommen, die kleinsten nur mehr eine. Zum Video Glyzinie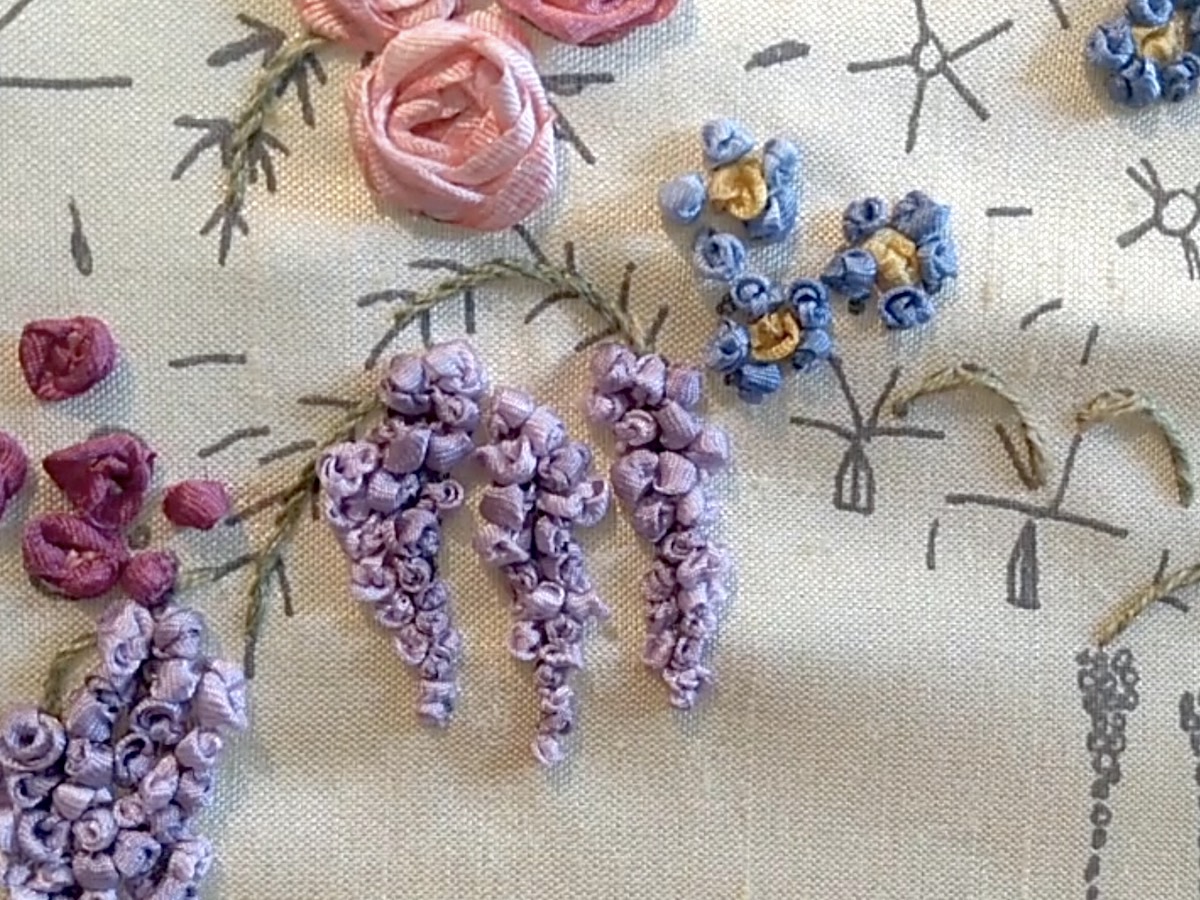 Blätter, Osterglocke, große Rose: inverted stab stitch
Der Stich für die kleinen Blätter heißt auf Englisch "inverted stab stitch". Das ist ein für die Seidenband-Stickerei spezifischer Stich, weil er noch mehr als andere Stiche mit der Breite des Bandes arbeitet. Man sticht aus dem Grundstoff heraus und in einem kleinen Abstand durch das Band wieder hinein. Die Schlaufe führt man am besten mit einer Stecknadel. Je nachdem, wie weit man das Ende der Schlaufe wieder in den Stoff hinein zieht, wie spitz oder flach man das Ende der Schlaufe also formt, hat man unterschiedliche Gestaltungsmöglichkeiten: Eher spitz für Blätter, flacher oder fast wie gekräuselt bei der Osterglocke.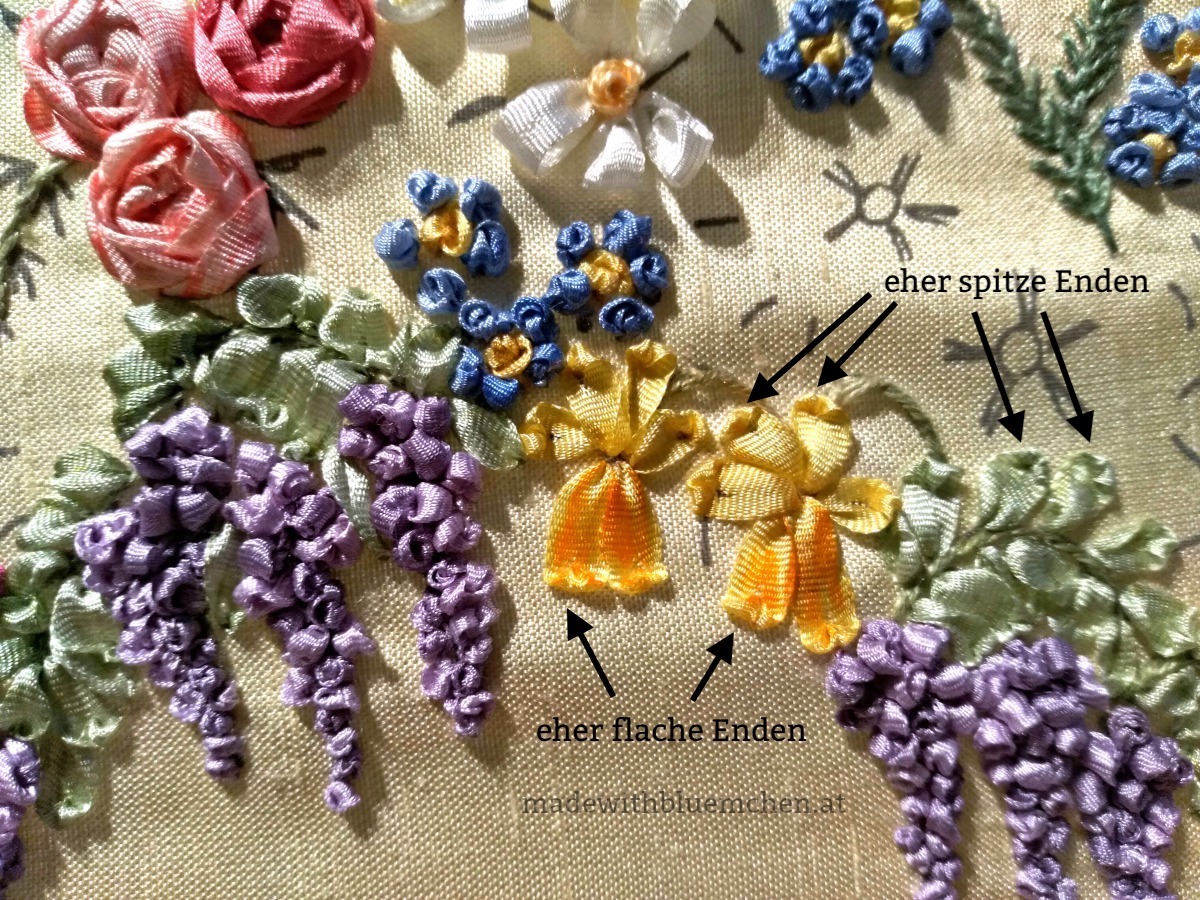 Bei diesem Stich ist es besonders wichtig, das Band ganz flach (nicht in sich verdreht) zu führen und eher locker wieder in den Stoff hineinzuziehen. Bei diesem Stich habe ich häufig und ausgiebig geflucht, wenn ich wieder zu fest angezogen hatte, und das schöne spitze Ende wieder im Stoff verschwand. Deshalb bin ich dann dazu übergegangen, eine Stecknadel als "Sicherung" so lange in der letzten Schleife stecken zu lassen, bis die nächste Schleife fertig war.
Zum Video Blätter – Zum Video Osterglocke
Und auch die voll aufgeblühten Rosen sind nichts anderes als dieser "inverted stab stitch", nur mit einem breiteren Seidenband ausgeführt und mit einem Perlchen in der Mitte, wodurch noch einmal ein anderer Eindruck entsteht. Zum Video "volle Rose"
Margeriten aus Schlaufen
Die Margeritenblüten bestehen aus Schlaufen. Hier gibt es sogar die explizite Anweisung von Lorna Bateman, jede Schlaufe mit einer Stecknadel zu sichern, damit man sie nicht unabsichtlich mit dem nächsten Stich reinzieht. Dabei muss man aber aufpassen, dass man nicht unabsichtlich mit dem Seidenband auf der Rückseite der Stickerei in einer der Stecknadeln hängen bleibt! (Ist mir mal passiert.)
Ich frage mich, ob ich die Blütenblätter nicht ein bisschen "flacher" machen hätte sollen, indem ich auch hier wieder durch das Band durchgestochen hätte. Bei mir bauschen die Schlaufen sich schon arg nach oben. Zum Video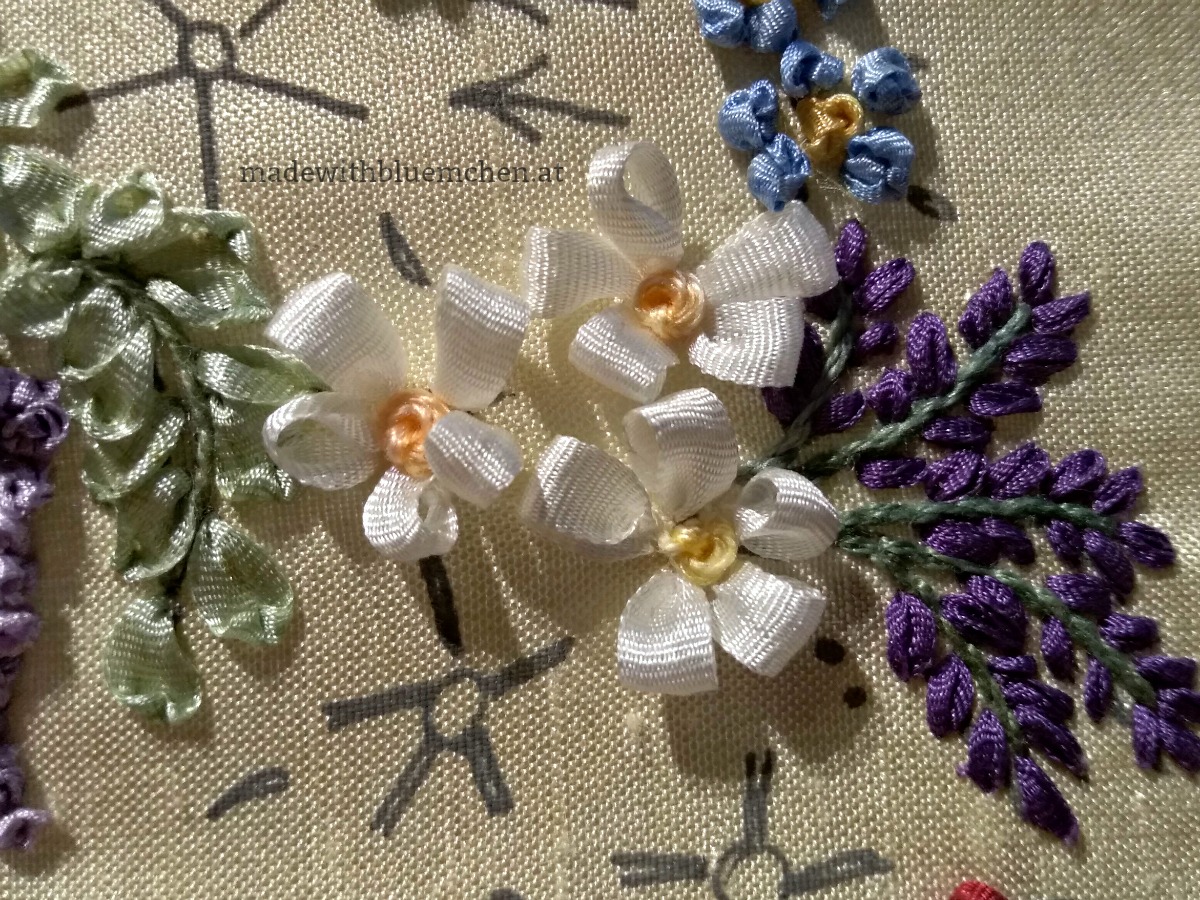 Akelei und Gladiolen
Die Akelei besteht aus drei Sorten Stichen: einem länglichen "bullion lazy daisy", der eine Art Knospe bildet; Schlaufen wie bei der Margerite und einem französischen Knoten. Auch bei den Gladiolen kommt dieser "bullion lazy daisy" zum Einsatz, kombiniert mit flachen Schlaufen.
Den "Bullion stitch" fand ich schwierig zu formen: Das eher rutschige Seidenband flutschte häufig beim Herumwickeln von der Nadel. Wenn das Band zu verdreht ist, wirkt der Knoten nicht füllig sondern dünn und flach. Und wenn er einmal fest ist, ist dieser Knoten kaum mehr zu lösen. Man kann ihn höchstens aus der Stickerei herausschneiden.
Video "Gladiole", an dessen Anfang der "bullion lazy daisy" Stich zu sehen ist.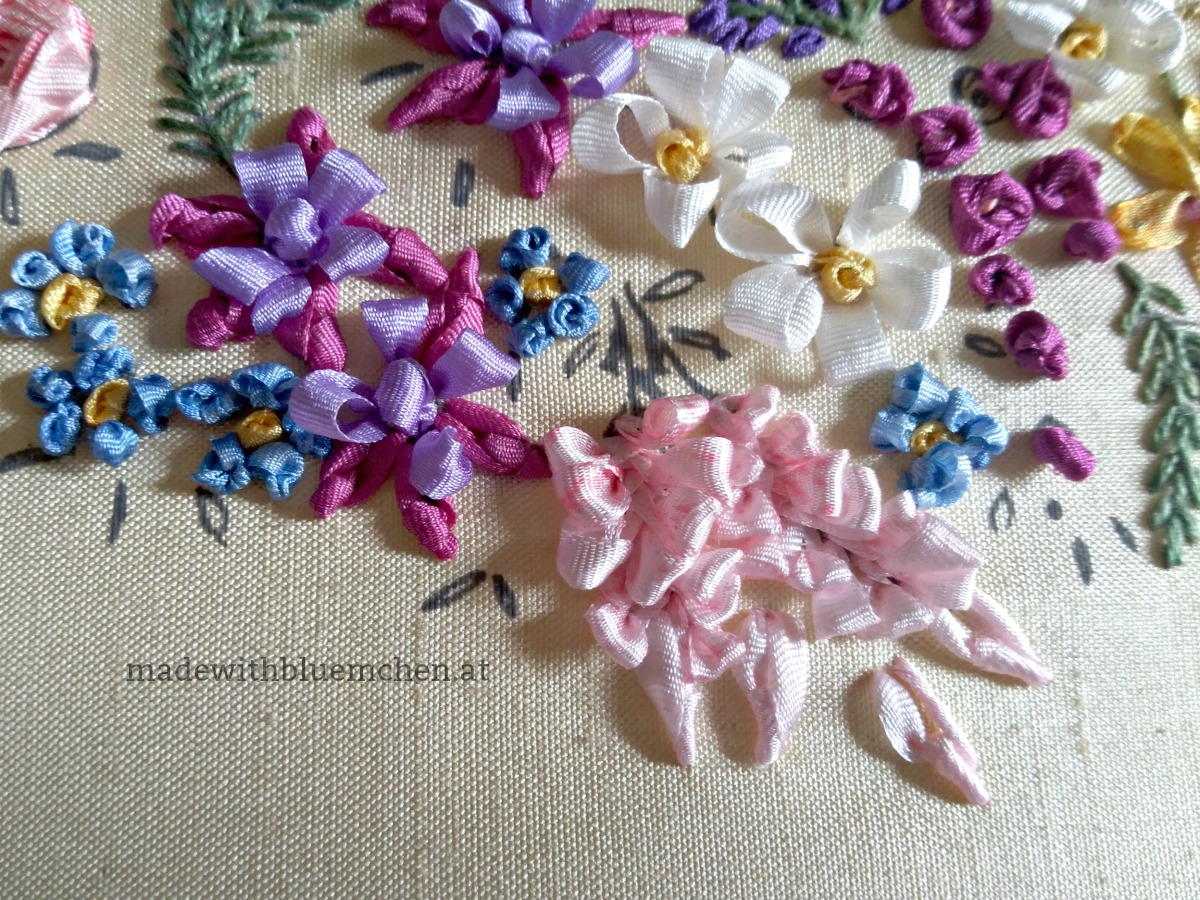 Fazit
Die Seidenstickerei gefällt mir als Technik ausgesprochen gut. Ich möchte gerne wieder einmal was in die Richtung machen, bin aber noch unschlüssig, wie ich das gestickte Stück verwenden soll. Gerahmt an die Wand hängen? Auf ein Kleidungsstück applizieren? Auf ein edles Täschchen? Oder als kleines Kissen? Die Stickerei ist für den täglichen Gebrauch und große Belastungen zu fein und zu dreidimensional. Ob man nicht ständig in den Blümchen hängen bleibt?
Welche Projekte könntet Ihr Euch mit dieser dreidimensionalen Seidenstickerei vorstellen?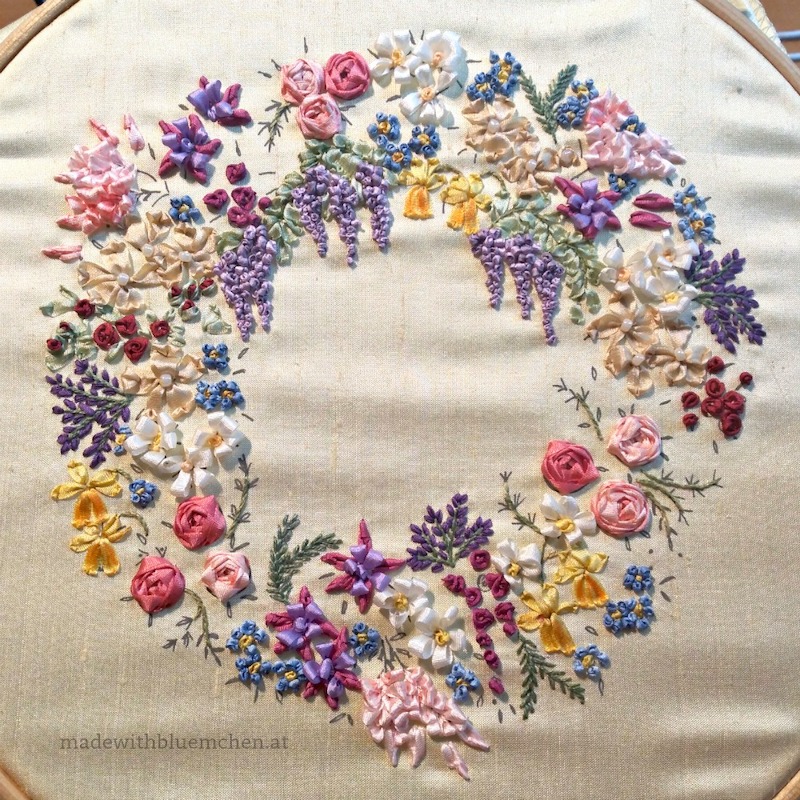 Heute bin ich wieder sehr gespannt, welche vielfältigen Projekte die Stoffspielerinnen zusammengetragen haben. Die Petersilien sammeln heute die Beiträge zum Thema "Blumen". Schaut unbedingt rüber, erfreut Euch an den schönen Beiträgen und hinterlasst auch Eure Wertschätzung in Form von Kommentaren! (Darüber freut sich jede Bloggerin.)
Unser Stoffspielerei-Thema für Ende Juni ist "Monogramme". Ich bin nächstes Mal die Gastgeberin! In ein paar Tagen veröffentliche ich für alle, die mitmachen wollen, einen Inspirations-Beitrag dazu.
Die Stoffspielereien
Bist du auch eine Stoffspielerin?
Mach mit, trau dich, sei dabei! Die Stoffspielereien sind offen für alle, die mit Stoff und Garn etwas Neues probieren wollen. Es geht ums Experimentieren und nicht ums Perfektsein, denn gerade aus vermeintlich "misslungenen" Experimenten können wir im Austausch jede Menge lernen. Lass dich gerne vom monatlich vorgegebenen Thema inspirieren und zeig deine Ideen dazu.
Jeden letzten Sonntag im Monat sind die Stoffspielereien zu Gast bei einer anderen Bloggerin. Dabei kommen wir ohne Verlinkungstool aus: Schreib einfach einen Kommentar mit dem Link zu deinem Beitrag im jeweiligen Blogpost der Gastgeberin. Sie fügt die Links im Lauf des Tages in ihren Beitrag ein – ganz persönlich und individuell.
Machst du nächstes Mal mit?
Die nächsten Termine:
28.06.2020: "Monogramme" bei made with Blümchen
Sommerpause
27.09.2020: "Texturen aus der Natur" bei Schnitt für Schnitt
25.10.2020: "Textile Behältnisse" bei Feuerwerk by kaze
29.11.2020: (Thema noch offen) bei Nähzimmerplaudereien
Einen Überblick über die bisherigen Stoffspielereien, die schon seit 2012 laufen, findest Du auf stoffspielereien.net. Meine Beiträge zu den Stoffspielereien sind hier versammelt.
Das ist drin
Das Stickpaket "Large Garland of Silk Flowers" ist nach wie vor bei Lorna Bateman Embroidery erhältlich um rund 78,- Euro. (Selbst bestellt und selbst bezahlt vor mehreren Jahren.) Ein stolzer Preis, ich weiß.
Das Stickpaket ist, wie ihr jetzt ja gesehen habt, hübsch zusammengestellt. Darin ist bis auf eine Schere alles, was man für das Projekt braucht: Ein Stück Dupionseide mit dem Muster drauf (Siebdruck); Ein Stück Baumwollgaze zum Hinterlegen der Seide; Seidenbänder in unterschiedlichen Farben (wahrscheinlich handgefärbt). Weitere Seidengarne, ein paar Perlchen, und sogar die nötigen Sticknadeln in zwei Sorten und verschiedenen Stärken. Den Preis finde ich der Arbeit dahinter – der Auswahl und durchdachten Zusammenstellung der Materialien in ausreichenden Mengen und in den richtigen Farbkombinationen – durchaus angemessen. Für die, die es sich leisten wollen.
Falls Du für Deine ersten Versuche mit Seidenbändern nicht so viel Geld ausgeben möchtest (was ich verstehen kann), findest Du preiswertere Sets zum Sticken und lose Seidenbänder bei der Werkstatt für historische Stickmuster in Berlin oder auf der Seite der Läden, die ebenfalls die Seidengarne und -bänder von "Au ver a soie" führen, dem weltweit größten Hersteller von Seidengarnen. Sabine von Petersilie und Co hat einmal ein Nadelbriefchen-Kit von dort gearbeitet.
Verlinkt bei