Judith (septembersquiltdelight) und May (Confessions of a fabraholic) haben mich eingeladen, mich in der Blogreihe "Blind Date" der Modern Cologne Quilters vorzustellen. Vielen von Euch sind diese Gruppe und ihr Gemeinschaftsblog sicher von der Linkparty "Modern Patch Monday" bekannt.
Heute ist mein Beitrag zum "Blind Date" erschienen, in dem ich über die Anfänge, die Vielfalt der Projekte und das Nähen mit Stoff, egal ob dick oder dünn, alt oder neu, mit oder ohne Designer und Namen schreibe.
Ich fühle mich sehr geehrt und freue mich so! Besucht mich doch heute virtuell bei den Modern Cologne Quilters!
Hallo, liebe Damen!
Ich fühle mich außerordentlich geehrt und freue mich sehr über Judiths Einladung zum "Blind Date" hier bei den Modern Cologne Quilters!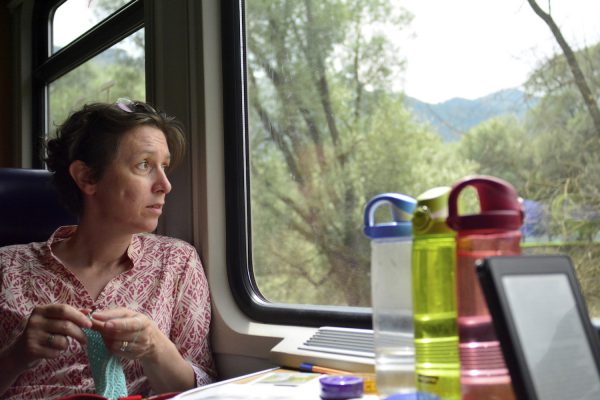 Ich bin Gabi, Mitte 40 Jahre alt, lebe in Graz und handarbeite seit rund 35 Jahren. Ich bin breit interessiert an Textilem: Ich nähe unerschrocken alles, was meine alte "Privileg Super Nutzstich" (dahinter steckt eine Janome von ca. 1990) und meine neue W6 Overlock (von 2015) schaffen: Praktisches, Patchwork, Taschen, Kleidung, aus Webware und Jersey. Ich stricke und häkle, sticke gerne aber selten mit der Hand, habe vor Kurzem zu klöppeln begonnen und probiere prinzipiell alle möglichen Handarbeitstechniken aus. Ich liebe textile Reisen, Märkte und Ausstellungen, Treffen und Bücher. Über all das berichte ich auf meinem Blog made with Blümchen.
Beruflich hat sich vor Kurzem ein Neustart ergeben: Im Herbst 2016 habe ich Temysto gegründet, die Plattform für "Unikate mit Geschichten", auf der wir Geschichten über hochwertig handgemachte Gebrauchsgegenstände von ihrer Herstellung bis zu ihrem Lebensende erzählen wollen. Wir (mein Mann und ich) programmieren gerade und werden bald mit einer Beta-Version online gehen. (Edit: Temysto haben wir aus verschiedenen Gründen leider wieder eingestellt.)
Das Patchworken ist für mich eine wiederkehrende Faszination, zu der mich meine Handarbeitslehrerin in der vierten Klasse Gymnasium gebracht hat. Wir haben damals ein kleines Patchwork-Top komplett per Hand genäht und gequiltet. Die Lehrerin hat uns beigebracht, dass die Ecken ganz genau aufeinander treffen müssen, und diese Genauigkeit liegt mir sehr. Ich habe damals keinen Polster daraus gemacht sondern das Stück zu einem Gilet weiter verarbeitet. Die Farb- und Musterwahl finde ich im Rückblick schauderhaft, aber auf meine exakten Handnähte bin ich immer noch stolz.
Mit 20 Jahren habe ich für meine Eltern einen ca. 2,5 x2,5 Meter großen Quilt nach einer Anleitung in einem alten Handarbeitsheft genäht. Heute weiß ich, dass es ein Log Cabin Quilt ist. Ich habe Stoff gekauft, mit Schablonen und Schere zugeschnitten und fröhlich mit der Maschine drauflos genäht. Irgendwie habe ich das riesige Teil auch zum Quilten unter die Nähmaschine gebracht. Ich finde es häufig schade, wenn ich in Foren lese, dass sich eine Näh-Anfängerin dieses oder jenes nicht traut. Dabei muss man es häufig einfach nur tun, dabei lernt man so viel!
Ich arbeite gerne ergebnisorientiert, mache am liebsten Dinge für einen bestimmten Zweck (außer bei den Stoffspielereien, an denen ich gerne teilnehme, da ist das Ausprobieren der Zweck und das Ziel) und am besten mit einer Deadline. Dabei drängen sich oft kleine, "schnelle" Projekte dazwischen, wodurch ich zu den großen Projekten nie wirklich komme.
2016 habe ich Foundation Paper Piecing entdeckt, was mir unheimlich gut gefällt, da ich ja so gerne ordentlich und genau arbeite. Als Jugendliche habe ich gerne gepuzzelt, die Teilchen konnten gar nicht zahlreich genug und klein genug sein. Ein bisschen so geht es mir jetzt wieder, im letzten Jahr sind einige kleinteilige Stücke entstanden. Die Vorlage für den Hasen (links oben im Bild) habe ich selbst erstellt, nach einer Grafik von Kreativbühne.
Wiederverwendung und Upcycling liegen mir am Herzen, und auch dieser ursprüngliche Aspekt des Patchwork gefällt mir sehr. Der Großteil meines Stofflagers stammt Second Hand aus dem Caritas-Laden, und auch kleinste Stoffreste sind bei mir noch kein Abfall sondern wertvoller Rohstoff. Wenn ich in einem Stoffladen bin, werde ich natürlich schwach bei tollen Farben und Mustern, ich habe aber (bisher) keine/n Lieblings-Designer/in oder Lieblings-Stoffserien und kaufe nur sehr wenig und meist projektbezogen neue Stoffe.
Ich mag geometrische Muster in kräftigen Farben und verwende gerne Unis. Bisher habe ich hauptsächlich gepatched und nur das Nötigste gequiltet. Für mich soll das Quilting das Muster im Top betonen und unterstützen, bzw. auf der Rückseite des Quilts wiederholen. Machmal finde ich es fast schade, wenn ein tolles Top so stark mit anderen Mustern überquiltet wurde, dass das ursprüngliche Muster dahinter verschwindet.
Meine Inspiration und mein Austausch mit anderen kommt hauptsächlich aus dem Internet, genauer gesagt von Blogs, von Instagram und Pinterest. Auf Pinterest habe ich ein Board zum Ideensammeln eingerichtet. Zusätzlich besitze ich ganze vier Stück Patchwork-Bücher.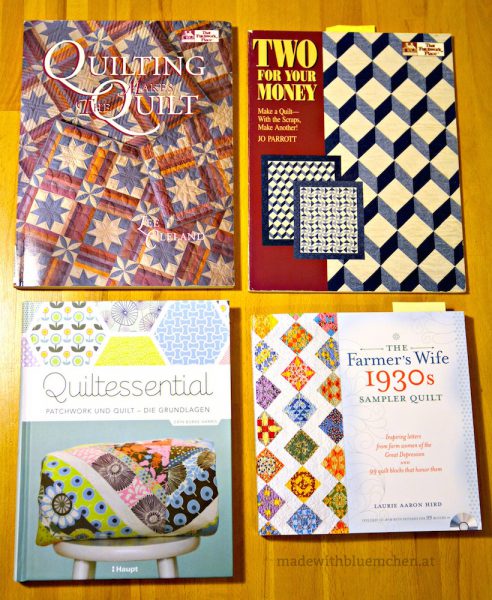 In "Quilting makes the Quilt" (englisch, 1999, ISBN 978-1564770752) hat Lee Cleland zwölf verschiedene Tops je fünf mal exakt gleich genäht, aber jeweils unterschiedlich gequiltet. Ich finde es sehr faszinierend, wie unterschiedlich dasselbe Top anders gequiltet wirkt. Das Buch zeigt, wie wichtig die Überlegungen zum Quilten für das Endergebnis sind.
"Two for your money" von Jo Parrott (englisch, 1994, ISBN 978-1564770738 ) zeigt, wie man die Reste eines traditionellen Quilt-Designs gleich für einen zweiten Quilt verwerten kann. Schön sparsam.
"Quiltessential" von Erin Burke Harris (deutsche Übersetzung 2015, ISBN 978-3258601205) vermittelt die absoluten Grundlagen, die zum Nähen eines Quilts benötigt werden, sehr anschaulich und übersichtlich. Ein schönes Nachschlagewerk. Andrea Kollath von der Quiltmanufaktur hat eine begeisterte Rezension darüber geschrieben.
Und "The Farmer's Wife 1930s Sampler Quilt" von Laurie Aaron Hird (englisch, 2015, ISBN 978-1440241468) habe ich mir vor Kurzem zugelegt, als ich vom noch bis Mai 2017 laufenden sew-along hörte. Für den sew-along bin ich zwar schon viel zu spät dran, aber das Projekt insgesamt reizt mich. Das Buch beinhaltet 99 Leserbriefe von amerikanischen Bäuerinnen aus der Zeit der Depression und 99 zu den Texten passende traditionelle Quiltblöcke. Zum Buch gehört eine CD-Rom, auf der alle Blöcke sowohl als Schablonen als auch als Foundation Paper Piecing Vorlagen sehr gut aufbereitet sind, sodass man sich aussuchen kann, welchen Block man in welcher Technik lieber nähen möchte. Dieses Buch möchte ich in den nächsten Monaten Brief für Brief, Block für Block durcharbeiten.
Ansonsten hört die Inspiration nie auf, die Projekte gehen mir mit Sicherheit nicht aus, und ich verwende jeden möglichen Stoff, egal ob dick oder dünn, alt oder neu, mit oder ohne Designer und Namen. Ein von Pojagi (koreanisches Patchwork) inspirierter Teppich aus Möbelstoffen in unserem Flur wartet zum Beispiel darauf, mit einem dazu passenden Vorhang aus Seiden-Resten an der Balkontür komplettiert zu werden.
Ich spare auf eine gute, teure, neue Nähmaschine (Quilting Edition) mit viel Platz rechts von der Nadel und habe einen Workshop zu La Passacaglia gebucht, in dem ich das English Paper Piecing probieren möchte. Und, und, und… Mir wird wirklich nicht langweilig.
Ihr findet meine Projekte auf meinem Blog www.madewithbluemchen.at, auf Facebook, Instagram und Pinterest.
Ich danke Euch fürs Lesen und freue mich auf Eure Kommentare!