Mein Startbeitrag zum Herbst-Handarbeitsbingo hat bei meiner Freundin Heike einen wahren Schaffensrausch ausgelöst. Die vielen wunderschönen Dinge, die bei ihr in den letzten Wochen entstanden sind, wollte ich Euch auf keinen Fall vorenthalten! Daher habe ich Heike zu einem Gastbeitrag eingeladen. Viel Freude beim Schmökern! [Gabi]
---
Hallo! Ich bin Heike aka "3he fecit" und lebe meine im Brotberuf (trotz eigentlich kreativ genanntem Berufsbild) nicht gefragte Kreativität durch Stricken und Nähen von Kleidung, Taschen und Patchwork/Quilten aus. Einmal im Monat trifft sich bei mir zuhause auch eine sehr inspirierende kleine Handarbeitsrunde, an der auch Gabi teilnimmt.
Was macht frau, wenn sie nach Fertigstellung eines Strickstücks in ein kreatives Loch fällt? Und sich nicht entscheiden kann, welche der im Kopf rumgeisternden Ideen sie nun als Nächstes angeht? Sie stöbert erst mal ein bisschen bei den Lieblingsblogs. Und liest bei Gabi (made with Blümchen) vom Herbst-Handarbeitsbingo, das Barbara vom Blog sechziggradnord veranstaltet. Und denkt sich: Ja, Bingo! Das wäre doch ein super Plan, die Entscheidungsblockade zu überlisten und sich an den Aufgaben entlang zu hangeln.
Die Ideen sprudeln, einzig es fehlt neben dem gerade recht überstundenlastigen Brotberuf ein bisschen an Zeit. Also mal mit den schnellen Sachen anfangen.
Da liegt doch seit letztem Winter ein grünes (✓) UFO (✓) rum: Filzpatschen (✓), deren zweiter erst zur Hälfte gestrickt ist. Schwups, sind sie endlich fertig gestrickt (✓): Und gleich auf einen Schlag 5 Kreuzchen gemacht. Und weil es so schnell geht, und die Patenkinder sich neben neuen Mützen wieder welche gewünscht haben, strickt frau gleich noch waschmaschinenökonomisch ein paar Paar Filzpatschen hinterher.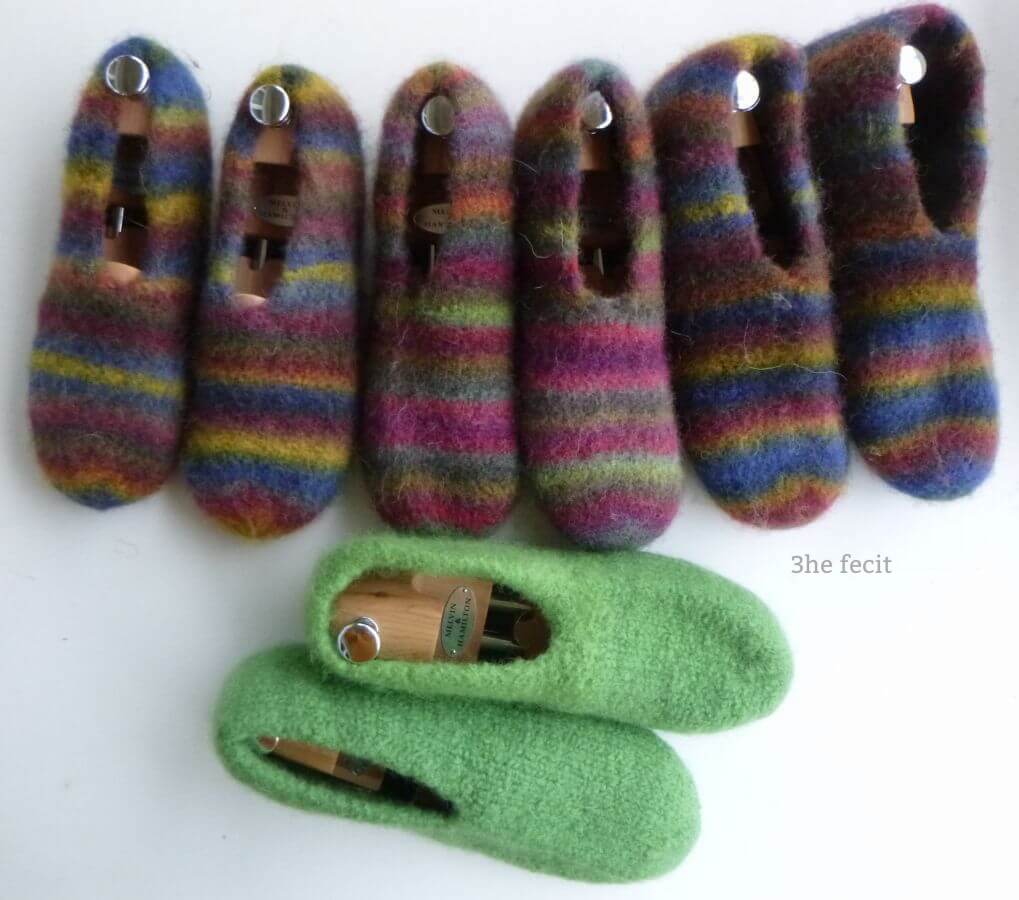 Wobei, da ist ja noch was Grünes: Die gehäkelten Topflappen, die am Vortag fertig geworden sind. Kurze Recherche: Ja, der Zeitrahmen vom Bingo begann schon vor der Herstellung, und das Häkeln (✓) ist auch abgehakt.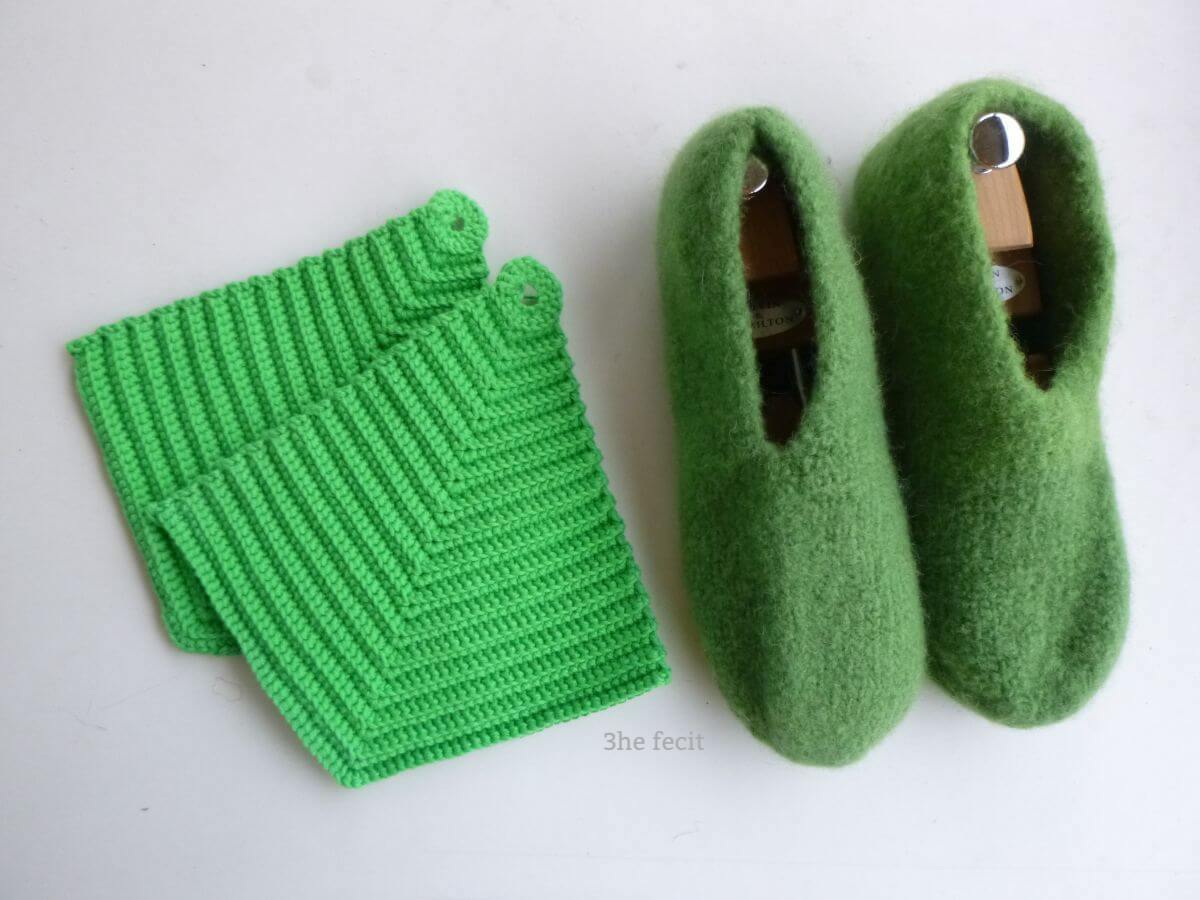 Weiter zu den Mützen, davon stehen ein paar auf der Weihnachtsgeschenkeliste. Und weil ich gerade so einen Lauf habe, entstehen nicht nur ein paar Mützen (✓) für den Winter (✓), sondern auch das von einem Strickpullover übrig gebliebene 50g-Knäuel kürbisfarbene (✓) Alpakawolle wird zu einem Stirnband verstrickt.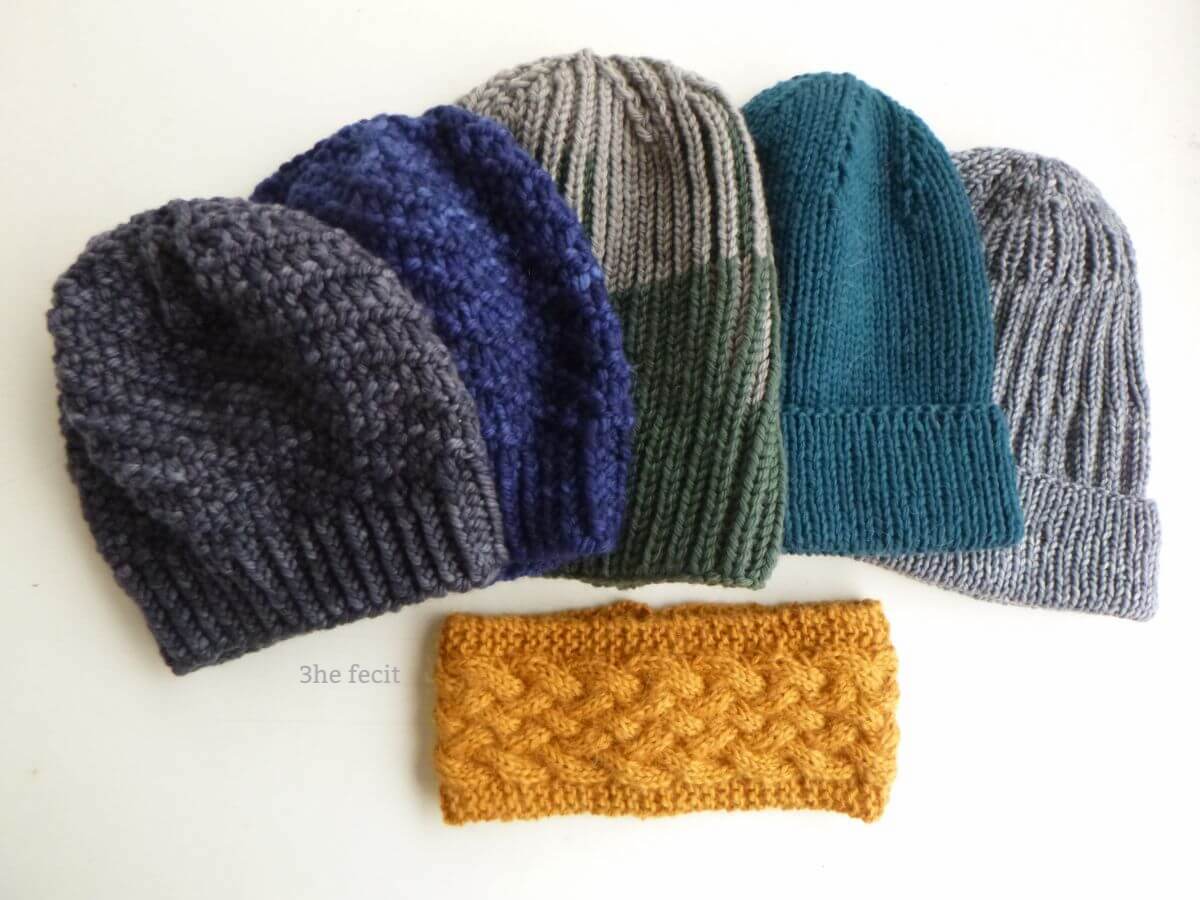 Das Stirnband wurde übrigens bei einem Stricktreff gestrickt, bei Schwarztee (✓) und von Gabi gebackenen und mitgebrachten Zimtschnecken (✓).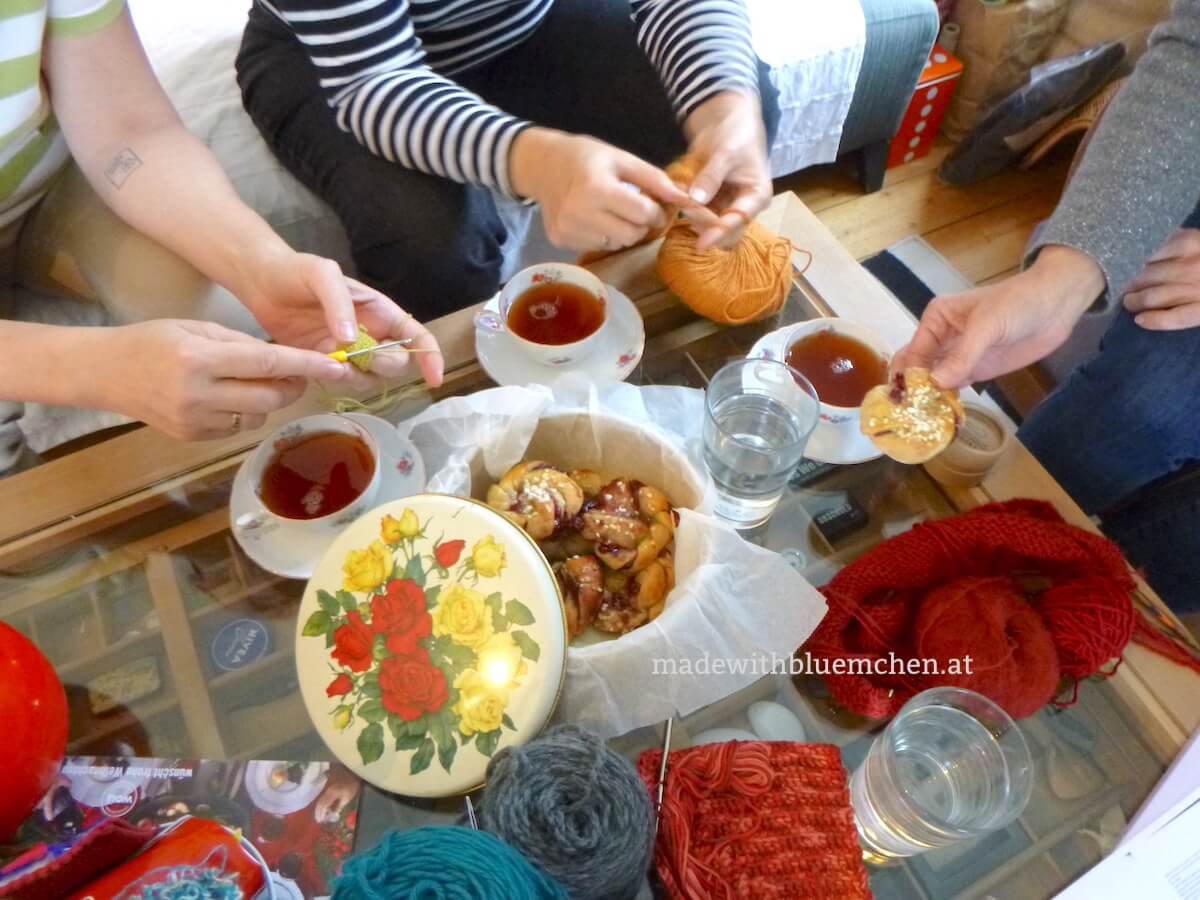 Der letztes Jahr bei einem seltenen Heimatbesuch von der Cousine zur Umwandlung mitgegebene gestrickte Kinderpullover wird beim monatlichen Nähtreff endlich zu einer Kissenhülle, die Blusentops aus Kunstfaser aus gleicher Quelle werden zu Einkaufsbeuteln (✓). Und bevor richtig Fotos davon gemacht werden können, nimmt sie die begeisterte Cousine bei einem Kurzbesuch auch schon wieder mit.
Und etwa die Hälfte der Bingo-Aufgabenfelder ist ausgekreuzt!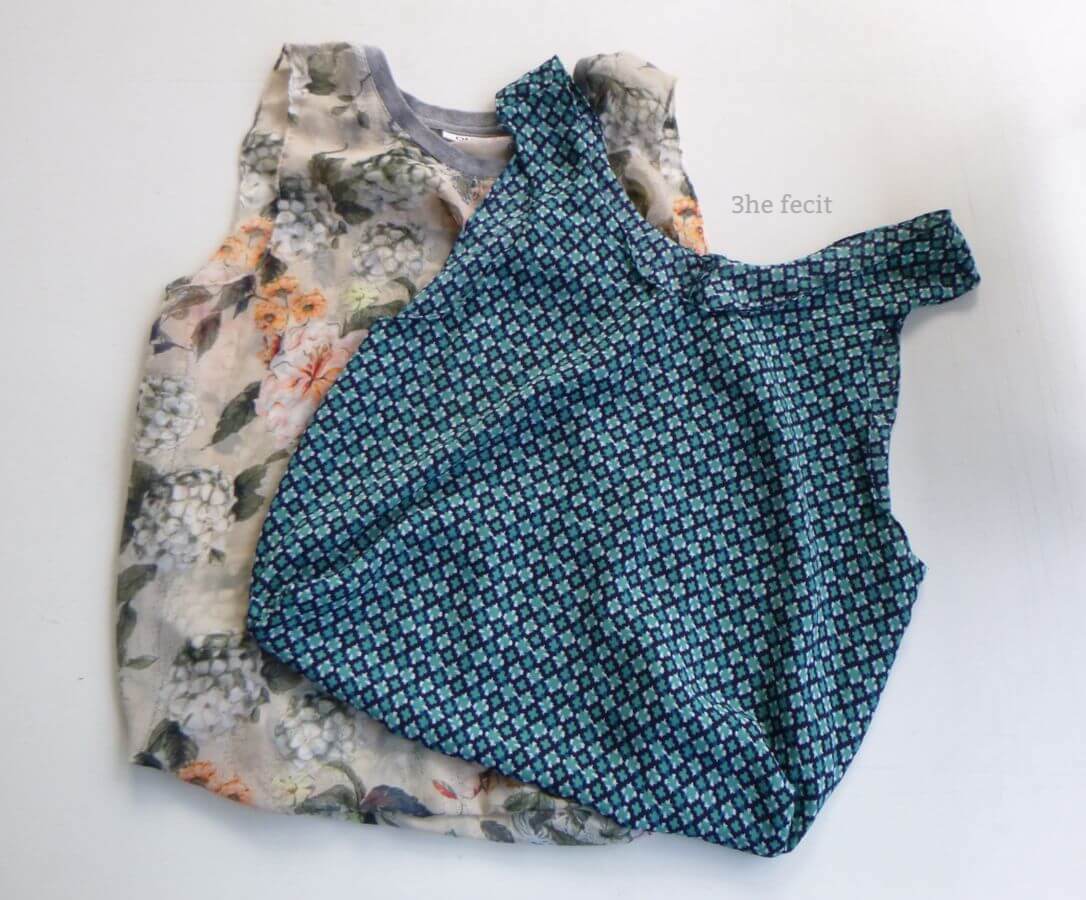 Dank des Handarbeitsbingos schaffe ich also endlich die Umsetzung seit langem schwelender Projekte. Sehr gut! So hatte ich mir das vorgestellt.
Und ich stelle fest, dass doch ein kleiner Ehrgeizling in mir steckt: Was anfangs als Unterstützung zur Kanalisierung der vielen Ideen gedacht war, wird nun zur Challenge: Ich will möglichst viele der Aufgaben zumindest ausprobieren!
Also wälze ich meine alten Handarbeitsbücher auf der Suche nach alten Handarbeitstechniken. Allerheiligen (✓) kommt und geht mit ein paar Reihen mehr an meinem eigentlich als Sommerstrickprojekt gedachten Tuch Frühlingsduft aus einem vor zwei Jahren bei einem Ausflug mit Gabi und Mirjam zum Webermarkt in Haslach gekauften naturgefärbten Leinengarn (✓). Naja, um ehrlich zu sein, habe ich das bisherige Gestrick aufgetrennt (✓) und nochmal mit kleineren Nadeln angefangen. Und bis zum Sommer wieder beiseitegelegt. (Dieses UFO wird auch noch eine Weile UFO bleiben.)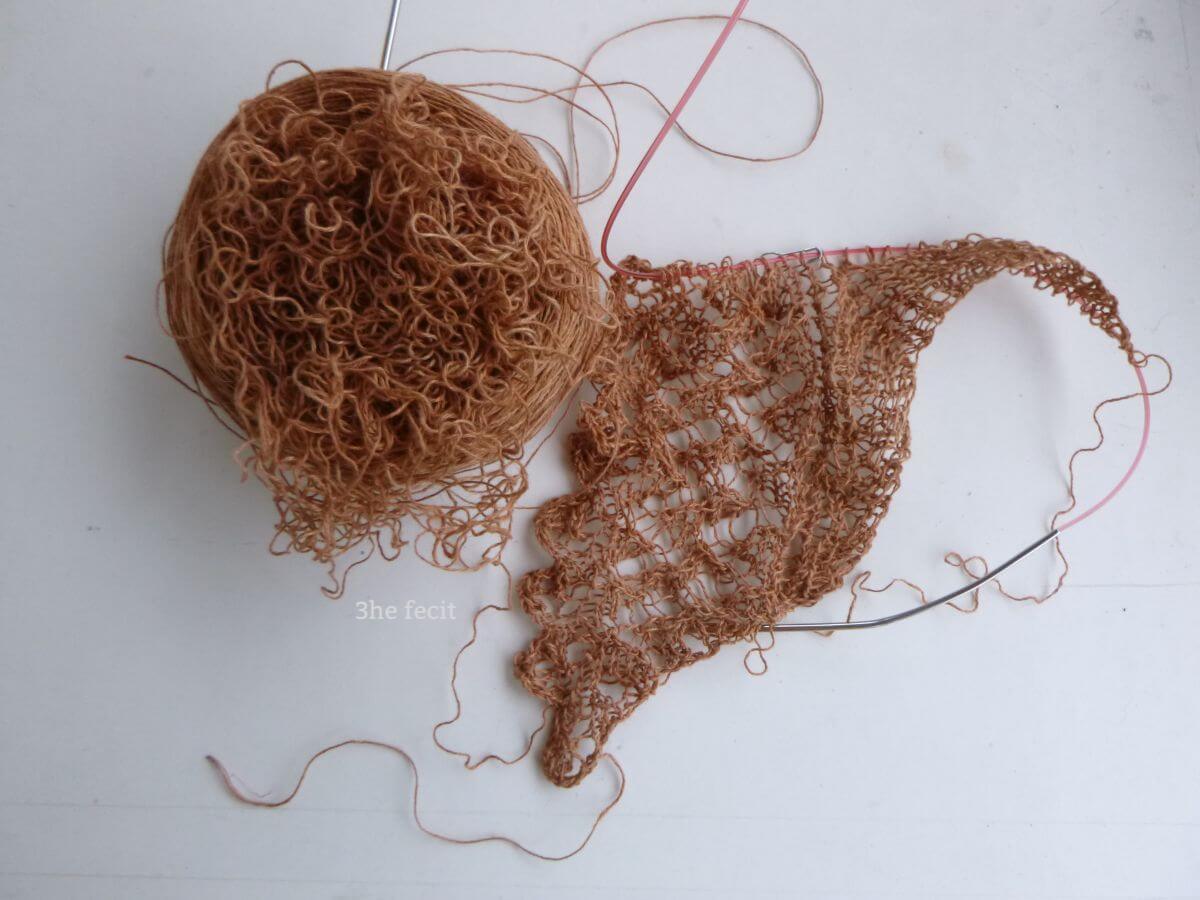 Mit den alten Handarbeitstechniken komme ich auch nicht so recht weiter. Also befasse ich mich zur Ablenkung endlich mal mit den seit Langem versprochenen Wadlstutzen für meinen Bruder. Um dann mit Hilfe von Magdalena draufzukommen, dass die überlieferten Strickmuster aus dem Ennstal ja auch in die Kategorie "alte Handarbeitstechnik" (✓) fallen. Kompliziert mit all der Zählerei und den Überkreuzungen ist das Ganze auch noch, es geht eher im Schneckentempo voran. Ich fürchte, bis Weihnachten werden die Wadlstutzen nicht fertig werden.
Also lieber was anderes machen. Kreuzstich habe ich zuletzt vor annähernd 40 Jahren in der Schule gemacht. Die Muster in den von der Oma geerbten Heftchen sprechen mich jetzt auch nicht so an. Also habe ich zwischendurch zur Ablenkung mal die gerade aufgestockte Stickgarnsammlung nach Farben sortiert, und einen Regenbogen und ein paar andere Kombinationen zur Inspiration (✓) zusammengestellt.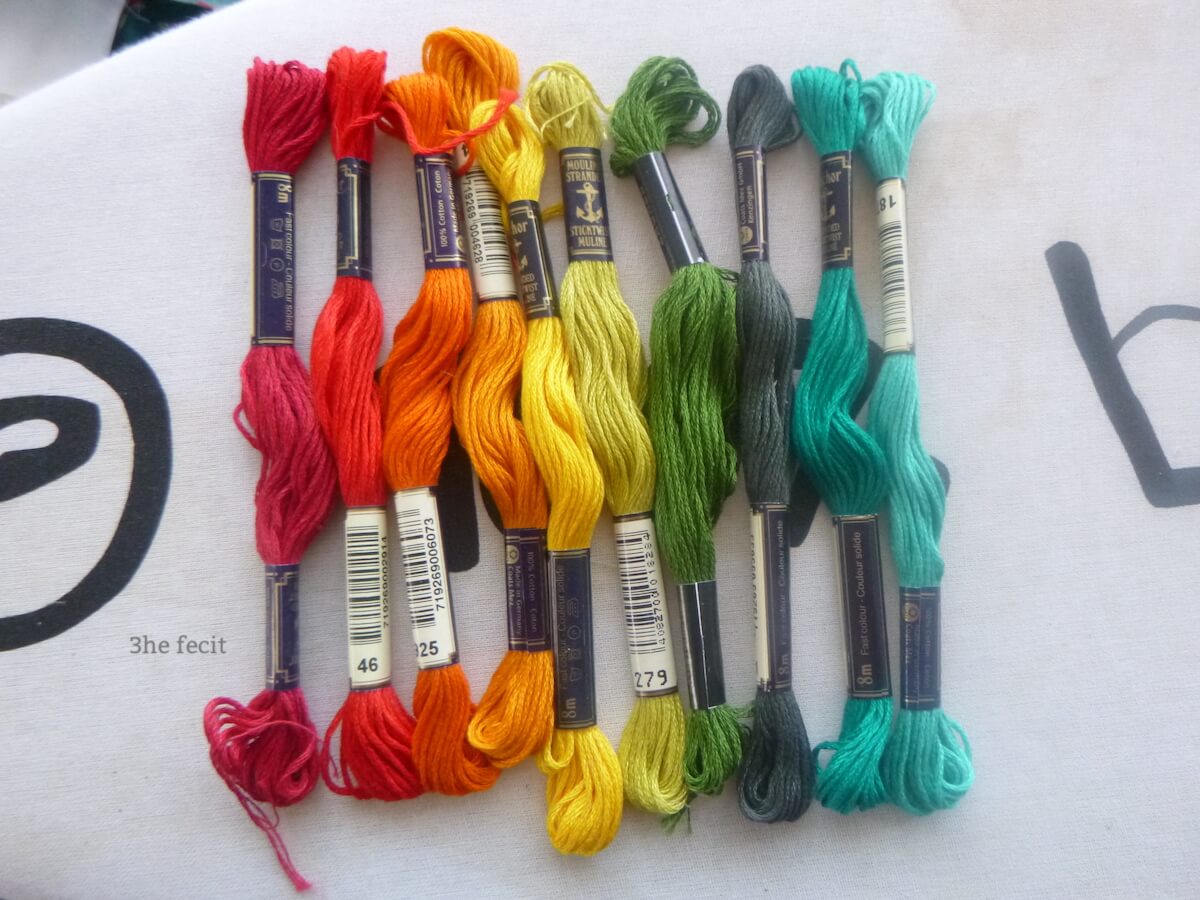 Und dann die Idee: Warum nicht Pixelbilder in Kreuzstich (✓) umsetzen? Also habe ich ein bisschen nach einfachen Pixelbildern gesurft, Zählmuster in ein kariertes Notizbuch gemalt und dieses zum langen Nähwochenende in den Bergen mit meiner Nährunde mitgenommen. Neben dem ganzen Kleidungsstücke-Nähen war das Sticken dann eine willkommene Abwechslung. Auf ein Stück alte Jeans (✓) gestickt, sieht das Ganze außerdem plötzlich richtig peppig aus.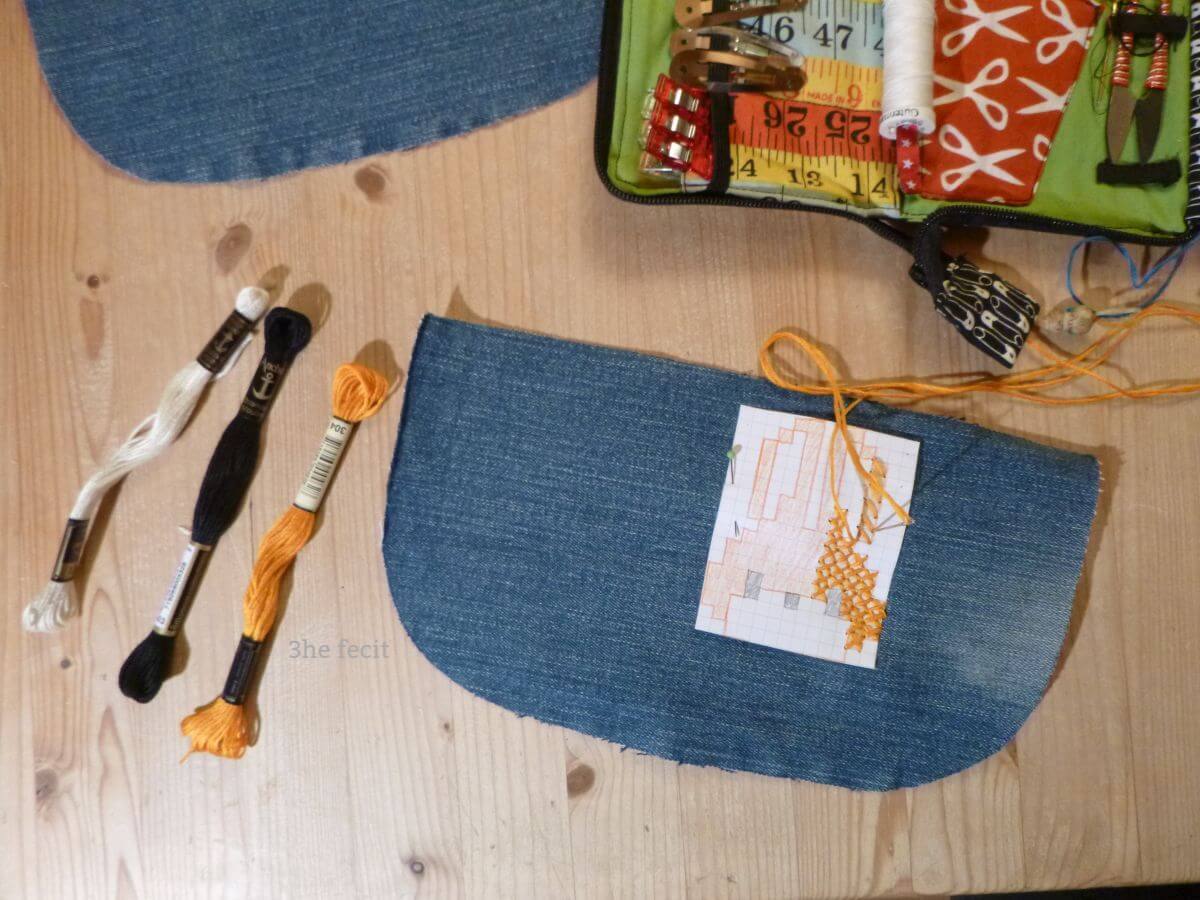 Naja, nachdem frau das mit dem Übertragen des Musters auf Jeans durch Sticken durch die Papiervorlage gelöst, und das festgestickte Papier dann durch fuzzeliges Rauskletzeln entfernt hat. Die Technik ist definitiv noch ausbaubar. Als Joker (✓) ist aus der Stickerei ein weiteres kleines Täschchen entstanden.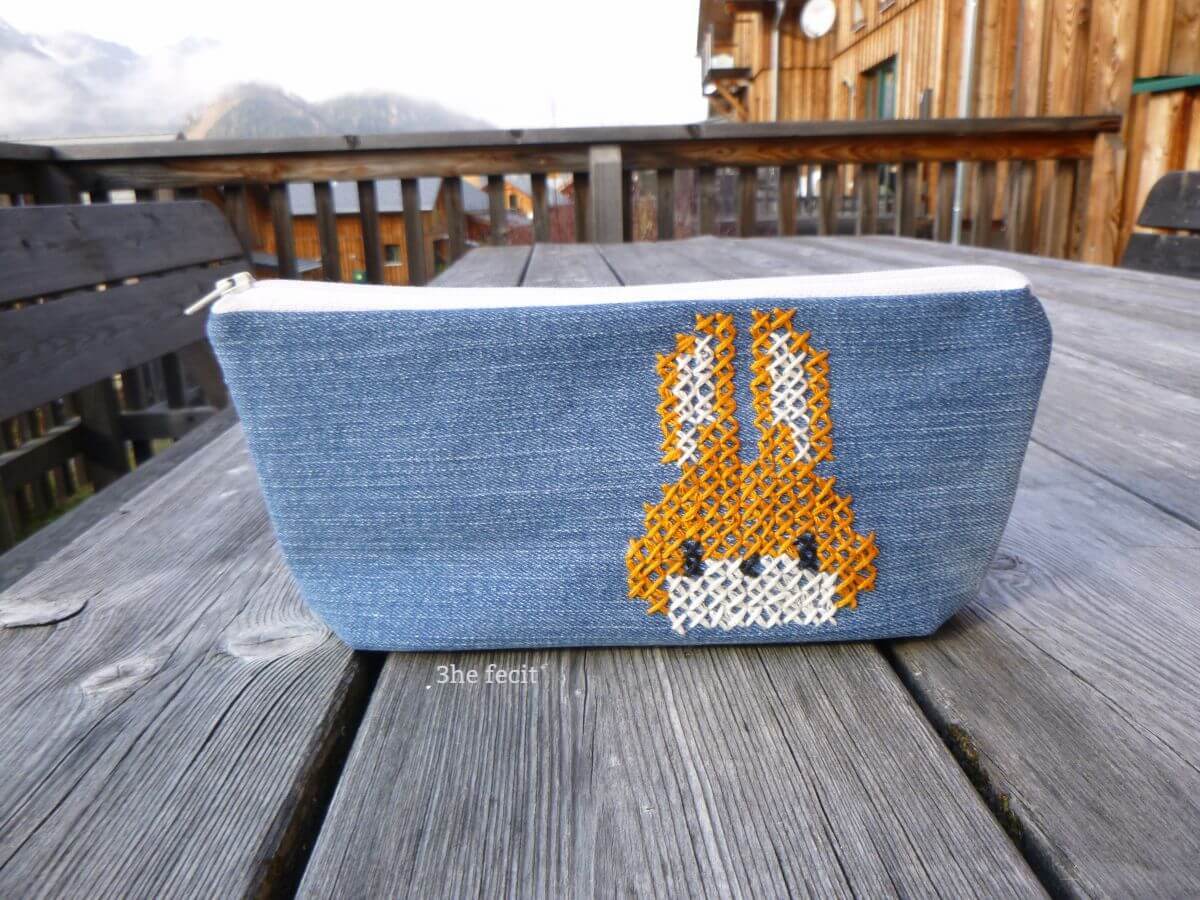 Sonst sind an dem Nähwochenende hauptsächlich Kleidungsstücke für mich (✓) entstanden: mehrere dringend benötigte Pyjamahosen und ein paar Blusen. Die Innenseite des Kragens bei der Biscayne Blouse (links im Bild) habe ich von Hand angenäht (✓). Das wird auf diese Weise viel sauberer als im Blindflug knapp abzunähen und zu hoffen, dass alles erwischt wurde und die Viskose nicht verrutscht ist.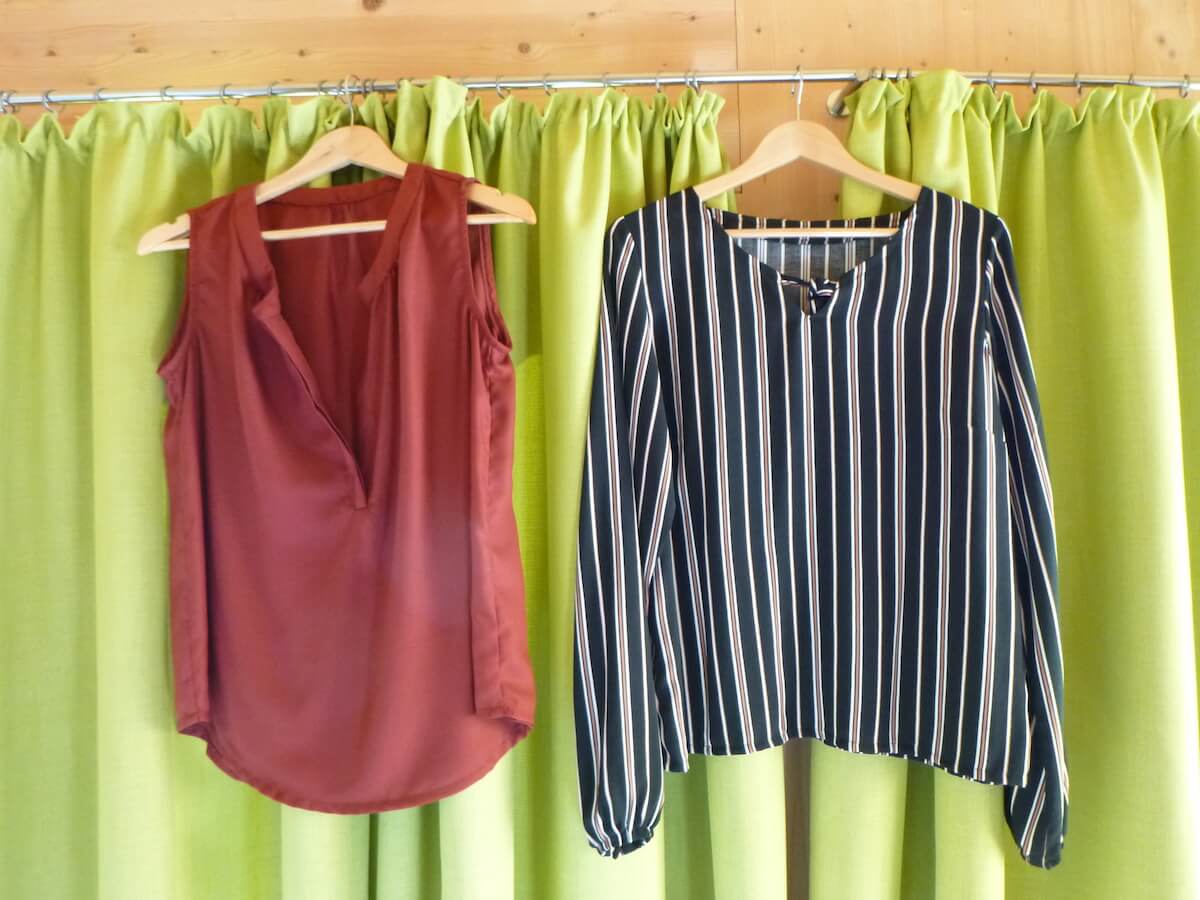 Der rote Rock ("Kate" aus La Maison Victor, Sept./Okt. 2018) aus dem tollen hochwertigen Wollstoff aus dem Nachlass der Mutter einer lieben Freundin hat dank einiger Ungereimtheiten in der Anleitung bezüglich Legen der Falten Zeit und Nerven gekostet und wurde leider nicht mehr ganz fertig. Immerhin ist der nahtverdeckte Reißverschluss (✓) drin.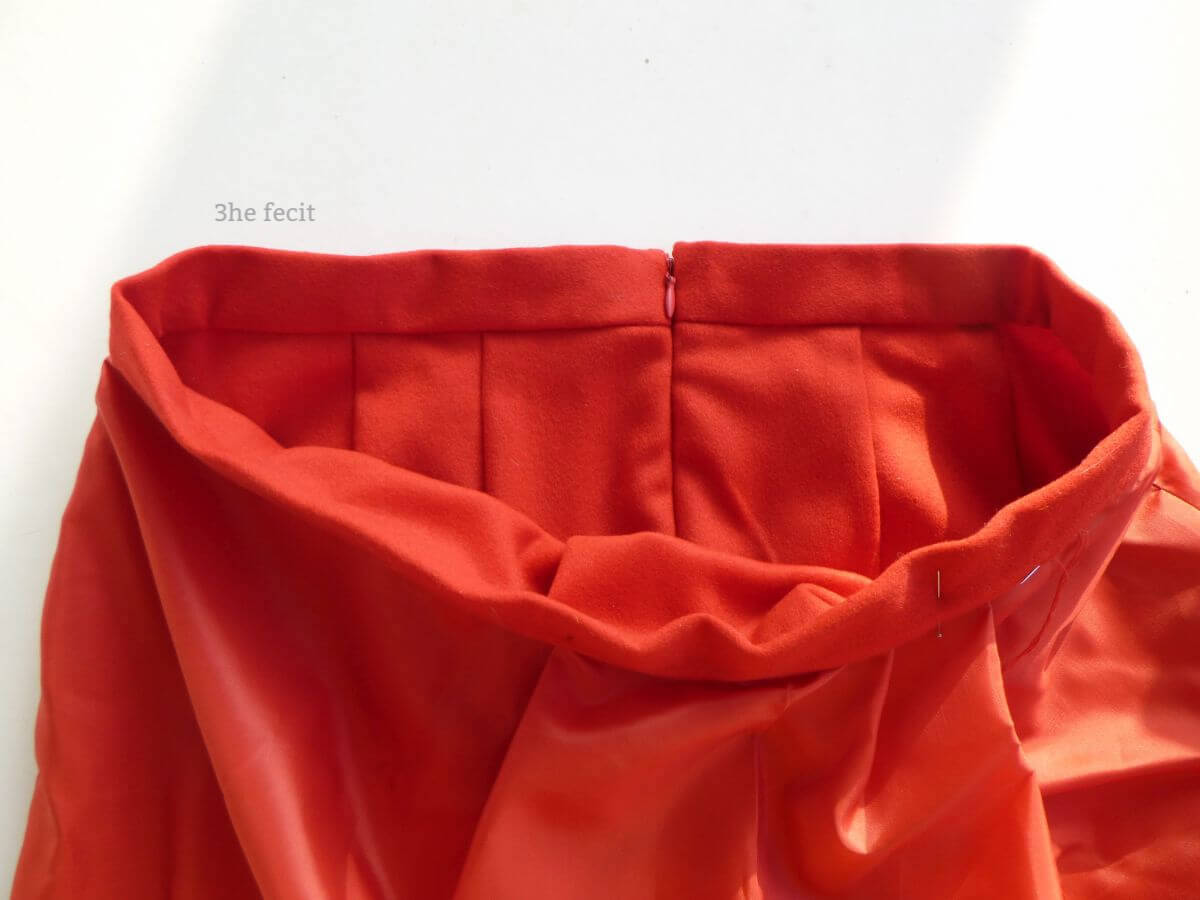 Die Anleitung sah kein Futter vor, aber Wollrock ohne Futter geht gar nicht! Zum Glück kam aus der gleichen Quelle wie der Wollstoff auch ein farblich und mengenmäßig perfekt passendes Stück Futterstoff. Übung im Nähen von Röcken mit Futter habe ich inzwischen auch. Bis auf das Annähen der umgeschlagenen Innenkante des Bundes und Säumen von Hand ist der Rock jetzt ziemlich fertig.
Die Bingo-Aufgaben "Weben" und "Windlicht" sind über die anfängliche Idee nicht hinausgekommen. Das Vernähen eines von meinem ehemaligen Chef bemalten Stücks Leinwand zu einem Körbchen für Garnreste verschafft mir jedoch noch ein Kreuzchen beim ungewöhnlichen Material (✓). Es ist bereits mein dritter Versuch, dieses steife Material unter die Nähmaschine zu zwingen. Die Farbe, die durchaus auch abplatzen kann, macht das Ganze nicht einfacher. Deshalb habe ich diesmal eine einfache Form gewählt, die Leinwand zu einem Ring geschlossen, zur Aussteifung einen Boden aus Pappe eingeklebt, und den Beutel aus "Bomull" (Baumwollstoff vom Möbelschweden) zum einfachen Entleeren der Garnreste nur lose über den Rand gehängt.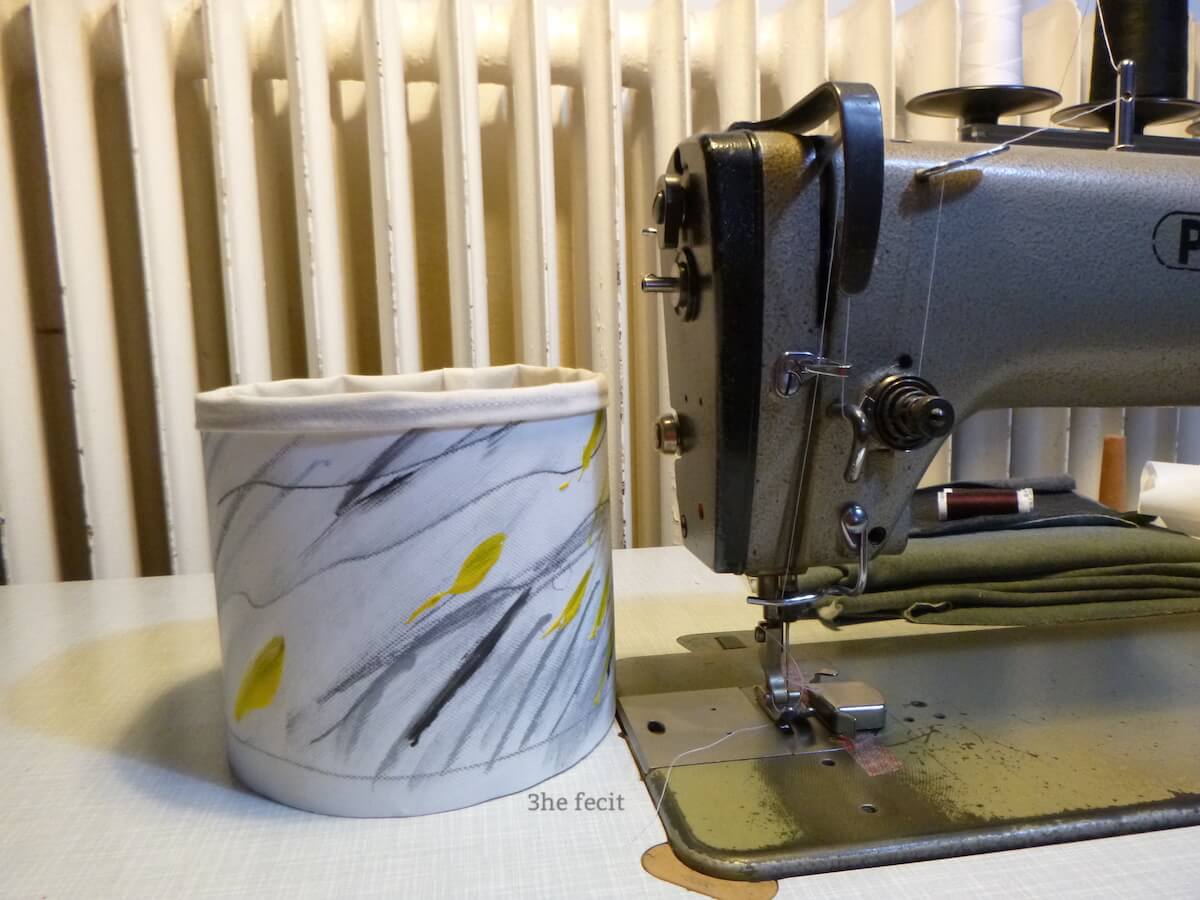 Damit beschließe ich diesen durch das Handarbeitsbingo äußerst inspirierten und produktiven Herbst mit einem großen Dank an Barbara von sechziggradnord für die Idee und Ausführung des Herbst-Handarbeitsbingos! Es war mir eine Freude!
Und vielen Dank auch an Gabi (made with Blümchen) für den Anstups und die Bereitstellung der Bühne zur Präsentation meiner Ergebnisse in Form eines Gastbeitrags!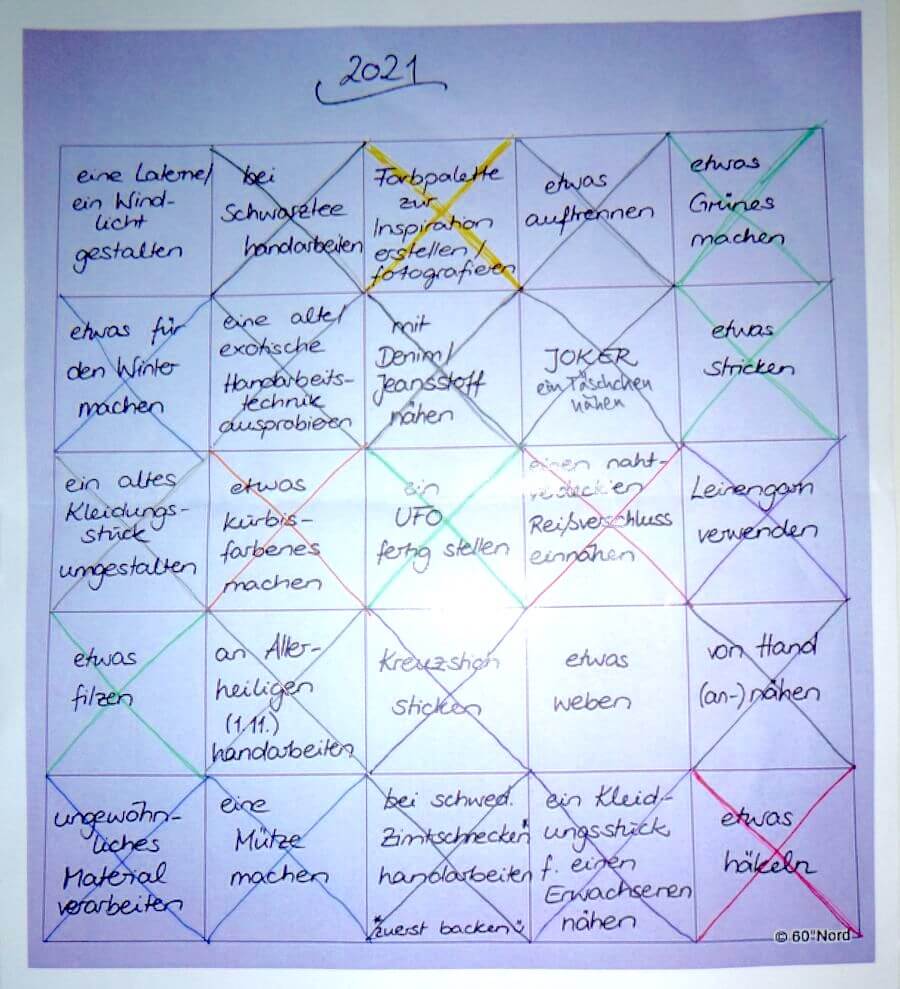 ---
[Jetzt wieder Gabi:]
Nichts zu danken, liebe Heike! Ich danke DIR für diesen fantastischen Gastbeitrag, und bis vielleicht bald auf deinem eigenen Blog? 😉 (War dieser Beitrag vielleicht der fehlende Anstups?)
Wenn du mehr von Heike sehen möchtest, kann du sie auf Ravelry besuchen (sofern du selbst einen Ravelry Account hast) und dort ihre vielen schönen Strick- und Häkelwerke bewundern.
Ich verlinke heute jedenfalls voller Freude über diesen tollen Bericht zum Freutag.
Bis morgen! Da kommt dann nämlich noch MEIN finaler Bingo-Beitrag.
Verlinkt bei