Herzlich willkommen zu den Stoffspielereien zum Thema "Kopfputz"! Ich bin unheimlich gespannt auf Eure textilen Experimente! Bitte schreibt den Link zu Eurem Beitrag in die Kommentare, im Lauf des Tages ergänze ich nach und nach die Liste im Blogpost.
Letzte Woche habe ich im Beitrag Stoffspielereien: Inspiration meine ursprünglichen Hut-Ideen vorgestellt. Im Endeffekt habe ich aber ein Haarnetz mit Perlen gehäkelt.
Aber zuerst zu den heutigen Beiträgen der anderen Stoffspielerinnen:
Haarnetze
Auslöser für die Netz-Idee war eine "Goldhaube mit Perlen" auf Pinterest, und dass ich nach dem Stricken mit Perlen, das ich letztes Jahr ausführlich getestet habe, jetzt einmal das Häkeln mit Perlen versuchen wollte.
In der Renaissance wurden mehr oder weniger aufwändig und kostbar mit Perlen verzierte Haarnetze getragen. Diese hatten entweder die Funktion (soweit ich aus der schnellen Recherche erschließen konnte), das hängende Haar zusammenzuhalten: Dann waren sie meist eher aus einem neutralfarbenen (braunen) Garn und unscheinbar. Oder sie sollten eine kunstvolle Steckfrisur am Hinterkopf zieren: Dann waren sie eher aus einer Kontrastfarbe zum Haar und zusätzlich mit Perlen oder Applikationen aufgeputzt.
In den 1940er-Jahren wurden Haarnetze wieder modern: Sie waren ebenfalls entweder unscheinbar, um die Frisur in Form zu halten, oder aber auffällig zur Zierde. Während die früheren Haarnetze anscheinend zumeist aus feinen Garnen genetzt waren, sieht man auf den Bildern aus dem 20. Jahrhundert eher eine gröbere, gehäkelte Variante. (Siehe Pinterest Board oben)
Bei silkewerk.com gibt es einen sehr ausführlichen und anschaulichen Beitrag zum Netzen, basierend auf ihrer Anlyse historischer Haarnetze aus dem Museum of London. Die Autorin schreibt, dass die historischen Haarnetze zwischen ca. 11 und 16,5 cm im Durchmesser hatten und eine Lochgröße zwischen 1,25 und 9 mm, wobei 2-4 mm die übliche Netzgröße gewesen sein dürfte. Sie glaubt, dass die Netze vorwiegend zur Zierde gedacht waren und daher wahrscheinlich meist weiß gearbeitet wurden. Auch AnneLiese hat sich mit den Netzen aus dem Museum of London beschäftigt, ist aber der Ansicht, dass die sehr feinen erhaltenen Netze eben gerade nicht gesehen werden sollten und daher braun gewesen seien.
Die historisch angehauchten, modernen Modelle, die mir von den Bildern her am besten gefallen haben, sind aber offensichtlich nicht genetzt und auch nicht gehäkelt sondern sehen aus, als ob sie aus festen Schnüren zusammengesetzt und an den Kreuzungspunkten durch aufgenähte Perlen zusammengehalten würden.
Perlen Häkeln
Das Netzen wäre eine spannende Technik zum Ausprobieren für ein anderes Mal. Dieses Mal habe ich mir in Anlehnung an eine Anleitung für ein 1940er Haarnetz ein kleines beperltes Haarnetz zusammengereimt.
Wie schon beim ausführlichen Beitrag zum Perlen-Stricken gezeigt, gibt es auch beim Häkeln die Möglichkeit, die Perlen entweder vorab auf den Arbeitsfaden aufzufädeln oder sie erst während des Häkelns einzeln einzuarbeiten.
Ich habe die zwei Techniken im Vergleich probiert:
Perlen vorher auffädeln ist sicher praktischer, wenn man unterwegs ist (weil nicht die einzelnen Perlen herumkugeln). Oder wenn die Perlen ein sehr kleines Loch haben, wodurch sie über den Faden, nicht aber über die Häkelnadel passen. Andererseits muss ich beim Vorher-Auffädeln ungefähr wissen, wie viele Perlen ich ungefähr brauchen werde, bevor ich mit der Arbeit beginne, oder zwischendurch den Faden abschneiden und weitere Perlen auffädeln. Wenn viele Perlen auf dem Arbeitsfaden sind, könnte dieser außerdem aufgeraut werden und reißen.
Wenn die Perlen vorab aufgefädelt wurden, liegen die Perlen nachher auf einer Schlaufe VOR der Arbeit (siehe untere Reihe im Bild oben). In diesem Video sieht man, wie es geht.
Perlen während des Häkelns einzeln einarbeiten: Hier nimmt man die Perlen einzeln während des Arbeitens auf die Häkelnadel und fixiert sie mit einer Kettmasche. Das funktioniert nur bei Perlen, deren Loch so groß ist, dass man sie auf die Häkelnadel spießen kann. Man muss nicht vorab wissen, wie viele Perlen für die Arbeit nötig sind, und man ist dadurch flexibler. Allerdings liegen die Perlen so eher IN der Arbeit. Wenn das Gewebe dicht gehäkelt ist, entstehen kleine Löcher. (Siehe obere Reihe im Bild oben). In diesem Video sieht man, wie es geht.
Mir ist für das Haarnetz die zweite Methode (Perlen einzeln einarbeiten) sympathischer gewesen.
Das Haarnetz
Verwendet habe ich ein weißes Baumwoll-Häkelgarn in Stärke 20, eine Häkelnadel Nr. 1 und Rocailles mit 4,5 mm Durchmesser, die auf die Häkelnadel passen.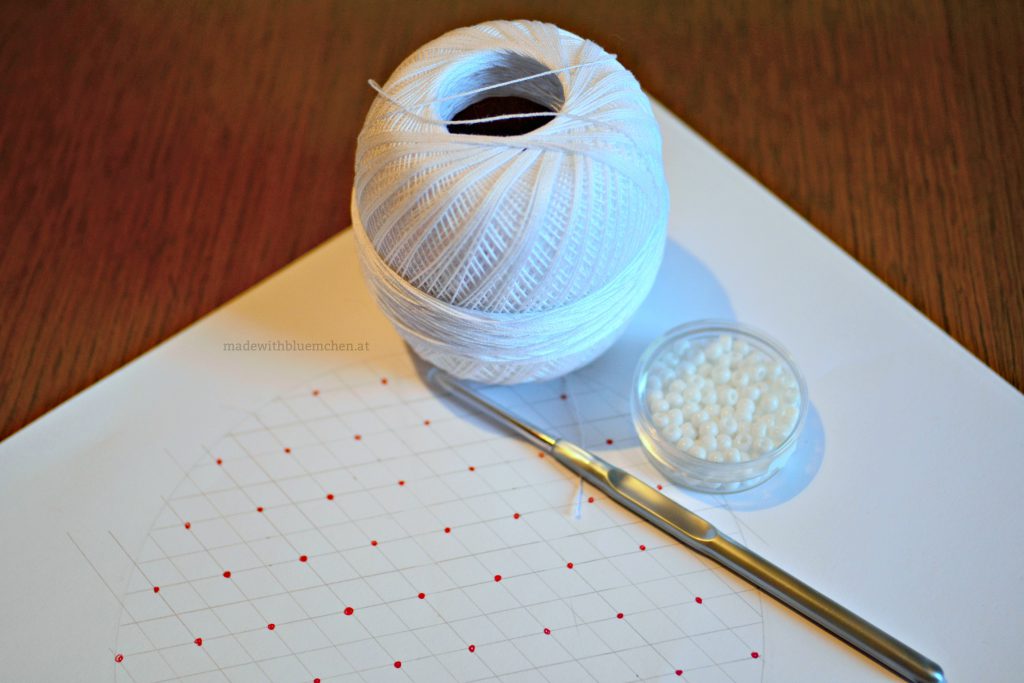 Ich habe ein bisschen herumprobieren müssen, bis ich die passende Form für ein annähernd rundes Netz mit 15 cm Durchmesser herausgefunden habe. Ich habe einen Kreis auf Papier vorgezeichnet und das Werkstück immer wieder zum Vergleich draufgelegt. Das Netz besteht im Grunde aus Doppelten Stäbchen mit jeweils 3 Luftmaschen dazwischen. In jeder zweiten Reihe habe ich bei jedem zweiten Stäbchen eine Perle eingearbeitet.
Zum Abschluss, habe ich zur Verstärkung des Netzrandes zwei Reihen fester Maschen rundherum gehäkelt, in jedes Kästchen 4  feste Maschen. Dadurch wird der Rand stabiler und  etwas zusammengezogen, das Netz ein wenig käppchenförmig. Wir haben das Netz dann bei der Tochter ausprobiert, es mit Klammern am Haar festgesteckt.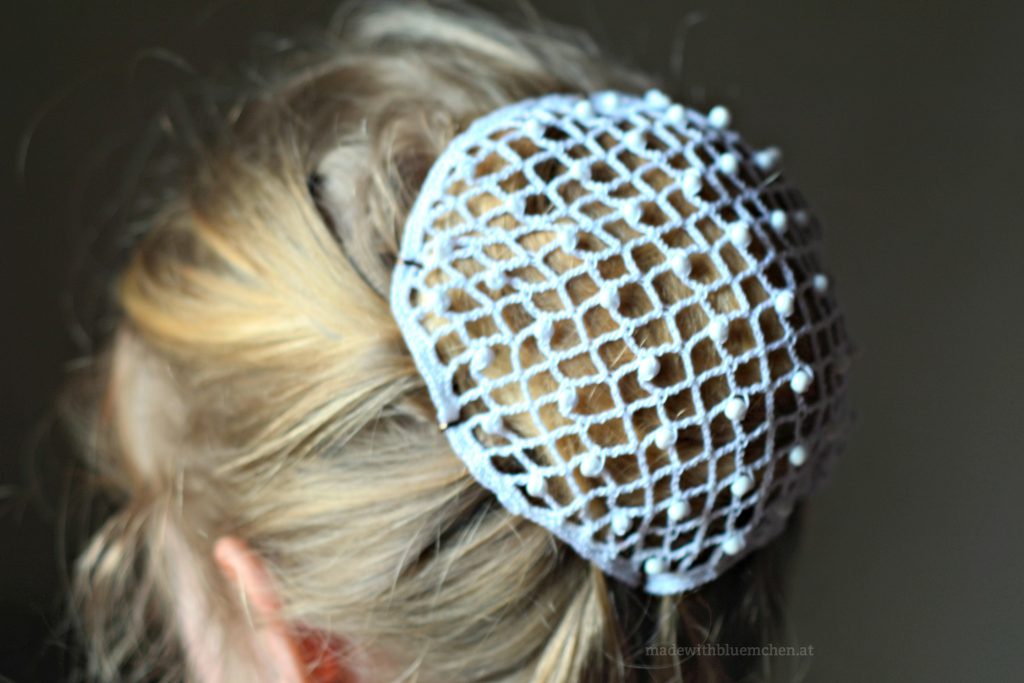 Sie wünscht sich noch ein kleineres Netz, mit dem sie ihren festen "Haarknödel" beim Ballett verzieren kann.
---
Danke Euch allen fürs Mitmachen, aber auch fürs Lesen und Kommentieren bei mir und den Anderen!
Die Stoffspielereien
Der nächste Treffpunkt ist am 26. März 2017 zum Thema "Shibori" bei Karen.
Die monatliche Stoffspielerei ist eine Aktion für textile Experimente. Sie ist offen für alle, die mit Stoff und Fäden etwas Neues probieren möchten. Der Termin soll Ansporn sein, das monatlich vorgegebene Thema soll inspirieren. Jeden letzten Sonntag im Monat werden die Links mit den neuen Werken gesammelt – auch misslungene Versuche sind gern gesehen, zwecks Erfahrungsaustausch.
Einen Überblick über die bisherigen Stoffspielereien findet Ihr bei "Siebensachen zum Selbermachen". Meine Beiträge zu den Stoffspielereien sind hier versammelt.
Die weiteren Termine bis zum Sommer:
26. März 2017: "Shibori" (Karen – Feuerwerk by KaZe)
30. April 2017: "Seltene Techniken" (Suschna – Textile Geschichten)
28. Mai 2017: Thema noch offen (Griselda – Machwerk)
25. Juni 2017: Thema noch offen (Lucy – Nahtzugabe)
Juli/August 2017: Sommerpause