Textile Materialien und Angebote*
In Teil 1 meines Messeberichtes habe ich Euch spannende Textilkünstlerinnen vorgestellt. Heute geht es in Teil 2 um Angebote von Materialien, Produkten und Kursen.
Verkaufsstände und Workshop-Angebote bilden neben den künstlerischen Ausstellungen meist Schwerpunkte auf Textilkunstmessen, so war es auch in der Provence vor zwei Jahren. Ich war vom Workshopangebot in Berlin (auf der Messe-Homepage ersichtlich) vorab so überfordert, dass ich mir nur vorgenommen hatte, mich endlich ins Spinnen mit der Handspindel einführen zu lassen, aber nicht mal das habe ich über all dem Schauen und Reden und Fotografieren geschafft. Naja, vielleicht beim nächsten Mal. Dafür habe ich mich auch unter den Verkaufsständen umgeschaut.
Studio Caora: Schmeichelwolle
Das sympathische Ehepaar Irene Dengler & Jörg Waste aus Kaufbeuren ist vielfältig textil aktiv: Unter ihrem Label "Studio Caora" verkaufen sie selbst gefärbte Garne, darüberhinaus filzt Frau Dengler und Herr Waste ist ein begabter Fotograf. Beide absolvieren gerade eine Weber-Lehre. Ich habe die zwei schon letzten Herbst in Wien auf einem Woll- und Stoffmarkt getroffen, so war dies ein fröhliches Wiedersehen.
Anbieter von handgefärbter Wolle gibt es ja inzwischen viele, aber was ist das Besondere an ihrer Wolle? Es sei eine "Wohlfühlwolle" sagt Frau Dengler. Sie achtet immer darauf, dass ihre Garne sehr leicht sind und schmeicheln, sie verabeitet daher gerne Mischungen aus Merino, Seide, Alpaka und Kaschmir. Sie bezieht die Wolle von einem deutschen oder englischen Großhändler und färbt sie selbst mit Säureaktivfarben, die nach Ökotex 100 zertifiziert sind: Diese Farben haben eine hohe Farbechtheit und bluten nicht aus. Beim Färben denkt Frau Dengler in Farbthemen wie zum Beispiel "Tag am Meer" oder "Hortensie" und experimentiert in ihrer Färbeküche so lange, bis die Farbabstufungen wunderbar harmonieren.
Ihre Urlaube verbringen die beiden am liebsten im Schottland, in einer Gegend, in der regionale Wool Mills (wieder oder immer noch) regionale Schafwolle verarbeiten.
In seinem neuesten Bildband The Island Spirit, erschienen im März 2017, porträtiert Jörg Waste in einer Reihe fotografischer Essays einzelne Personen und Personengruppen, die die Western Isles zu ihrem Wohnort erkoren haben. Darunter auch mehrere Leute, die in einer der regionalen Woolmills arbeiten. (Ich freue mich schon auf einen genaueren Blick in dieses schöne Buch.)
Frau Dengler und Herr Waste betreiben keinen Online-Shop, sind aber auf zahlreichen Messen und Märkten vertreten. Das ist auch gut so, denn diese Wolle muss man fühlen und die leuchtenden Farben sehen. Außerdem geben sie bei Märkten bereitwillig Auskunft über ihre Produkte und sind auch für längere Pläusche zu haben. Die beiden strahlen eine sehr wohltuende Unaufgeregtheit und Ruhe aus, die sich in ihren Produkten fortsetzt.
Weblink: Studio Caora
Marianne Jeske: Stoffapplikationen
Marianne Jeske stellt handgenähte Unikate her, in Form von Bildern, Postkarten, Schmuck und Perlenstickerei. Also: Filzperlen habe ich ja schon viele gesehen, aber noch nie so akribisch und winzig klein zusätzlich bestickte! Die fein bestickten Filzkugeln stellt sie zu Colliers zusammen.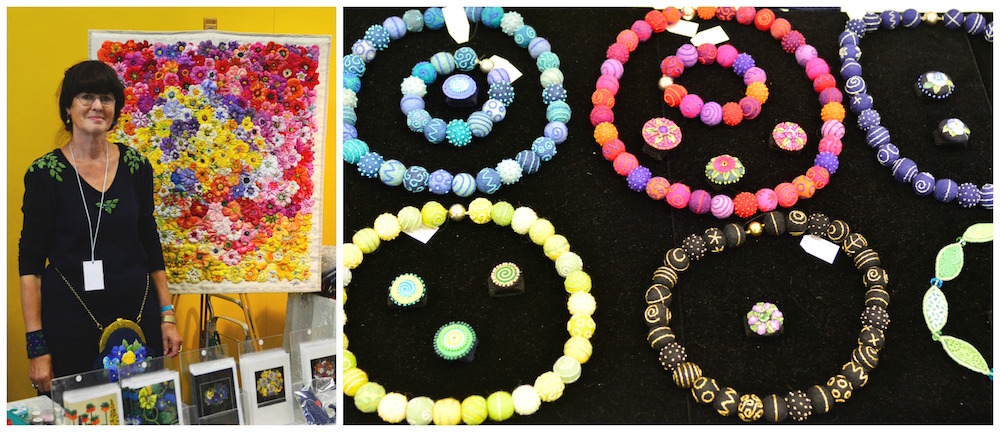 Frau Jeske hat keine Webseite und auch keinen Shop, man kann aber per E-Mail erfragen, wann sie auf einem Markt ist. Das nächste Mal zum Beispiel am 14. Oktober 2017 bei der 2. Perlen- und Textilbörse im Museum Europäischer Kulturen in Berlin, wo auch Kaze mit Glasperlen vertreten sein wird!
Kontakt: marianne.jeske@t-online.de
kiseki: japanische Stoffe
Juliane Reichenbach hat einige Zeit in Japan gelebt und von dort die Liebe zu Stoffen und Nähzubehör, zu Papeterie und Washi Tape mitgebracht. Sie unterhält direkten Kontakt zu den Händler/innen in Japan, reist mehrmals im Jahr dort hin. Unter dem Label "Kiseki – Wunderschönes aus Japan" vertreibt sie die schönen Sachen vorwiegend über ihren Online-Shop.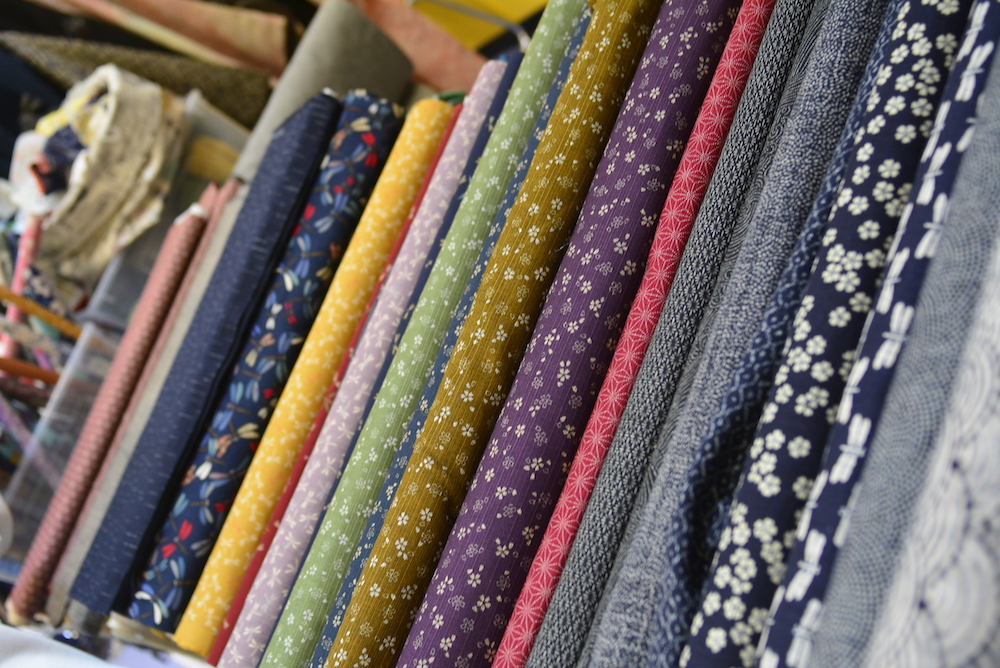 Von diesen Stoffen könnte ich unendlich kaufen… Aufgrund von Stoffabbau habe ich mich aber zurückgehalten und nur ein kleines vorbedrucktes Set für Sashiko Stickerei mitgenommen.
Weblink: www.kiseki.de
Facebook: www.facebook.com/kiseki.de
Werkstatt für historische Stickmuster
Mit den Damen der Stickwerkstatt bin ich eigentlich gar nicht zum Reden gekommen, aber ich möchte mich auf diesem Weg sehr herzlich bei ihnen bedanken! Ein Messebericht, den ich letztes Jahr von ihnen gelesen habe, hat mich nämlich erst auf diese Messe und auf die Idee, nach Berlin zu reisen, gebracht!
Die Werkstatt für historische Stickmuster ist eine kleine Firma rund ums Sticken, die seit 2004 besteht. Dort findet man ein breit gefächertes Angebot an Vorlagen für historische Stickmustertücher, aber auch Stickvorlagen nach alten Mustern und Motiven, die die Besitzerinnen selbst entworfen und dem Zeitgeschmack ein wenig angepasst haben. Seit Kurzem ist die Werkstatt Generalimporteur der Seidengarne der Firma "Au ver a Soie" für Deutschland und die Benelux Länder. Ich bin ja eine eifrige Leserin von Mary Corbets Stickblog, die regelmäßig von diesen Garnen schwärmt. Beim nächsten Mal werde ich nicht nur eine Stickvorlage sondern auch dazu gehörige Garne mitnehmen, denn diese Seidengarne möchte ich eigentlich unbedingt einmal ausprobieren. (Leider war ich etwas zu sparsam…)
Weblink: Werkstatt für historische Stickmuster
Jott and Daughters: Teppichtaschen aus Gobelins
Jott and Daughters sind vier Frauen aus Aachen, die Petit-Point Stickereien, Gobelins und Ölbilder mit Teppichen, Seesäcken, Leder, Vorhang- und Zeltstoffen zu ungewöhnlichen Taschen kombinieren. Ein bisschen hat es mich an eine Stoffspielerei von Martina Machwerke letztens erinnert, nur dass Martina ihren Gobelin zerschnitten und als Mosaik wieder aufgenäht hat, während hier die Gobelins im Stück mit anderen Stoffen kombiniert und kontrastiert werden.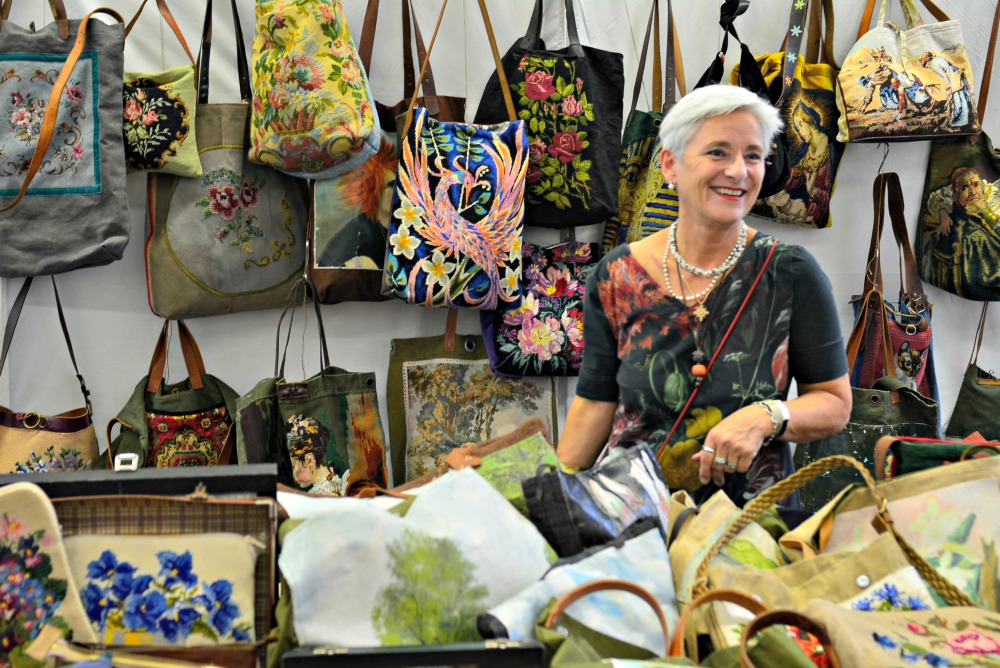 Jedenfalls finde ich diese Taschen sehr inspirierend, und ich vergönne es diesen alten Stickbildern, in denen so viele Stunden Arbeit stecken, dass sie nicht ungeliebt an Wänden verstauben müssen sondern neu in Szene gesetzt werden und als Taschen auch Frischluft schnuppern dürfen. Wenn ich nächstens am Flohmarkt alte Stickbilder entdecke, werde ich diese Idee mit Freude abkupfern.
Im Online Shop haben Jott and Daughters nur wenige Stücke. Sie fahren lieber auf Märkte, die Markttermine wiederum findet man auf ihrer Webseite. Im September werden sie zum Beispiel am Europamarkt in der Altstadt von Aachen vertreten sein, einem laut der Dame am Stand sehr qualitätvollen Markt.
Weblink: Jott and Daughters
Zürcher Stalder: Weben wie in Westafrika, in der Schweiz oder in Berlin
Aus der Schweiz angereist war ein Team der Fima Zürcher Stalder, die eine große Menge Garne für unterschiedliche textile Techniken (Stricken, Häkeln, Klöppeln, Weben,…) im Gepäck hatten. Bekannt ist die Firma aber denke ich (zumindest den Weberinnen) auch durch ihr reichhaltiges Kursprogramm, vor allem die Webausbildung. Mit dabei in Berlin waren zwei Weber aus der Elfenbeinküste, die regelmäßig Kurse in der Schweiz geben. Mitgebracht hatten sie auch einen ihrer Webstühle, der im Grunde aus einem Bündel Stöcke besteht.
Traditionell werden in Côte d'Ivoire schmale Bänder gewebt und erst anschließend zu Decken, Tüchern und Kleidung zusammengenäht. Die Kettfäden werden dabei nicht mittels (oh nein, mir fehlt das Web-Vokabular!) so Schäften (?) hochgezogen zum Muster einweben, sondern die Kettfäden werden für jede Musterreihe mit der Hand abgezählt. (Bitte verzeiht, besser kann ich das nicht beschreiben.) Man konnte dort das Weben ausprobieren und auch fertig gewebte Stücke kaufen.
Weblink: Zürcher Stalder
Shopping Haul
Gekauft hab ich persönlich nur ganz wenig (ich erwähnte es schon: Ich bin dabei, meine UFOs – UnFertige Objekte – und den Stoffvorat abzubauen, bevor ich neue Sachen kaufe), aber einige Dinge mussten dann doch mit:
Das Buch "Sashiko – japanisch Sticken" aus dem Haupt Verlag
Eine original japanische Sashiko-Stickvorlage mit original japanischer Anleitung… für mich völlig unverständlich Vielleicht kann das Buch Licht ins Dunkel bringen, ansonsten werde ich eine japanische Freundin fragen, ob sie so lieb wäre, mir die Anleitung zu übersetzen. (Paket erhältlich bei Kiseki)
Zwei Occhi-Schiffchen und feines tschechisches Klöppelgarn von der Klöppelkiste (ja, ich Wahnsinnige, Occhi, noch eine neue Technik möchte ich ausprobieren…)
Zwei Stickmustersets (allerdings leider ohne Seidengarne, verflixt) von der Werkstatt für historische Stickmuster
Ach, da hätte es noch so viele tolle Sachen gegeben! Auch noch viele schöne Stoffe, und dann den Stand der Knöpfesammler (Button Collector's Club), und oben im vierten Stock einen Raum voller Borten und Posamenten – zum Niederknien! – und kleine abstrakte Stickereien von Afghanischen Jugendlichen, über die Suschna hier kurz berichtet hat, und, und, und.
Informelles Bloggerinnen Treffen
Kurzfristig angefragt hatten sie tatsächlich Zeit, sich dort mit mir zu treffen, die drei Stoffspielerinnen Susanne textilegeschichten, Constanze nahtzugabe und sogar Karen Feuerwerk by kaze, die aus Dresden angereist war. Ich hab mich so gefreut, Euch persönlich kennenzulernen, liebe Frauen! Und danke vor allem Constanze für den netten Abend bei feinen Gesprächen!
Berlin – ich komme wieder! Denn ich war noch nicht im Kunstgewerbemuseum, ich war tatsächlich noch nicht am Maybachufer in Stoffen wühlen, ich war noch nicht bei Stoff & Stil, im Smilla Berlin oder bei Siebenblau (über beide hat Constanze Nahtzugabe berichtet), und auch nicht im Museum Europäischer Kulturen, das textile Dauer- und immer wieder Sonderausstellungen anbieten. Und vielleicht treffe ich beim nächsten Besuch wieder alte und neue Bekannte.
Ich freu mich drauf.
* Indem ich über diesen Markt berichte und zu den Aussteller/innen verlinke, mache ich natürlich Werbung für sie. Allerdings tue ich das kostenlos und nur, weil ich von ihren Produkte begeistert war/bin. Es tut mir auch leid, dass ich nicht über alle AusstellerInnen so ausführlich berichten kann. Es liegt nicht daran, dass ihre Produkte weniger spannend gewesen wären, sondern schlicht daran, dass zu wenig Zeit war, mit allen so ausführlich zu plaudern wie ich das gerne getan hätte.
Die vollständige Liste aller Ausstellerin findet sich auf der Webseite der Textile Art Berlin. Die nächste Textile Art findet vom 23.–24. Juni 2018 statt.
Verlinkt beim
Freutag, weil diese Reise eine kreative Inspirationsquelle sondergleichen war.