Jetzt ist es ja doch noch Sommer geworden! Und endlich (ENDLICH!) gerade rechtzeitig für unseren Einsatz beim Kinderkurs im Segelclub ist auch die Strickjacke fertig geworden, mit der ich bereits im April begonnen habe. Eigentlich fertig, aber uneigentlich doch nicht fertig, weil ich nicht ganz zufrieden damit bin.
Auf Ravelry hatte ich mich bereits vor einiger Zeit in die leichte Sommerjacke namens The lighthouse keeper's wife verguckt. Wenn ich mich richtig erinnere, gab es auch mal einen melancholischen französischen Spielfilm gleichen Namens (Die Frau des Leuchtturmwärters), der mich nicht so überzeugt hat. Trotzdem beinhaltet der Name The lighouse keeper's wife für mich Meeresbrise im Segel, Wellenrauschen im Ohr und Salzgeruch um die Nase. Und die Ravelry-Bilder der Jacke haben mir soo gut gefallen: Eine luftige, leichte Sommer-Strickjacke, mit vergleichsweise dünnem Garn (Stärke 4) auf vergleichsweise dicken Nadeln (Stärke 9) fabriziert. Locker-lässig mit Kapuze und Raglan-Ärmeln. Sah toll aus, vor allem die Beispiele in Off-White und Dunkelbraun haben mich von Ravelry her angelacht.
Das Gestrick wird ganz luftig und leicht, aber auch ziemlich löchrig. Ich hatte Bedenken, ob eine so locker gestrickte Jacke wirklich wärmt, denn sie ist fürs schnell-mal-Drüberwerfen am Abend, wenn es kühl wird, gedacht. Aber meine Sorge war unbegründet: Das leichte Lüftchen am Schotterteich gestern Abend hat sie gut abgehalten. Gleichzeitig ist die Jacke sowas von fein und fluffig! Ich habe zum ersten Mal reines Alpaca verstrickt und liebe es: So leicht und null kratzig auf der Haut.
Mit dem englischen Strickmuster bin ich während des Strickens gut zurechtgekommen. Die größte Schwierigkeit bestand am Anfang darin, aus den Angaben der anderen Strickerinnen für Wollgewicht und Stricknadelstärken meinen voraussichtlichen Wollverbrauch zu bestimmen. (Dabei geholfen hat mir eine Lauflängenübersetzung von Stricknetz.) Zur Sicherheit habe ich trotzdem alle noch vorhandenen 10 Knäuel à 50 Gramm pro 100 Meter der gleichen Farb-Partie aus dem Wollgeschäft mitgenommen. Aus dem Rest wird mindestens eine kuschelig-flauschige Haube (Mütze) und/oder Schal entstehen.
Ich habe bisher Pullis und Jacken immer von unten nach oben gestrickt, aber hier ist es genau umgekehrt: Man beginnt bei der Kapuze und strickt von oben nach unten. Ab dem Halsausschnitt werden in jeder zweiten Reihe zwei Maschen am vorderen Rand aufgenommen, sodass die Jacke nach unten hin sehr weit wird und zwei Zipfel bildet.
Normalerweise achtet man ja darauf, dass sich die Ränder beim glatt-rechts-Stricken nicht einrollen, aber bei dieser Jacke ist das Einrollen Stilelement. Damit auch die Ärmelbündchen und der Saum sich schön einrollen, muss man extrem locker abketteln (abmaschen).
Man kann die Jacke offen tragen, oder sie mit einer Spange, einem Knopf oder Bändern zum Schließen versehen. Aus der Provence habe ich letztes Jahr zwei wunderhübsche handgemachte Keramik-Knöpfe mit Blatt-Struktur von Olivia Uffer mitgebracht: Einer der beiden passt perfekt zu dieser Jacke!
So, also alles fertig. Und was ist jetzt das Problem? Sieht doch gut aus?
Das Problem ist, dass mir dieses Zipfelige an mir selbst nicht gefällt. Die Jacke ist mir hinten immer noch zu kurz (da könnte sie gerne noch 10 cm länger sein) und hängt mir vorne mit den Zipfeln zu weit runter.
Also habe ich mir einen schönen Zeitvertreib für laue Sommerabende am Schotterteich gefunden, wenn ich nicht gerade am Alabama Chanin Shirt nähe (für dessen Rückseite mir gerade die Stofffarbe ausgegangen ist): Ich werde die Jacke noch einmal bis zu den Armausschnitten hoch auftrennen und gerade runterstricken, ohne weitere Zunahmen. Ehrlich. Jetzt, wo ich genau weiß, wie ich sie haben möchte, wird die Jacke auch ganz schnell wieder runtergestrickt sein. Mit den großen Nadeln geht das eh sehr flott.
Wäre doch schade, wenn das schöne Teil aus der guten Wolle verstauben müsste?
Man könnte es auch Beschäftigungstherapie nennen. Stricken ist mein Yoga und so… 😉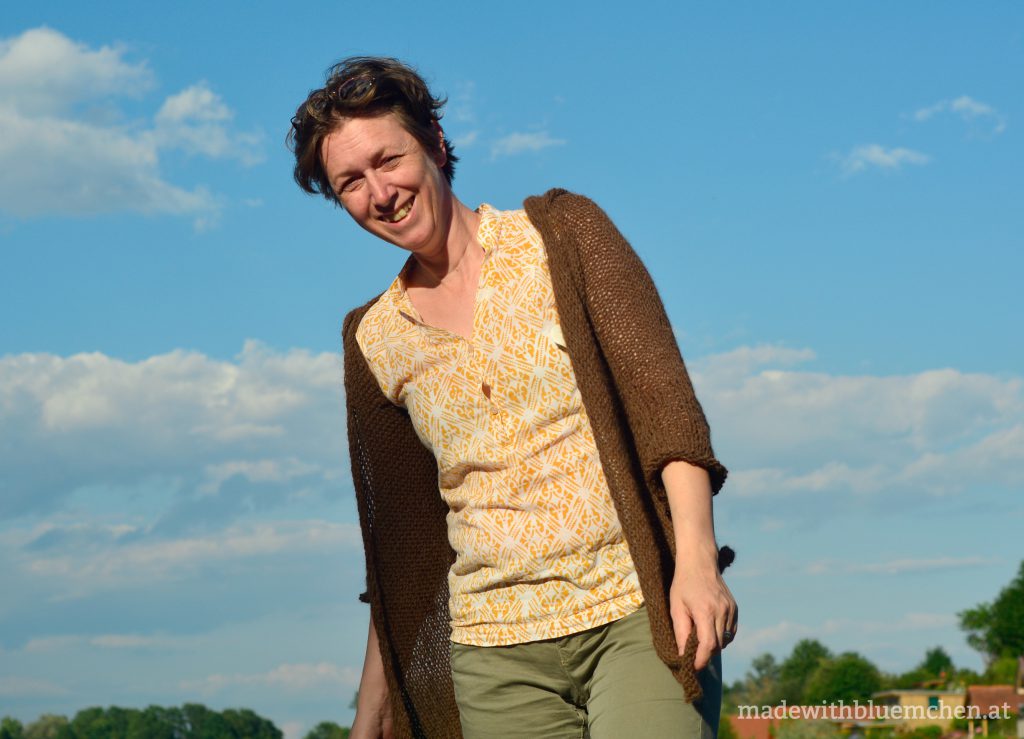 Kennt Ihr das? Dass ein Strickmuster vorher so toll aussieht, Ihr dann aber nicht so recht zufrieden seid? Nehmt Ihr Euch auch die Zeit, es genau so an Eure Bedürfnisse anzupassen, dass es 100% passt?
Über die feine gelbe Bluse, die auch auf den Bildern zu sehen ist, und über ihre rote Schwester aus bedruckten indischen Stoffen von Karlottapink berichte ich am nächsten Mittwoch. Jetzt muss ich wieder raus, ein bissl mithelfen und zwischendurch Baden gehen. 🙂
Eine schöne Woche Euch allen!
Das ist drin
Anleitung: The lighthouse keeper's wife von Melissa Schaschwary, um 6,- US$ erworben.
Material: "Alpaca" von Ferner Wolle in Dunkelbraun (Farbe 110), 100% Alpaca, gekauft bei Hirt, Graz.
Verbrauch: 260 Gramm (5 Knäuel und ein bissl was)
Kosten: ca. 30,- Euro
Den Keramik-Knopf hat mir die Textilkünstlerin Olivia Uffer letztes Jahr in der Provence geschenkt.
Werkzeug: Rundstricknadel und Nadelspiel Nr. 9, ein Maßband mit Inch- und Zentimeter-Einteilung
Arbeitszeit: leider nicht notiert. Einige Abende, Arzt-Wartezeiten und Bahnfahrten.
Änderungen
Für die Länge (gemessen ab dem Armausschnitt) habe ich bereits jetzt 17,5 inch (knapp 45 cm) statt der vorgesehenen 13 inch (33 cm) gestrickt, sonst wäre die Jacke schon jetzt viel zu kurz für meinen Geschmack gewesen. Die nächste (finale) Version wird noch länger (21 inch), dafür ohne Zipfel vorne.
Die Kapuze könnte etwas länger sein, ich würde beim nächsten Mal 12 statt der angegebenen 10 inch dafür stricken (wird jetzt aber nicht wieder aufgetrennt).
Für die Ärmel habe ich statt 14 Maschen nur 5 Maschen unter dem Arm aufgenommen, das war für meine Bedürfnisse weit genug.
Fazit: Ich mag gerade Jacken lieber als zipfelige. An diesem Modell mag ich den Raglan-Ärmelansatz und die Kapuze, und das Zusammenspiel von superleicht und trotzdem warm, das die Alpaka-Wolle hervorbringt.
Verlinkt bei