Sehr zufrieden
Heute ist das Finale von #myfallessentials, einer Blog-Aktion koordiniert von Elle Puls, bei der sich sechs fixe Bloggerinnen und ein paar Teilnehmerinnen mehr (wie ich) seit letzten Herbst an drei Terminen Gedanken über eine zusammenpassende, reduzierte Garderobe, über Bedarf und Stil gemacht haben. Ich ziehe heute ein Zwischenresümee über mein bisheriges Ergebnis von mehr als einem Jahr immer-wieder-mal-Beschäftigung mit dem Inhalt meines Kleiderschrankes.
Zu diesem Zweck habe ich den derzeitigen Inhalt auf Kleiderhaken nebeneinander fotografiert (nach dem Vorbild von mein gewisses etwas, weil ich ihre Art der Darstellung am übersichtlichsten finde). Unterwäsche, Schlaf-T-Shirts und Jogginghosen habe ich weggelassen, also nur das fotografiert was ich mehr oder weniger sichtbar mehr oder weniger das ganze Jahr tagsüber trage. Nach dem großen Aussortieren unpassender Stücke (Farbe und/oder Schnitt und/oder Stil) im letzten Sommer war nicht viel übrig geblieben, aber der Schrank füllt sich wieder ein bisschen, mit selbst genähten Stücken.
Shirts (Jersey)
Stand Sommer 2016: 81
Stand April 2017: 13 (-74, +6)
7 gekauft/ 0 geändert/ 6 selbst genäht
2 Langarm, 6 Dreiviertelarm, 5 Kurzarm
Stand: Die Shirts haben mir den größten Schock verpasst: 81 Stück hatte ich vorher! Die meisten davon waren uralte Erinnerungs-T-Shirts, kaum eines hat mir farblich oder vom Schnitt noch gepasst, aber einfach zur Altkleidersammlung konnte ich sie auch nicht geben. (Jetzt werden sie zu Unterwäsche verarbeitet.) Nach dem radikalen Aussortieren blieben tatsächlich nur mehr 7 tragbare Shirts übrig. Hier könnte man einen leichten Hang zu Uni und Streifen vermuten. 😉 Die Kurzarm-Shirts trage ich das ganze Jahr auch als unterste Schicht, Dreiviertelarm ebenfalls ganzjährig – wenn's kalt ist, mit Jacke drüber. Shirts sind bei mir das warme Drunter.
Ziel: Ein Poloshirt in gelb möchte ich ausprobieren, 2-3 weitere selbst bedruckte und bestickte Sommer-T-Shirts werden entstehen, und für den nächsten Winter stehen 2-3 warme Langarm-Shirts am Programm.
Blusen (Webware)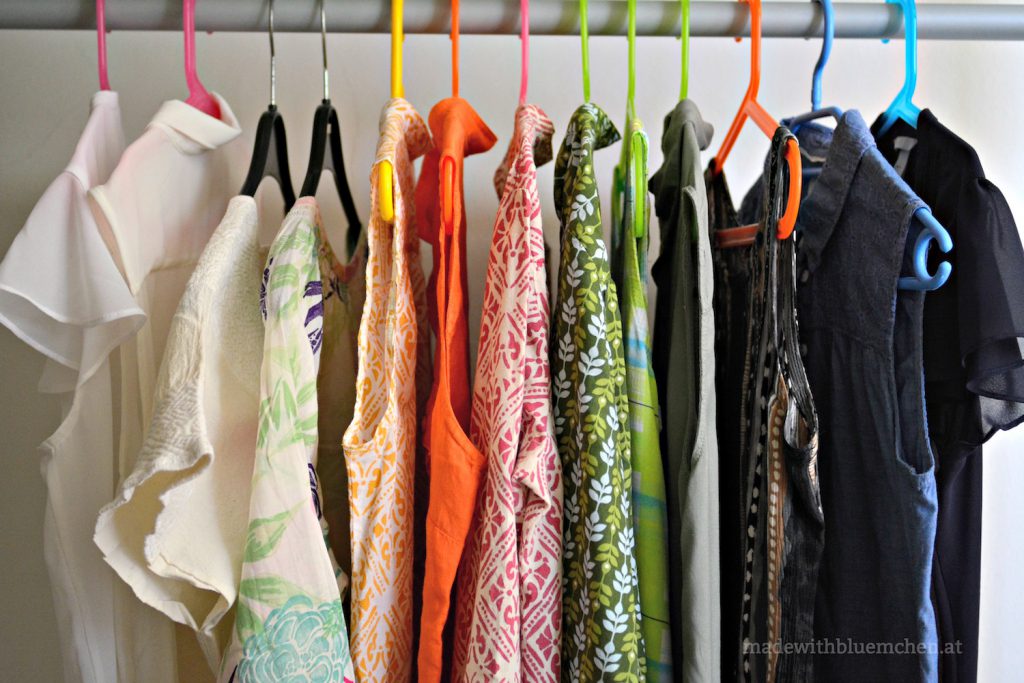 Stand Sommer 2016: 21
Stand April 2017: 13 (-10, +2)
7 gekauft/ 3 geändert/ 3 selbst genäht
3 Dreiviertelarm, 2 Kurzarm, 8 ärmellos
Stand: Erst mit dieser Übersicht ist mir bewusst geworden, dass ich keine einzige Langarm-Bluse mehr besitze und dass eigentlich alle meine Blusen aus feinen, dünnen Stoffen bestehen und daher eher für den Sommer geeignet sind. Also tendenziell Jersey im Winter und Webware im Sommer bei mir bisher. Blusen haben bei mir die Funktion von bunten Farbgebern, sogar mit anderen Mustern als mit Streifen!
Ziel: Für den kommenden Sommer ist eine feine Seidenbluse in rot vorgesehen, die hier die Akzentfarben ergänzt. Für den nächsten Winter möchte ich gerne ein bis zwei wärmere Blusen aus Double Gauze oder Flanell nähen. Ich bin mir noch nicht sicher, ob ich das wirklich mag. Blusenärmel unter Jackenärmeln zurechtzuzuppeln nervt mich nämlich gewaltig.
Hosen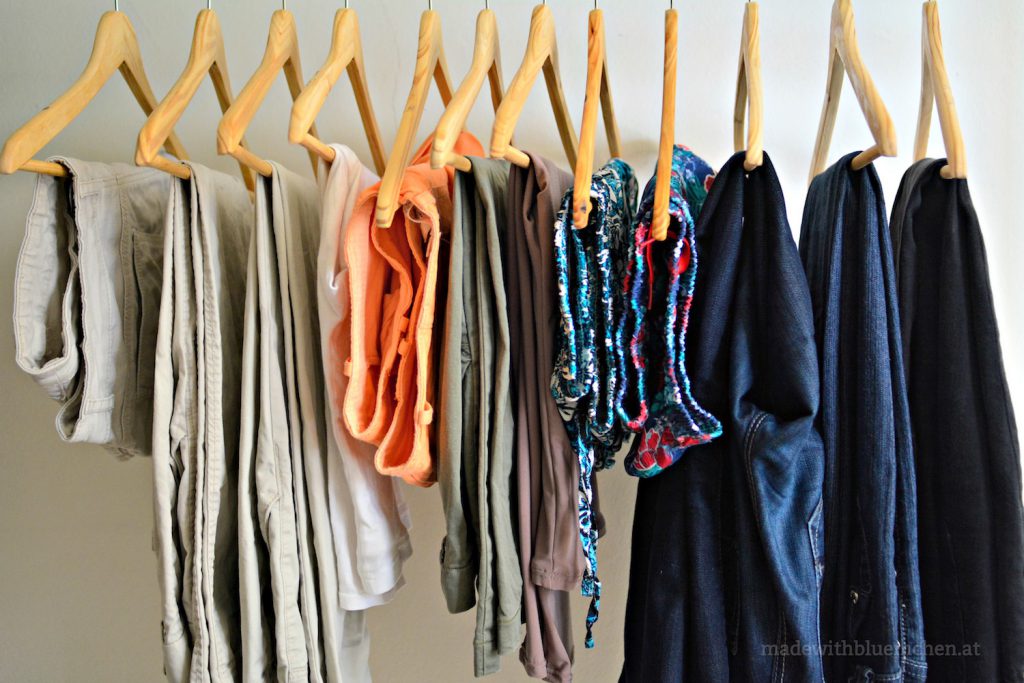 Stand Sommer 2016: 35
Stand April 2017: 12 (-24, +1)
11 gekauft/ 1 selbst genäht
4 lang, 2 dreiviertel, 2 dreiviertel Leggings, 4 kurz
3 Winter, 9 Sommer
Stand: Auch bei den Hosen war ich beim Aussortieren erstaunt, wie viele unpassende Hosen ich teils aus Nostalgiegründen aufbewahrt hatte. Andere Lieblings-Stücke waren schon sehr abgetragen, gab und gibt es aber in dieser Form nicht nachzukaufen. Nach dem Aussortieren ergab sich außerdem, dass der Großteil meiner Hosen – wie die Blusen – nur für den Sommer geeignet ist. Nur eine Jeans in Schwarz und zwei in Blau kann ich auch im Winter tragen.
Ziel: Zwei lange, leichte Cargo-Sommerhosen für den Sommer neu nähen, eine alte orange Leinenhose wird zu einer weiteren Dreiviertel-Hose umgearbeitet. Eine Jeans in dunkelbraun und eine in beige möchte ich nähen für alle Jahreszeiten.
Röcke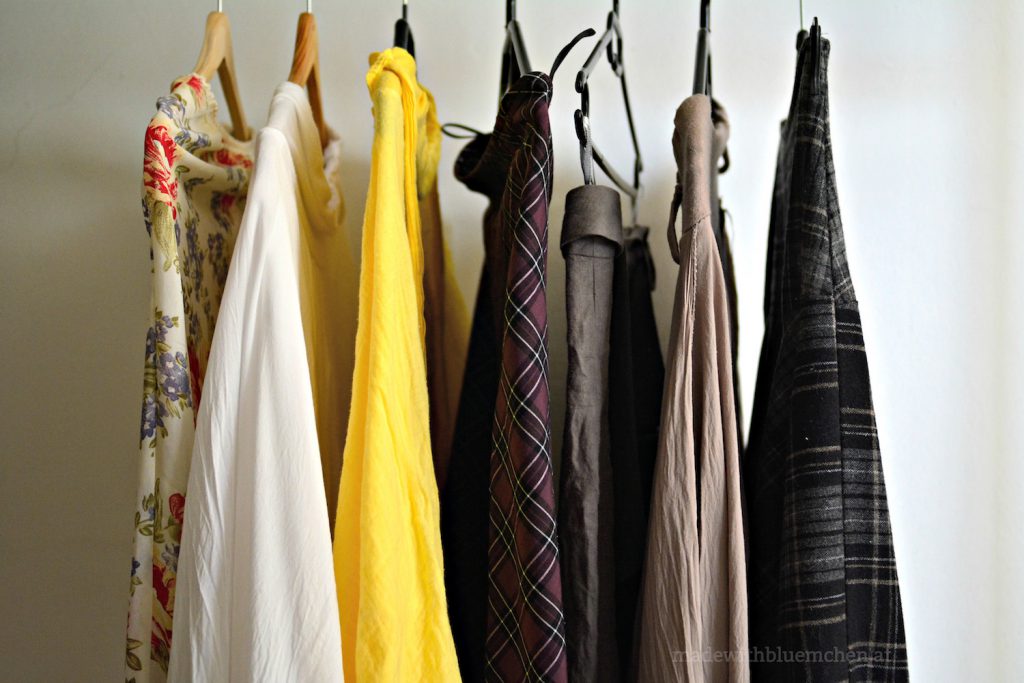 Stand Sommer 2016: 21
Stand April 2017: 7 (-14)
alle gekauft
5 Sommer, 2 Winter
Stand: Auf der Rock-Front sieht es trist aus: Bis auf weiß, gelb und taupe sind mir alle zu eng geworden und müssten eigentlich auch noch raus. Röcke trage ich eigentlich ausschließlich im Sommer, für den Winter hat es mir bisher immer an passenden, warmen Röcken mit Taschen gefehlt. Und ich glaube immer, dass mir mit nur einer Strumpfhose an den Beinen im Winter zu kalt ist. mary's kitchen hat letztens gezeigt, wie sie Sommerröcke mit dicken Strumpfhosen auch im Winter kombiniert. Bei ihr sieht das sehr hübsch aus und wäre mal auszuprobieren.
Ziel: Einen schwingenden Sommerrock nähen, sowie 1-2 passende warme Winterröcke. Den weißen und den taupe-farbenen Rock werde ich kombinieren mit Alabama Chanin. Und alle meine Röcke bekommen (Hosen-)Taschen!
Kleider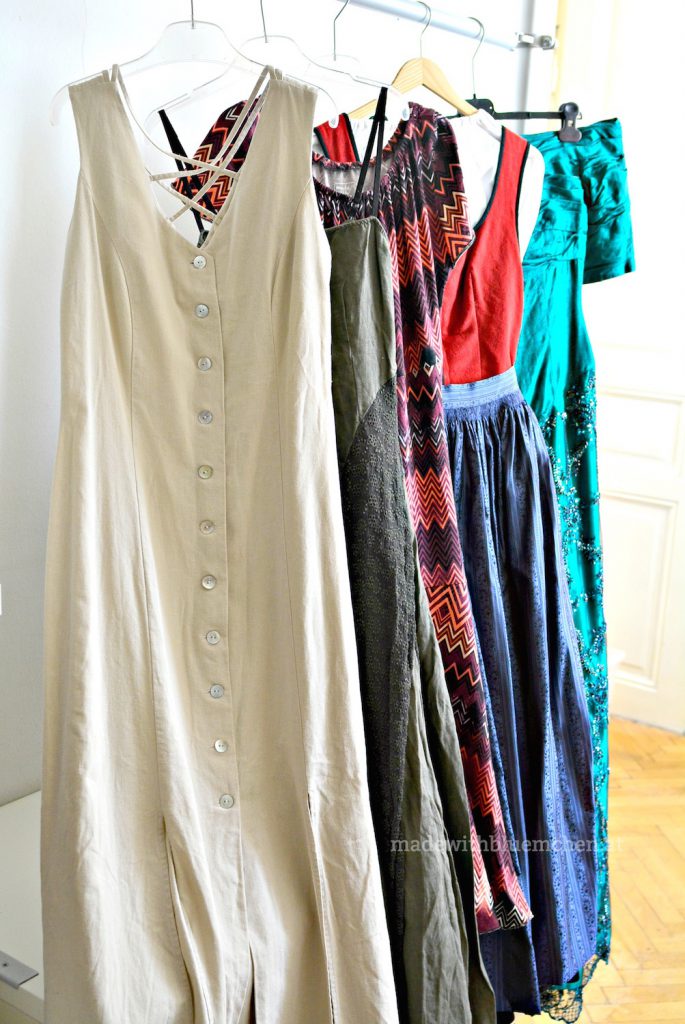 Stand Sommer 2016: 8
Stand April 2017: 5 (-4, +1)
2 gekauft/ 2 geändert/ 1 selbst genäht
Stand: Das vor einigen Jahren gekaufte beige Leinenkleid habe ich erst zwei Mal, jeweils zu Hochzeiten getragen. Ich mag den Schnitt, aber es ist irgendwie langweilig und gehört aufgepeppt. Das olivgrüne Leinenkleid (gekauft) hat genau meine Farbe! Es ist eigentlich total schön, aber leider kaum getragen und derzeit ein bisschen zu eng. Das rot-bunte Chevron Carmenkleid habe ich letzten Sommer für eine Familenfeier genäht, es wird diesen Sommer sicher öfter zum Einsatz kommen.
Das Dirndl aus Wollbrokat mit der blauen Seidenschürze hat mir meine Mutter geschenkt; ich habe es zu meiner Hochzeit getragen. Das smaragdgrüne Seidenkleid ist mein altes Maturballkleid, dem ich vor ein paar Jahren ein anderes Rockteil gegönnt habe. Beide Kleider liebe ich, sie sind mir aber derzeit zu eng.
Im Grunde habe ich bislang nur zu besonderen Anlässen Kleider getragen. Das drückt sich auch in den Materialien dieser Kategorie aus: Leinen, Wollbrokat, Seide. Kleider sind in meiner Wahrnehmung edle Festtagsstücke, sie sind nicht wirklich in meinem Kleidungsalltag angekommen.
Ziel: Im kommenden Sommer möchte ich sie aber als praktische Einteiler auch für den Alltag mehr nutzen und im nächsten Winter warme Kleidervarianten aus Wollstoffen ausprobieren. Für ein weiteres Jersey-Kleid habe ich bereits Stoff und Schnitt parat (Edit: Das Carmen-Oktopus-Kleid), und auch für ein 50er-Jahre Kleid aus Webware. Und bis zum Sommer möchte ich wieder in mein Dirndl und ins Ballkleid reinpassen.
Jacken und Blazer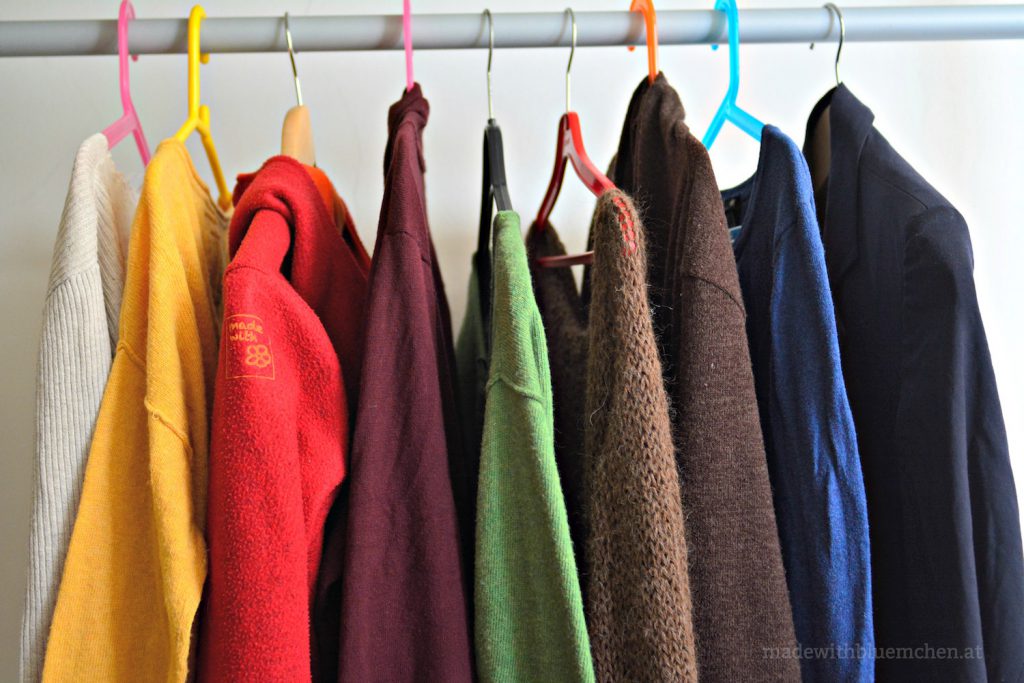 Stand Sommer 2016: 28
Stand April 2017: 9 (-22, +3)
3 gekauft/ 4 geändert/ 2 selbst genäht bzw. gestrickt
1 Dreiviertelarm, 8 Langarm
Stand: Die Jacken ergänzen meine Shirts und Blusen um die langen Ärmel. Beim Aussortieren habe ich alle Pullover rausgeworfen oder zu Jacken umgearbeitet (dottergelb, grasgrün). Die selbst genähte rote jErika Fleece-Jacke ist mein absolutes Lieblingsstück, das ich den ganzen Winter über getragen habe; nun wird sie schön langsam zu warm. Die braune selbst gestrickte Jacke hat sich nicht bewährt; sie wird noch einmal aufgeribbelt, ich stricke etwas anderes aus der guten Wolle.
Ziel: Für den nächsten Winter brauche ich unbedingt eine zweite warme Fleece- oder besser Walk-Jacke zum Wechseln. Der blitzblaue Cardigan wird wahrscheinlich über kurz oder lang rausfliegen, dafür steht ein Blazer oder sogar ein Kostüm in Taupe auf meiner Wunschliste. Mit zwei Schalkragen-Cardigans (dunkelrot, dunkelbraun) und einem ualten aber immer noch guten klassischen, dunkelblauen Blazer gehen die Oberteile bereits ein bisschen in Richtung elegant, wo ich hin will.
Mäntel und Jacken: Die oberste Schicht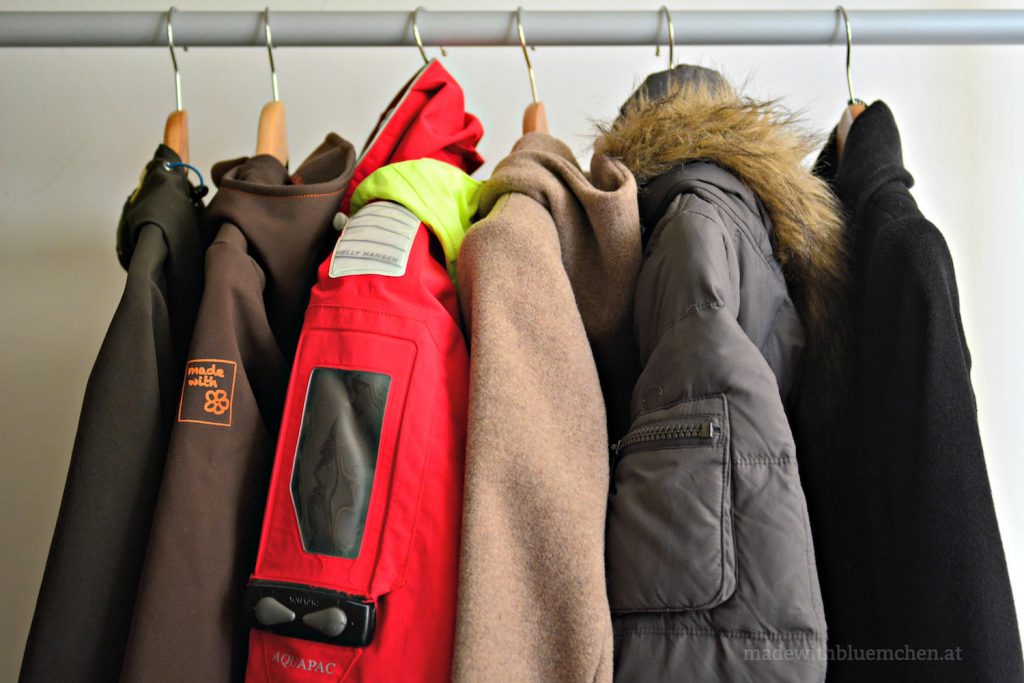 Stand Sommer 2016: 12
Stand April 2017: 6 (-7, +1)
4 gekauft/ 1 geändert/ 1 selbst genäht
Von links nach rechts:
dunkelolivbraune Windjacke (gekauft): Sie ist leidlich wind- aber leider nicht wasserdicht, gut zum Radfahren für wenns warm ist. Eventuell imprägnieren oder doch ersetzen durch eine Jacke in einer helleren, knalligeren Farbe.
braune jErika Softshell (selbst genäht): Die Softshell-Jacke ist jetzt fast fertig, das wird meine neue Jacke für jede Gelegenheit.
rote Ölzeugjacke (gekauft): unverzichtbar beim Segeln, aber auch zum Radfahren bei Wind und Wetter, in strömendem Regen und Schneefall (dann kombiniert mit der Ölzeughose und Gummistiefeln auch am Rad).
sandfarbener Mantel mit neuer Kapuze (geändert): Den habe ich im Spätwinter/ Frühsommer nach der Änderung richtig viel und gern getragen. Leider nicht wasserfest.
taupefarbener Daunenmantel (gekauft): trage ich im Winter, wenn's richtig kalt ist, ständig. Sehr warm und kuschelig. Nicht wasserfest.
schwarzer, eleganter Wollmantel (gekauft): Der richtig schöne Mantel für die seltenen, besonderen Anlässe (überm Ballkleid, überm Dirndl). Schwarz ist nicht meine Farbe, für diese Anlässe behalte ich ihn aber. Ein Halstuch in der Nähe des Gesichts macht ihn für mich tragbar.
Stand: Meine Drüber-Jacken und Mäntel müssen im Winter warm halten und im Sommer vor Wind und Regen beim Radfahren schützen. Mit Braun und Sand bewege ich mich schon gut in meinem Farbspektrum. Die Mäntel und Jacken sind aber – bis auf die Ölzeugjacke, die für wirklich schweres Wetter ist – in relativ dunklen und gedeckten Basisfarben.
Ziel: Ich hätte gerne noch etwas Knalligeres, einen Übergangsmantel oder Trenchcoat in einem kräftigen Orange oder Grasgrün. 🙂 (Edit: Entstanden ist ein grasgrüner Stadtmantel.) Und ein wind- und wasserfestes, dünnes, knallfarbenes Blouson aus einem Funktionsmaterial zum Radfahren.
Tücher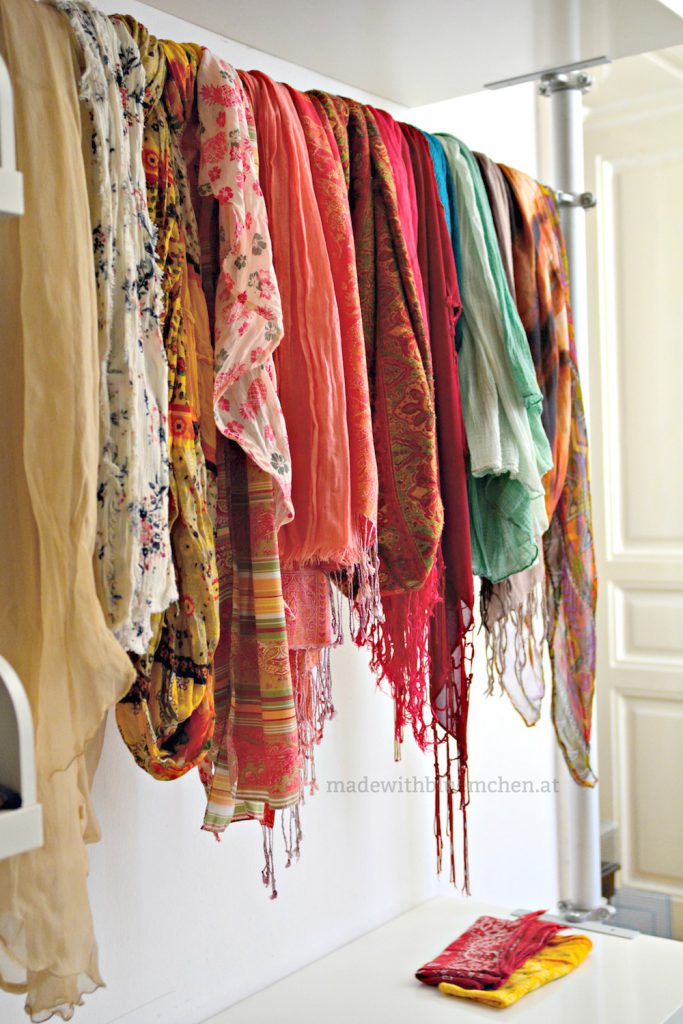 Stand Sommer 2016: rund 30
Stand April 2017: 18 (-14, +2)
alle gekauft
Stand: Ich liebe Tücher. Vor allem im Winter, da habe ich immer eines um den Hals, auch in der Wohnung. Meine Tücher brauchen im Winter ein gewisses Volumen und Griffigkeit, und ich habe gern bunt gemusterte Tücher zum unifarbenen Grund von Shirt und Jacke. Am liebsten in Akzentfarben: Gelb, Pfirsich, Orange, Rot, wie unschwer zu erkennen.
Ziel: Diese Tücher werden jedenfalls bleiben, denn für Tücher habe ich tatsächlich eine Schwäche; die dürfen ruhig etwas Platz brauchen. (Auch wenn ich den Verdacht habe, dass ich die leichten Sommertücher im Sommer eigentlich gar nicht trage – ich werde das beobachten.)
Die wegen unpassender Farben aussortierten Tücher verwende ich als Verpackung für Geschenke.
Farb-Überlegungen
Längere Zeit war ich mir nicht ganz sicher, welche die Basis- und Akzentfarben in meiner Garderobe sein sollen, aber bei diesem Überblick werden sie eigentlich fast automatisch sichtbar: Als Basisfarben überwiegen bei mir (und mag ich gern) sand/beige, dunkelbraun und dunkelrot.
Derzeit gibt es bei den Hosen (Jeans) sowie bei den Oberteilen noch einiges in Dunkelblau, das bleiben darf, auch wenn es nicht so ganz zum Herbsttyp passt. Aber von der Farbwirkung ist Dunkelblau sehr elegant und für seriöse Anlässe meist besser als Braun.
In den Akzentfarben, die mir besonders gut stehen (dunkelorange, erbsengrün und tomatenrot) gibt es schon ein paar Highlight-Stücke in meinen Schrank, und davon wird es mit Sicherheit noch ein bisschen mehr geben.
Ausblick
Meine Kleidung selbst zu nähen und dadurch ganz genau nach meinen Vorlieben gestalten zu können, ist mir im letzten Jahr zur Selbstverständlichkeit geworden. So sehr, dass ich – schon früher ein Shopping-Muffel – überhaupt kein Bedürfnis mehr nach Kleidung Shoppen habe. So richtig bewusst wurde mir das, als ich für die Tochter dringend zwei Shirts in einem großen Einkaufszentrum besorgen musste. Ich ging durch die Damenabteilung, und es sprach mich absolut nichts an. So ist ein Nebeneffekt meines Garderobe-Remake, dass ich im letzten Jahr – bis auf eine neue Alltagsjeans – kein einziges Kleidungsstück neu gekauft habe! Dafür ein wenig Stoff, und einige der jetzt noch vorhandenen Stücke habe ich verändert und an meine Bedürfnisse angepasst.
Meine Garderobe fühlt sich gut an: Sie ist übersichtlich und enthält fast ausschließlich Teile, mit denen ich völlig zufrieden bin. Ich bin versucht, dieses Jahr sogar beim Me Made May mitzumachen, einer Aktion, bei der man mehr oder weniger täglich sein #ootd (= outfit of the day) fotografiert und auf Instagram postet. Ich trage schon jetzt fast täglich mindestens ein selbst gemachtes Teil; beim Me Made May kann ich dann die verschiedenen Kombinationen ausreizen. Das wird glaub ich lustig, darauf freue ich mich.
Danke fürs Lesen bis hierher, das war mal wieder ein ausführlicher Beitrag, der schon lange auf seine Veröffentlichung gewartet hat.
Wie steht's um Eure Zufriedenheit mit dem Inhalt Eures Kleiderschrankes?
Verlinkt bei