Praktisch für Unterwegs
Im August war "Tasche" das Thema für den Monats-Motto-Tausch, den Nine und Marietta organisieren. Von Carla habe ich eine praktische Handarbeitstasche erhalten und an Anja eine asymmetrische Umhängetasche verschickt. Beide Taschen sind auf ihre Weise praktisch für unterwegs.
Variable Handarbeitstasche
Ein Wahnsinn, was sich die liebe Carla für eine Arbeit für mich angetan hat! Sie hatte mein Foto vom Häkeln im Zug gesehen (hier beim Utensilo) und daraus gefolgert, dass ich eine Handarbeitstasche gut gebrauchen könnte. Und sie lag richtig! Ein bisschen spannend wurde es, ob die Tasche noch vorm Urlaub bei mir ankommt, aber es hat geklappt. (Leider nicht mehr mit dem Vorbereiten dieses Beitrages, aber das hole ich ja heute nach.) Die Kekse, die sie dazu gepackt hat, wurden gleich am Weg nach Italien verputzt, und auch den Tee haben wir schon gekostet – lecker!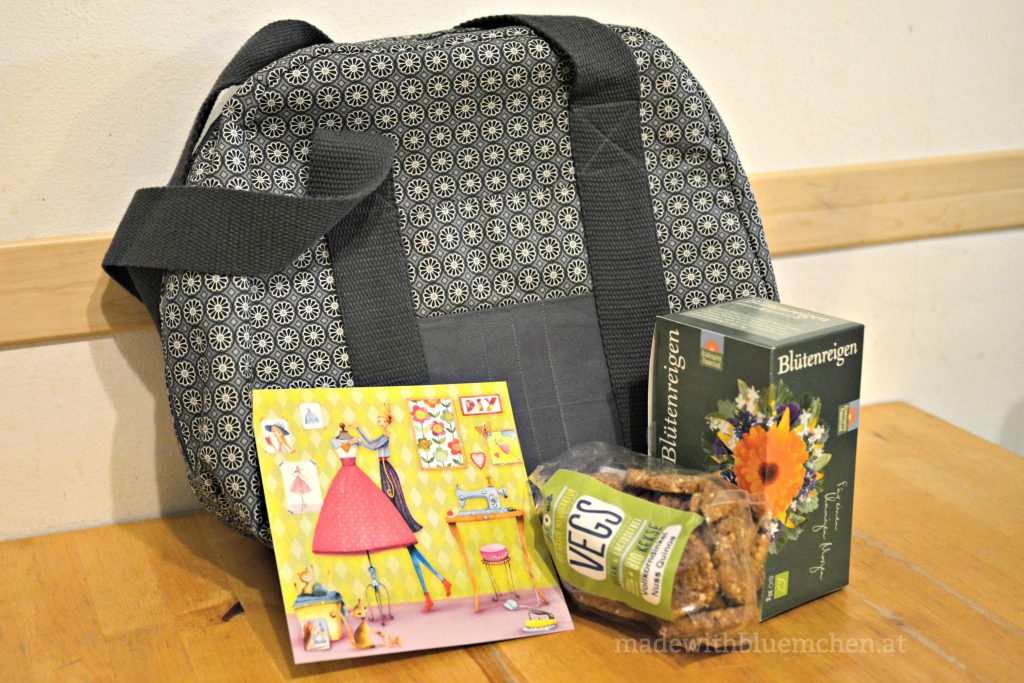 Den Schnitt der Handarbeitstasche Bienchen von Bienvenido Colorido bei Farbenmix, den sie ausgesucht hat, finde ich super-aufwändig aber auch mega-cool.
Die Tasche hat auf der einen Außenseite schmale Einschubfächer für z.B. Häkelnadeln, auf der anderen ein großes mit CamSnaps gesichertes Fach, in dem z.B. die Handarbeitsanleitung gut Platz findet.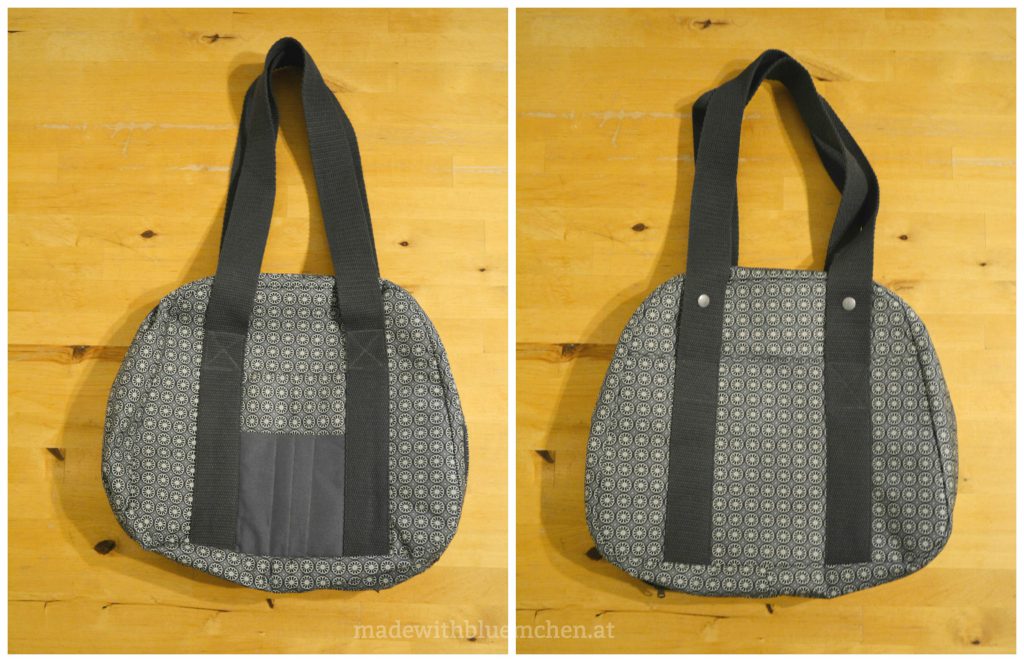 Innen gibt es auf der einen Seite weitere Steckfächer und ein Reißverschlussfach, auf der anderen Seite verstellbare Gummibänder, mit denen man die Garnknäuel fixieren kann.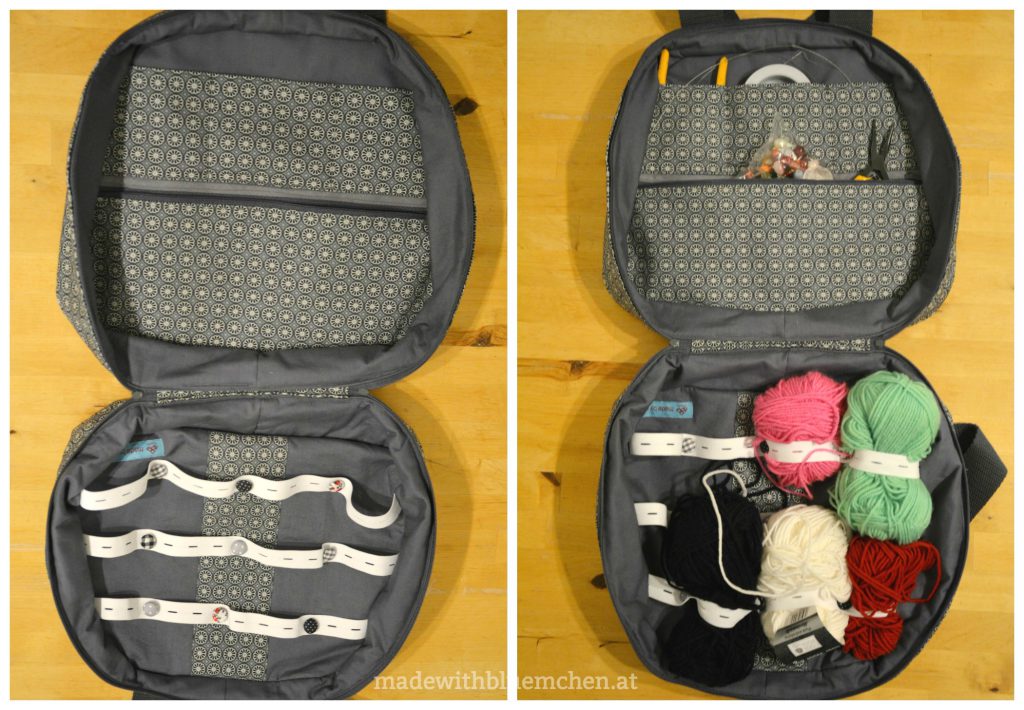 Carla hat sich bei der Stoffwahl an meinen Wünschen im Fragebogen orientiert. Es wurde eine edel-zurückhaltende und wunderschöne Tasche! Nur bei den stoffbezogenen Knöpfen hat sie sich dezent ausgetobt. Sind die nicht Zucker?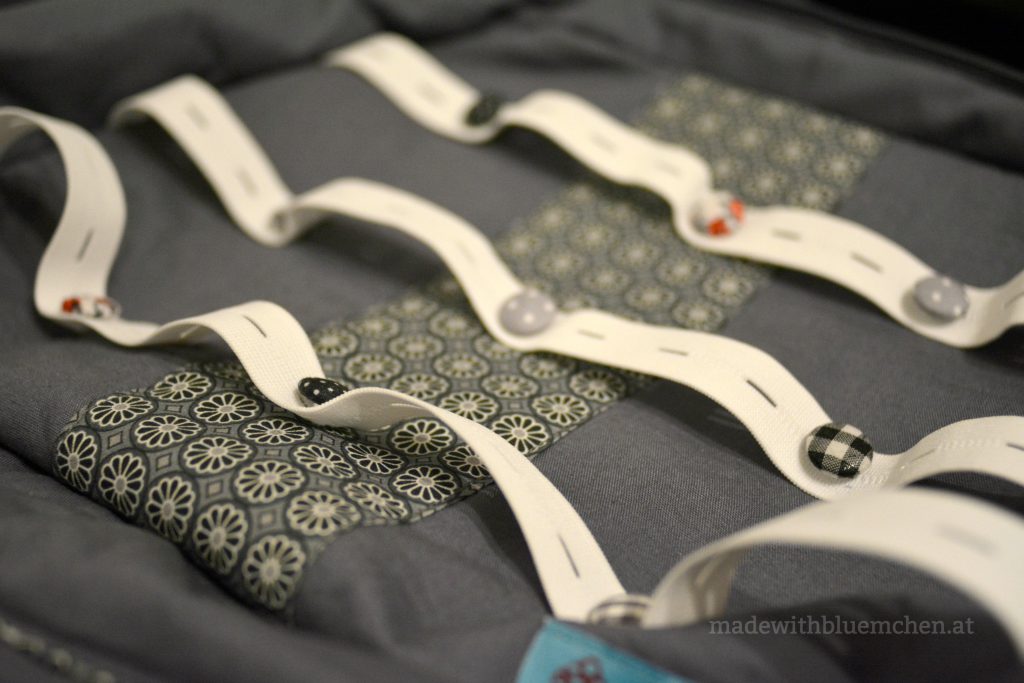 Vielen, vielen Dank, liebe Carla! Der Aufwand, den du da betrieben hast, ein Hammer! Und so liebevolle Details! Diese Tasche wird ganz sicher häufig zum Einsatz kommen.
Blau ist ihre Lieblingsfarbe
Der August war eine Herausforderung für mich! So viele Taschen-Schnittmuster zur Auswahl, so viele davon haben mich angelacht. Der Hinweis in Anjas Fragebogen, dass sie gerne Dinge in allen möglichen Blautönen hat und es gerne simpel mag, hat schlussendlich geholfen. Nach Durchsicht meines Stoffschrankes habe ich mich für eine reversible tote with adjustable strap, also eine Wendetasche mit verstellbarem Riemen, entschieden. An dem Modell hat mir der asymmetrische Schnitt gefallen, dass man die Tasche wenden kann und auch die lässige Trägerlösung: Der Träger wird durch zwei Schnallen geführt und geknotet, wodurch sich die Länge ganz individuell anpassen lässt, und die Tasche wahlweise mit langem Träger quer über den Oberkörper getragen werden kann, oder aber auch mit kurzem Träger dicht unter der Achsel.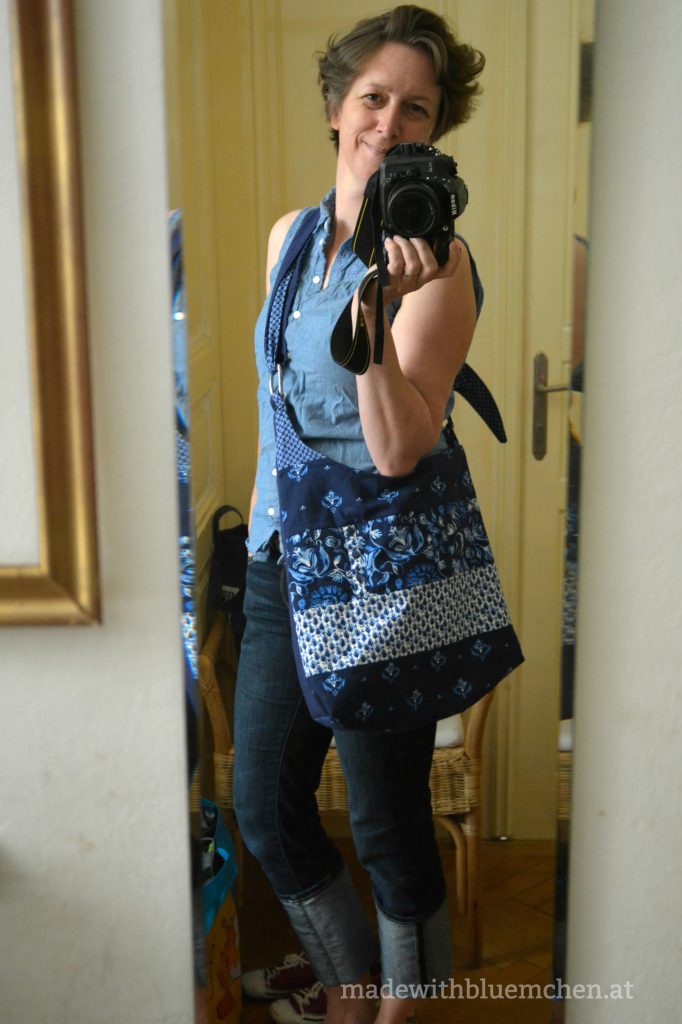 Die englische Anleitung ist sehr gut nachvollziehbar und bebildert. Obwohl ich zunächst keine Ahnung hatte, wie das mit den Ringen und dem Wenden gehen soll, hat mir das Schritt-für-Schritt-Befolgen der Anleitung über diesen Punkt ganz einfach hinausgeholfen.
Drei kleine Hürden haben sich ergeben.
Erstens befindet sich das Schnittmuster auf einem A4-Blatt. In der Anleitung steht, man solle es 4x vergrößern oder vergrößert abzeichnen. Da mein Drucker leider keinen Posterdruck kann, musste ich abzeichnen. Das hat zwar ein bisschen gedauert, es hat aber ganz gut funktioniert, weil zum Glück alle Maße (in inch) auf der kleinen Vorlage angegeben sind.
Zweitens ist in der Anleitung nicht angegeben, wie groß die Gurtringe sein sollen. Ich hatte mit einer inneren Breite von 5 cm gerechnet (weil der Riemen 5 cm breit ist) und daher die großen Ringe verwendet, die ich vor einiger Zeit von einer kaputten Schwimmweste abmontiert hatte. Die großen Ringe waren ein bisschen ein Krampf beim Wenden der Tasche und auch beim Absteppen der Halteschlaufen. Dass es auch kleinere Ringe getan hätten (eine innere Breite von 3 cm sollte reichen) habe ich erst beim Einfädeln des Gurtes festgestellt (den ich als letztes genäht habe), und da war natürlich die ganze Tasche schon bombig zugenäht… Egal, ich finde ja, die großen Ringe geben der Tasche noch einmal ein gewisses Etwas… 😉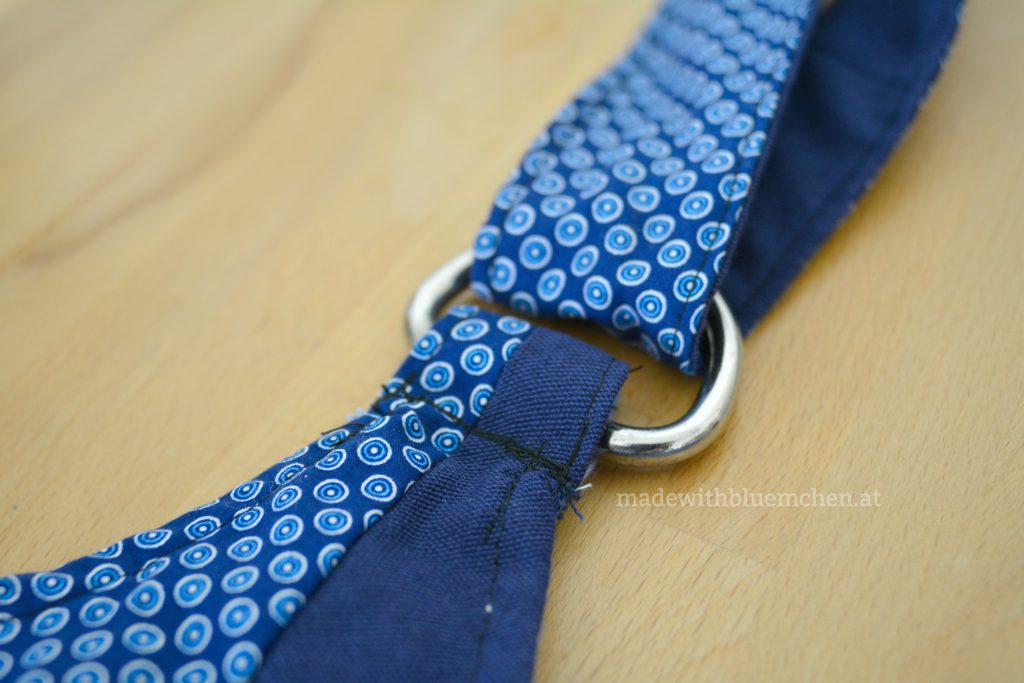 Und drittens ist das Wenden eines zwei Meter langen Gurtes, der bereits an beiden Enden geschlossen ist, kein Honigschlecken. Das mache ich beim nächsten Mal irgendwie anders.
Stofftechnisch habe ich mich mit verschiedenen Blautönen ausgetobt. Die aufeinander abgestimmten blau-weißen Stoffe waren ursprünglich eine Sommerbluse meiner Tochter, die sie nie getragen hat. Wegen der tollen zusammenpassenden Stoffe habe ich sie aufbewahrt, und jetzt hat sie in dieser Tasche ihre Bestimmung gefunden.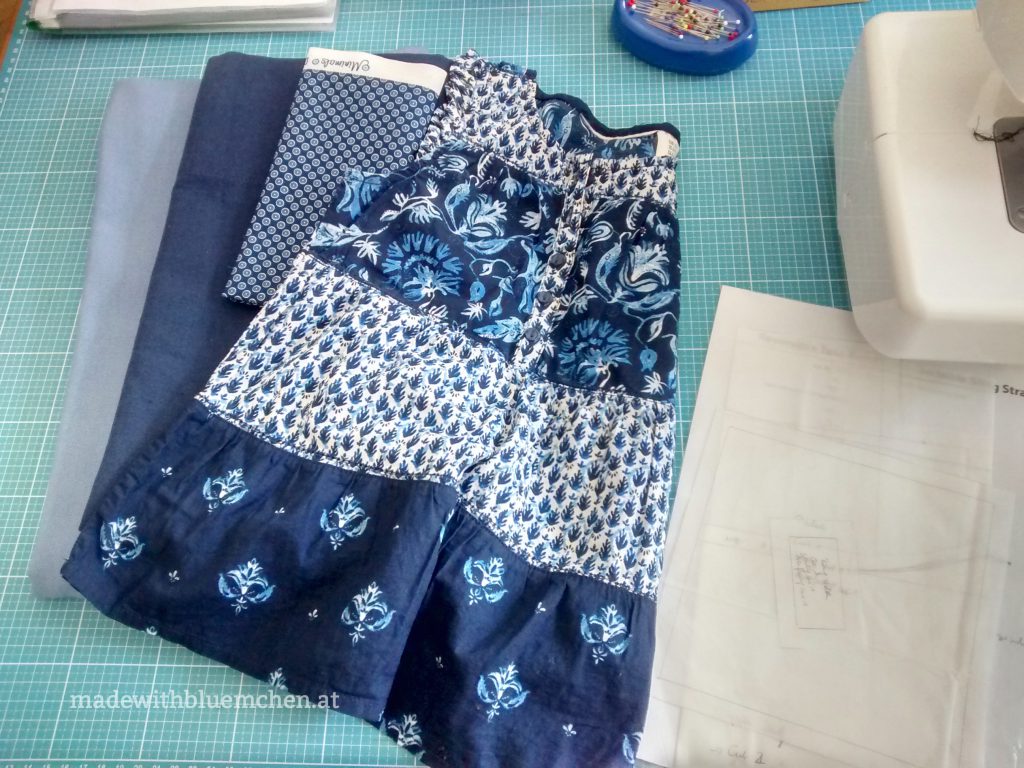 Ich habe die Tasche so angelegt, dass jede Seite anders aussieht, damit Anja sie hoffentlich zu vielen Anlässen kombinieren kann. Die Tasche ist ein bisschen verstärkt mit einem dünnen Bügelvlies, ich wollte ihr aber nicht zu viel Volumen geben, damit sie auch mal klein zusammengefaltet mitgenommen werden kann.
Statt einer habe ich zwei Seitentaschen aufgenäht, von denen eine aus improvisiertem Paper-Piecing mit den restlichen Schnipseln der verwendeten Stoffe besteht. Zusätzlich habe ich einen Schlüsselring eingenäht, der ebenfalls nicht in der Anleitung vorgesehen ist. Eine Schoki und ein kleiner blauer "Schutzengel"-Schlüsselanhänger haben mein Paket komplettiert.
Wisst Ihr was? Diesmal ist es mir richtig schwer gefallen, das gute Stück wegzuschicken. Am liebsten hätte ich die Tasche selbst behalten. Aber bei Anja habe ich schon gelesen, dass ihr die Tasche gefällt. Das freut mich dann wieder.
Jetzt bin ich gespannt auf die Werke der anderen, die sich bei Nine und Marietta gesammelt finden.
Im September lautet unser Motto "Geldbörse". Das wird eine echte Herausforderung für mich.
Das ist drin
Schnitt/ Anleitung: Reversible tote with adjustable strap, kostenlose Anleitung mit Schnittmuster (auf A4, zum Vergrößern) von Craft Passion.
Material:
dunkelblauer und hellblauer Baumwollstoff aus dem Fundus
eine gemusterte Kinderbluse (Upcycling)
dunkelblauer Stoff mit Punkten
zwei starke Ringe von einer alten Schwimmweste (Upcycling)
dünnes no-name Bügelvlies
Werkzeug: Nähmaschine
Kosten: rund 5 Euro
Arbeitszeit: rund 4 Stunden, inklusive Schnittmuster vergrößern
Änderungen: Damit alle vier Seiten unterschiedlich werden, habe ich die Taschenteile nicht im Bruch zugeschnitten (wie am Schnittmuster angegeben) sondern als Einzelteile mit Nahtzugabe. Statt einer habe ich zwei Taschen aufgesetzt, die mit CamSnaps verschlossen werden können. Eine Lasche mit Schlüsselring habe ich zusätzlich eingenäht.
Fazit: Eine sehr gut bebilderte und nachvollziehbare Anleitung auf Englisch. Ergibt eine hübsche und geräumige Tasche. Die Größe der Ringe ist in der Anleitung nicht angegeben, runde oder rechteckige Ringe mit einer inneren Breite von 3 cm sind aber ausreichend.
Verlinkt bei