"Sprich Freund und komm rein"
In Fan-Artikelshops kann man sich T-Shirts, Uhren, Kaffeebecher, Dekoartikel, Bademäntel und auch Kokos-Fußmatten mit beliebigen (und beliebten) nerdigen Motiven und Sprüchen bestellen. Aber selbst ist die Selbermacherin, vor allem wenn sie glückliche Besitzerin eines Schneidplotters ist.

Die liebste Nachbarstochter brachte letztens bei einem Nachmittagsbesuch den Bestellkatalog eines bekannten Nerd- und Fanartikelshops mit. Beim Durchblättern der Fanartikel von Harry Potter, Herr der Ringe, Hobbit, den Avengers, Marvel Comics, Zelda, Dr. Who und vielen anderen mehr (von denen ich zum Teil noch nie gehört hatte), habe ich mich dabei ertappt, nach einer neuen Fußmatte für unsere Wohnungstür Ausschau zu halten. Die alte war nach einem guten Jahrzehnt treuer Dienste und nach zwei Umzügen nicht mehr zu reinigen und begann, sich in ihre Kokos-Einzelfasern aufzulösen.
Die Assoziation war für mich ganz klar: Fanartikel + Fußmatte = Herr der Ringe + "Speak, friend, and enter".
(Also für alle, die mit dem Herrn der Ringe nichts am Hut haben, eine kurze Erklärung: Die Reisegesellschaft rund um Hobbit Frodo braucht Zutritt zu einem Zwergenreich unter dem Gebirge. Zauberer Gandalf zerbricht sich den Kopf über das benötigte Losungswort, mit dem sich das magische Tor öffnen lässt. Auf dem Tor steht: "Speak, friend, and enter" – halt auf elfisch, das beherrsche ich nur leider nicht fließend-, und Gandalf braucht sehr lange, bis er die eigentlich naheliegende Lösung findet…)
Normalerweise ist der Eintritt zu unserer Wohnung bei weitem nicht mit so großen Hürden und schwierigen Rätseln verbunden wie der Eintritt zum Zwergenreich. 😉 Aber im Film ist diese Szene recht humorvoll dargestellt, und der Spruch auf der Fußmatte bringt mich jetzt jedes Mal zum Lächeln, wenn ich unsere Wohnung betrete.
Ich bin aber klarerweise unter den Millionen Herr-der-Ringe-Liebhaber/innen nicht die Erste und Einzige mit der Assoziation, diesen Spruch auf eine Türmatte zu schreiben. Die Google-Suche brachte mich auf verschiedene Fußmatten-Angebote, die entweder mit (sehr schöner aber für mich unleserlicher) Elbenschrift bedruckt waren, oder mir um einiges zu teuer waren. Oder beides. Die Fußmatte, die mir noch am ehesten gefallen hätte, kostete über 50,- Euro und hatte schlechte Rezensionen ("Die Schrift löst sich innerhalb kürzester Zeit ab, und übrig bleibt eine gewöhnliche braune Kokosmatte.")
Nein danke. Wie viel kann schon eine gewöhnliche braune Kokosmatte im Baumarkt kosten? Und die Schrift… Ich hätte ja gerne eine Elbenschrift verwendet, aber einfach ein Bild aus Google klauen geht ja wirklich nicht, und was ich selbst designen könnte, reicht nicht für meine eigenen hohen Ansprüche. Aber eigentlich genügte mir für diesen simplen Zweck auch eine auf meinem Laptop vorhandene, schwungvolle Schriftart (namens Apple Chancery). Damit habe ich den Satz direkt im Silhouette Studio getippt, das ist das Programm, das zu meinem Plotter gehört. Ich die Schrift so vergrößert, dass jeweils zwei Worte auf der 12×12 inch (30×30 cm) großen Schneidmatte Platz gefunden haben. Als Material dafür habe ich alte Overhead-Folien genommen. Die dann zusammengeklebt, mit Malerkrepp auf der neuen Kokosmatte mittig befestigt und rundherum mit einer Manschette aus Papier versehen, um den Rest der Matte beim Sprühen abzudecken.
Im Bastelkeller hatten wir noch einen Rest schwarzen Sprühlack. Viel braucht man für so eine Matte ja nicht. Gesprüht habe ich lieber draußen auf der Wiese im Hof, weil der Sprühlack ziemlich eklig stinkt. Gefreut hab ich mich, dass keine "Sprühschatten" von den  kleinen Klebestreifen geblieben sind, mit denen ich die Mittelteile der Buchstaben fixiert hatte; der Lack hat sich einfach durchs Sprühen genug daran vorbei verteilt. Danach 24 Stunden trocknen lassen, und jetzt bin ich gespannt, wie lange der Schriftzug ansehnlich bleibt, also wie lange der Lack auf der Kokosfaser gut hält. Zur Not könnte ich sogar nachsprühen.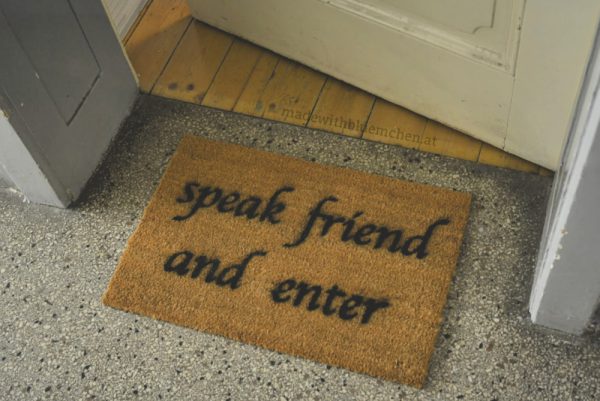 Also: Herzlich willkommen bei uns und hereinspaziert, alle Freunde (und -innen)!
Weil ich mich so über mein kleines, augenzwinkerndes DIY-Projekt freue, hätte der Beitrag eigentlich auch gut zum Freutag gepasst. Aber wie ihr sicherlich schon bemerkt habt, ist mir der regelmäßige Blogging-Rhythmus abhanden gekommen, sodass ich es schon an den letzten drei Freutagen einfach nicht geschafft habe, diesen Blogpost fertigzustellen! Seit April, als der Wahnsinn in der Arbeit losging, habe ich überhaupt kaum mehr was gezeigt. Leider. Aber ich habe nach wie vor – oder auch wieder – sehr, sehr große Lust aufs Bloggen und bemühe mich, mir einfach wieder regelmäßiger die Zeit dafür zu nehmen.
Da finde ich die Aktion HerbstHandarbeitsBingo 2018 bei sechziggradnord grandios, auf die ich erst vorgestern in einem Beitrag von Küstensocke gestoßen bin. Weil viele meiner schon länger geplanten Projekte in dieses Raster hineinpassen. Vielleicht kann ich mir hier mehr Motivation holen, das eine oder andere Projekt in der Frist bis Ende November fertigzustellen. Die Fußmatte passt jedenfalls gleich in zwei Kategorien: "inspiriert von einen Buch oder Film handarbeiten" und "ungewöhnliches Material verwenden". Oder wer von Euch hat schon mal eine Kokosmatte selbst verziert? 😉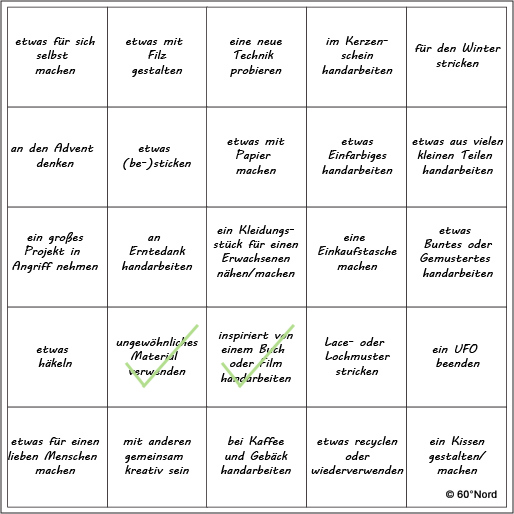 Mal sehen, welche der anderen Linkparties, bei denen ich mit so einem Projekt immer gerne teilgenommen habe, noch existieren. Ich habe durch die vielen geschlossenen Blog ein bisschen den Überblick verloren. Es wird Zeit, dass ich mich auf den aktuellen Stand bringe.
Wer ist noch dabei, beim Handarbeitsbingo?
Das ist drin
Schnitt/ Anleitung: meine eigene
Material: Kokosmatte aus dem Baumarkt um 7,- Euro; vier alte Overheadfolien; etwas Klebestreifen; schwarzer Sprühlack (ein Rest war vorhanden); Altpapier
Werkzeug: Schneidplotter
Arbeitszeit: ca. 1 Stunde Schrift entwerfen, plotten lassen und Schablone kleben; 5 Minuten sprühen; eine Nacht trocknen lassen
Empfehlung: Möglichst im Freien sprühen und danach nicht bewegen, sondern an Ort und Stelle trocknen lassen.
Verlinkt bei