Wenn die Wiesen wieder grün' und die Weidenkätzchen blühn
Heute Freitag war ein ganz wirklicher und echter Freutag! Nicht nur, dass ich nach einer doofen Frühlingsgrippe wieder gesund bin, nein: Gestern und heute sind ein paar Päckchen eingetroffen, über die ich mich riesig freue.
Es gibt bei meinen Eltern eine uralte Aufnahme auf einer Musikkassette, da sage ich im Kindergarten ein Gedicht auf. Ich kann es immer noch auswendig (und habe meinen Kindergarten-Singsang-Tonfall beim Gedichteaufsagen im Ohr, mit jeweils einer winzigkleinen Pause nach jedem Satz):
Osterhas im grünen Gras, kommst du mit den Eiern bald?
Wenn die Wiesen wieder grün' und die Weidenkätzchen blühn,
Wenn die Osterglocken klingen und die kleinen Zicklein springen:
Bring die Eier bunt und fein für die Kinder groß und klein.
So ungefähr in dieser Vorfreude befinde ich mich tatsächlich gerade. Der Frühling hat begonnen, es wird endlich wieder wärmer, sogar das beste Eisgeschäft in Graz, bei uns ums Eck in der Zinzendorfgasse, hat wieder geöffnet. (Aber: Pssst! Nicht der Tochter verraten. Das erste Eis gibt's erst, wenn das Außenthermometer zum ersten Mal 20 Grad zeigt. Kann nicht mehr lange dauern.)
La Passacaglia Workshop
Am vergangenen Montag bin ich (bereits halb krank) in die südliche Steiermark nach Leibnitz gefahren, zum seit Langem gebuchten Workshop "La Passacaglia" in Margit Robics' feinem kleinen Patchwork-Laden. English Paper Piecing, Nähen mit der Hand also, das ich unbedingt endlich mal ausprobieren wollte. Zu viert waren wir eine sehr feine und auch interessante Runde von erfahrenen Näherinnen. Ich habe mich gefreut, Birgit Pachler vom Nähcafé Graz kennenzulernen, eine gelernte Schneiderin, die zahlreiche Kinderkurse abhält und erfolgreiche Nähbücher für Kinder schreibt.
Der Workshop hat mich stark an meine allererste Patchworkerfahrung als Jugendliche erinnert, von der ich letztens beim Blind Date der Modern Cologne Quilters erzählt habe (das rosa Gilet). Nur dass wir damals keine Schablonen so bequem aufkleben konnten wie in diesem Kurs und auch keine Schablonen vorgeheftet haben wie beim "richtigen" English Paper Piecing, sondern damals alle Teile einzeln mit exakter Nahtzugabe auf den Stoff aufgezeichnet haben. Aber das exakte Zusammennähen mit der Hand hat Erinnerungen an Abläufe in mir geweckt, die wohl in meinen Muskeln gespeichert sein müssen.
Margit hatte zwei Stücke begonnen, als Ansichtsexemplare und als Teile einer großen Decke. Wir waren ganz schön fleißig an dem Tag. Mein begonnenes Stück (am rechten Bild in der Mitte, in gelb-orange-Tönen) werde ich zu einem Bezug für die kleine Banktruhe im Vorzimmer erweitern, ein übersichtliches Projekt. Eine ganze große Patchworkdecke in dieser Technik schreckt mich derzeit ab. Aber irre, was da an La Passacaglia Projekten auf Pinterest herumschwirrt!
Frühling MailArt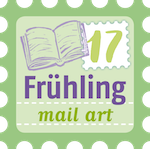 Seit Jahren bewundere ich die Kunstwerke, die drei Mal jährlich bei den von Müllerin Art und Tabea Heinicker ausgerichteten MailArt-Aktionen die Besitzerinnen wechseln. Als ich von der Ausschreibung für die Frühling MailArt 2017 zum Thema "Mini-Bücher binden" hörte, habe ich mich sofort angemeldet. Ich weiß nicht genau, was mich da geritten hat: Ich habe noch nie ein Buch gebunden, mache derzeit wenig mit Papier und fühle mich auch nicht so besonders künstlerisch veranlagt. Aber ich liebe Miniatur-Sachen und besitze seit Jahren ein Buch übers Buchbinden. Also nicht lange nachgedacht und angemeldet. Denn wie Mareike vom Rundherumblog letztens schrieb: "Ich kann das alles. Ich muss nur noch herausfinden, wie gut." 😀
Ich hatte nicht damit gerechnet, dass ich schon als zweite in unserer Gruppe von zehn Frauen zum Versenden dran sein würde; das hat mir jetzt den März ziemlich durcheinandergewirbelt. Andererseits komme ich eh gern früh dran: Dann bin ich noch unbelastet von all den tollen Büchern der anderen, kann ganz frei meine eigenen Ideen entwickeln und anschließend noch mehr genießen, was ich von den anderen geschickt bekomme.
Am Montag gehen meine Büchlein auf die Reise zu den anderen neun Teilnehmerinnen aus meiner Gruppe, und gestern ist das erste Büchlein von Ulrike ulkau bei mir angekommen. Ich zeig Euch ein paar meiner Lieblingsseiten aus ihrem Büchlein. Sehr aufwändig gemacht und sehr entzückend, oder?
Müllerin Art sammelt hier alle Frühlingsbücher aus allen Gruppen. So eine feine Aktion, ich freue mich sehr, dabei zu sein!
Feed Sacks: Verpackungen zum Anziehen
Seit einigen Jahren habe ich das kanadische Magazin Uppercase abonniert, das unter dem Motto "for the creative and curious" vier Schwerpunkthefte pro Jahr herausbringt. Die Grafikerin Janine Vongool, die das inspirierende Magazin als One-Woman-Betrieb herausbringt, editiert "so nebenbei" noch andere Bücher und hat letztes Jahr mit Windham Fabrics ihre erste Stoffkollektion herausgebracht. Was diese Frau alles in ihren 24 Stunden am Tag unterbringt, fasziniert mich sehr.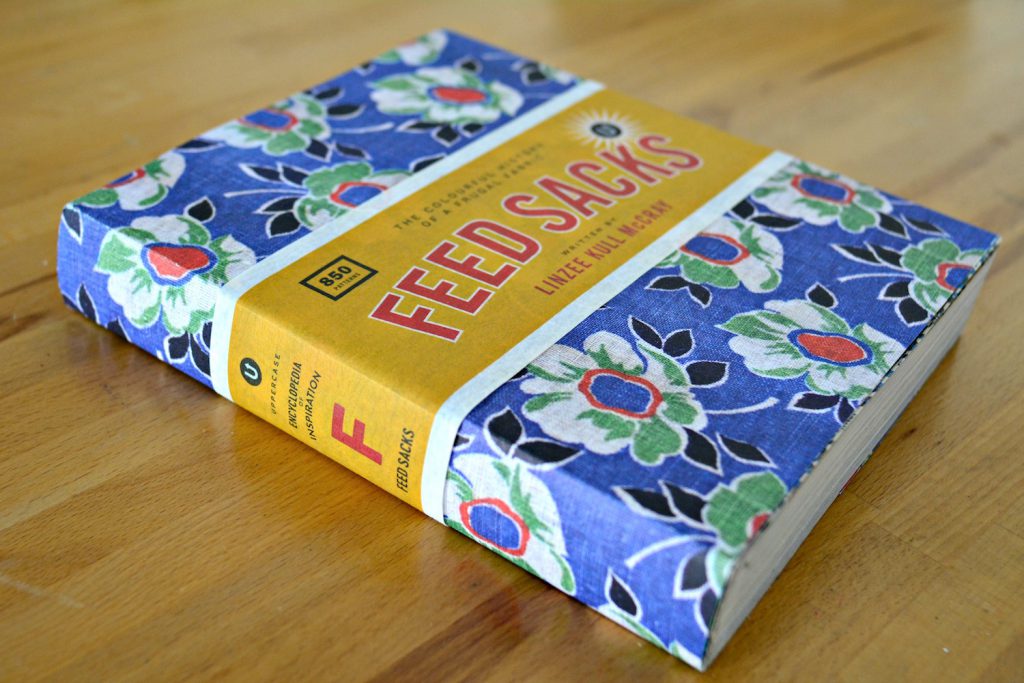 Jedenfalls hat sie letztes Jahr eine neue Serie von Büchern gestartet, eine kreative Enzyklopädie. Das erste dieser Bücher habe ich jetzt endlich bestellt und bekommen.
In "Feed Sacks" geht es tatsächlich um Säcke für Futtermittel. Im Amerika der Nachkriegszeit vernähten die Bäuerinnen aus Sparsamkeit die leeren Futtermittelsäcke zu Kleidung für ihre Familien. Und jetzt kommt das Geniale: Die Futtermittelproduzenten haben daraufhin begonnen, ihre Futtermittelsäcke mit bunten Mustern zu bedrucken, und die Verpackungen um Schnittmuster ergänzt, um die Bäuerinnen zum Kauf der Futtermittel in diesen bunten Stoffen anzuregen. Genial, oder? Die Idee, die Verpackungen gleich so zu gestalten, dass ihre Funktion als Verpackung nur das Übergangsstadium ist, sie also von vornherein als wertvoller Rohstoff und nicht als Abfall produziert werden.
Im umfangreichen Buch haben Jeanine Vongool und die Journalistin Linzee Kull McCray Unmengen von Stoffmustern zusammengetragen und sie mit informativen Texten ergänzt. Ich habe bisher nur in das Buch hineingeblättert, bin aber begeistert von der Fülle und Vielfalt, die Jeanine Vongool in ihrer gewohnt aufgeräumten grafischen Bildsprache umgesetzt hat.
Eine klare Buchempfehlung für alle, die sich für textile Geschichte und/oder für Grafik interessieren. Mehr Informationen und weitere Einblicke ins Buch gibt es bei Uppercase.
Glas-Perl-Hühner
Erst letzte Woche bin ich bei RUMS auf die überaus entzückenden selbst gemachten Glas-Perlen-Hühner von Karin (Zunder und Zwirn) gestoßen. Die musste ich einfach haben! Sie sind heute angekommen, hübsch verpackt, mit einer liebevollen Karte und noch einer Zugabe, über die ich mich besonders gefreut habe. Vielen lieben Dank! (Osterstimmung kommt auf!)
Stoff-Flohmarkt am Sonntag
Am kommenden Sonntag werde ich gemeinsam mit einer Freundin beim 3. Grazer Stoff- und Zubehörflohmarkt vertreten sein. Wir verkaufen einerseits hochwertige Anzugstoffe aus der aufgelassenen Herrenschneiderei ihres Schwiegervaters, andererseits habe ich kräftig aussortiert, nehme einen ganzen Haufen Webstoffe und Wolle (Polydingsbums, wird immer noch gerne als Wolle für Schulprojekte genutzt) aus den 1980ern mit, sowie einen großen Packen Möbelstoff-Muster.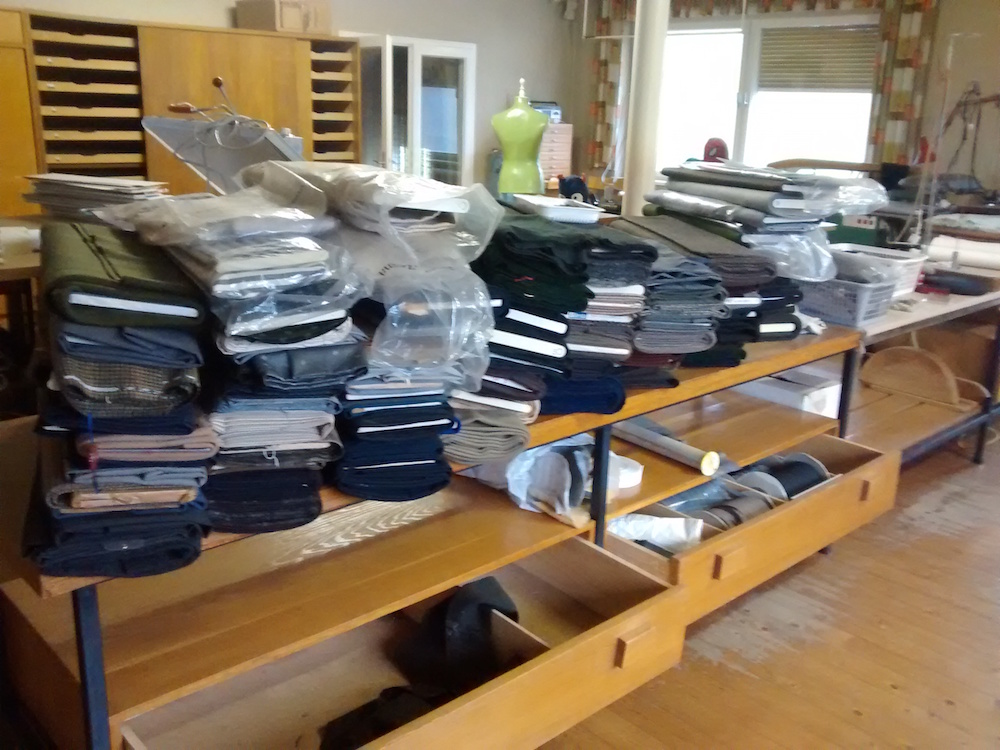 Wer Lust und Zeit hat und in Graz und Umgebung wohnt, hier die Eckdaten:
3. Stoff- und Zubehörflohmarkt
am Sonntag, 26. März 2017, 9:00-12:00 Uhr
im Nachbarschaftszentrum Graz St.Peter
St. Peterhauptstraße 85, 8020 Graz
Ich würde mich freuen, die eine oder andere von Euch dort zu treffen!
Puh, das wird ein Wochenende! Die Stoffe holen, den Flohmarkt bespielen und die MailArt fertigstellen steht am Programm, aber es ist alles auf Schiene.
Nächste Woche gibt es wieder einen Freutag, weil Maike vom Blog Kleine Viecher und ich uns gegenseitig was geschenkt haben. Aber da es noch nicht angekommen ist, verrate ich erst nächsten Freitag, worum es sich dabei handelt. Nur so viel: Es ist ein bisschen wie Weihnachten.
Macht's es gut und genießt – wie ich – die Frühlingssonne!
Verlinkt bei